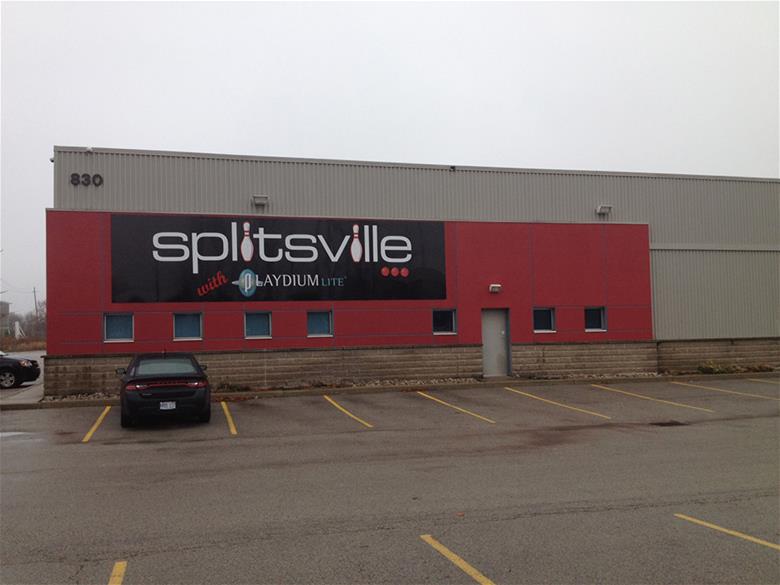 Splitsville Entertainment
Striking Visual Solutions Transform a Building
The Challenge:
Splitsville Entertainment, an established entertainment company with multiple locations in Canada, needed to rebrand an old, rundown bowling alley they acquired in Burlington, Ontario. It was formerly an industrial space that needed to be transformed into a modern, family-friendly environment.
The Solution:
FASTSIGNS® branded the exterior of the building by creating a large cabinet structure above the main entrance to mount Splitsville Entertainment's logo on. Illuminated channel letters were used to ensure that the location is easily identifiable, day and night. Additionally, a branded post and panel sign welcomes guests as they enter the parking lot.
To liven up the building, FASTSIGNS provided five large, colorful banners displaying Splitsville Entertainment's brand images. The banners add decoration as well as communicate what the brand experience offers – bowling, billiards, laser tag and more. The graphics can be updated with new images as needed.

The Result: Unique, Impactful, and Custom Outdoor Signs That Matches Coupa's Brand
FASTSIGNS rebranded Splitsville Entertainment's new location, created a professional and inviting environment and increased the brand's visibility using innovative visual communications solutions. Spiltsville Entertainment has experienced such success that they decided to acquire another location.
*FASTSIGNS of S. Mississauga – Oakville, Ontario is owned by Jose Azavedo.