(CLEARWATER, Fla.) October 25, 2023 - FASTSIGNS® of Clearwater, a local sign and graphics provider, is thrilled to celebrate its Grand Opening at their new business location. Throughout the month of November, they will be offering 5%, 10% and 15% discounts on all retail orders during their Grand Opening, month-long celebration.
The official Ribbon Cutting Event will be held Thursday, November 16 from 3 - 5 p.m. at 712 S. Missouri Avenue in Clearwater, Fla. in conjunction with the Amplify Clearwater local chamber. This celebration marks the unveiling of a new facility nearly three times the size of their former location. The event will include a complimentary food truck, live DJ for entertainment and a raffle drawing at 4:30 p.m. With an open house format, guests will be encouraged to explore the new facility, and event ambassadors will also be available for guided tours during the event.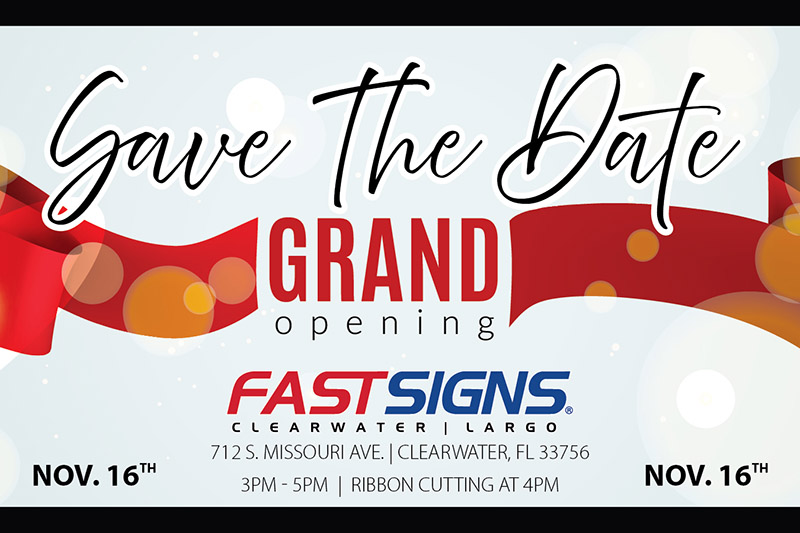 The event will provide an exclusive opportunity for local businesses, organizations, and individuals to experience cutting-edge manufacturing capabilities along with the unmatched expertise of the FASTSIGNS team. The team's two Florida State Electrical Sign Specialty licenses are a testament to their commitment to delivering top-tier, licensed electrical sign services.
The new facility is equipped to handle a multitude of projects and solutions from outdoor signage to indoor displays. Their services include surveying and permitting, graphic design, project management, fabrication and installation.
"FASTSIGNS of Clearwater's Grand Opening event is a celebration of growth, innovation, and our commitment to excellence in the signage industry," said Heidi Lucke, franchisee at FASTSIGNS of Clearwater. "The team is excited to welcome the community and demonstrate its unwavering dedication to delivering high-quality signage solutions."
FASTSIGNS® of Clearwater operates Monday through Friday, 8:00 a.m. to 5:00 p.m.

About FASTSIGNS®
FASTSIGNS® of Clearwater is a locally and independently owned and operated custom signs and visual solutions company. As the industry leader that began operating over 35 years ago, FASTSIGNS now has over 765 centers in the U.S. and internationally. We celebrate the spirit of creativity and the power of possibilities. Working with FASTSIGNS can leave a lasting impression for businesses and brands.
FASTSIGNS is recognized among the industry, including being ranked #1 on Entrepreneur's Franchise 500® List for the seventh consecutive year for 2023 as well as being named a 2023 Best-in-Category Franchise by Franchise Business Review.
Let us help you "Make Your Statement." Visit https://www.fastsigns.com/clearwater-fl/ or call 727.797.1177.