Case Study - The Edge Student Apartments

The Challenge
A new student living community that was completed ahead of the fall semester needed top-to-bottom signs and visual graphics to help it stand out from competition and entice students to live in the modern facilities. FASTSIGNS® was contacted after construction completion, with just over a month to design, produce and install all of the visual communications elements.
The Solution
FASTSIGNS consulted with the property owners who had very strong ideas for their overall look based on their new logo design. Utilizing the logo and the customer's design elements in creative ways, FASTSIGNS presented a comprehensive plan with details that surprised and delighted the customer. Creating a fresh approach that blended their brand across multiple graphic elements gave the customer confidence that FASTSIGNS really understood their goals. FASTSIGNS designed signage to identify parking areas, for unit and building identification, to share office hours and amenity rules, as well as for wayfinding and ADA compliance. Their monument sign near the road gave the community their official "open for business" look.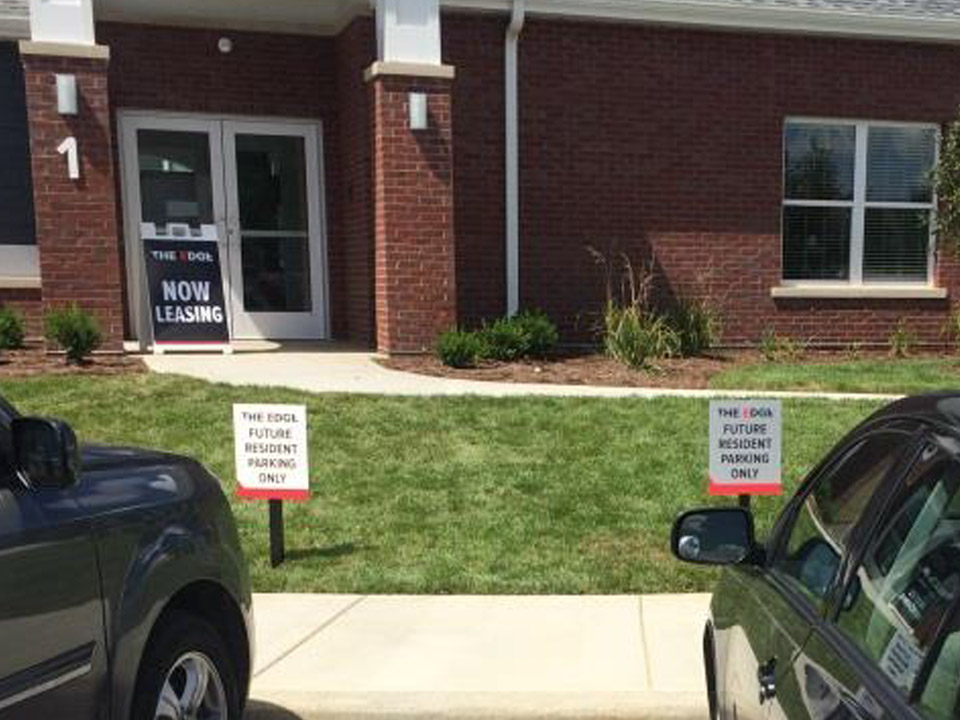 The Result
FASTSIGNS provided designs and exectuted on a timeline that solved the customer's challenge of looking upscale and modern, and, as importantly, being completed for their tenants by the move-in date. The customer was thrilled to seetheir logo and design elements come to life across their property, and now believe they present a modern andwelcoming presence to attract new students to their community.
*FASTSIGNS of Conroe, TX is owned by Chris and Lisa Farr.