FASTSIGNS of Daytona Beach Hosting Grand Opening in New Business Home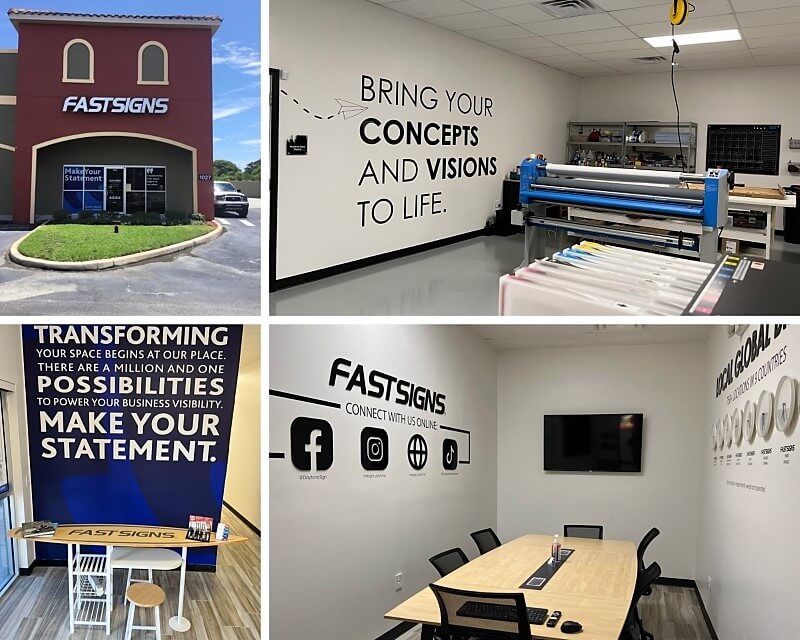 (DAYTONA BEACH, Flo.) July 27, 2022 - FASTSIGNS® of Daytona Beach has recently moved business locations and will celebrate with a Ribbon Cutting including the Daytona Beach Chamber of Commerce and the Holly Hill Chamber of Commerce on August 2 at 4 pm. The event will feature hors d'oeuvres, drinks, prizes and the unveiling of the annual "Community Decal" the team designs.
Now located at 1027 N. Nova Suite 109 Road in Holly Hill and with square footage over doubled, the team will be able to better serve the community. The new space houses a sales center, multiple offices, a production area, a two-vehicle wrap studio and a conference room that they plan to rent to any clients needing this type of space.
As they celebrate 5 years in business, they are humbled and deeply grateful for the support of their local customers, the true reason behind their business success. Actively engaged in their local community, the team selects a social campaign annually to support. This year's recipient is the Holly Hill Police Department. This will kick off a two-year project of digital assets to create awareness around drug prevention, speeding, community events and the department's core focus and values.
While FASTSIGNS of Daytona Beach is celebrating 5 years of business, Franchisees, Rod Quick and Carmen Ruiz have a combined 51 years of sign experience. 45 of those are in the FASTSIGNS Network. All together, their team members have a combined 80 years in sign, design, printing, installation and manufacturing.
"I feel so incredibly blessed to be able to move into this new space with my hard-working and heart-working team," shared Carmen Ruiz, franchisee at FASTSIGNS of Daytona Beach. "In this new space, we will be better able to truly serve the signage needs in our community and support everyone including the vibrant, independent businesses that make Daytona Beach the community we know and love."
The team has also added a community engagement piece in front of their new location using a Community Rock Garden. Through this beautification project, they hope to encourage kindness and support as it brings people to the front of their center. They also plan to get this listed on TripAdvisor for out-of-town visitors to experience a little piece of what makes this community such a wonderful place to be.
FASTSIGNS of Daytona Beach is open Monday through Friday from 8:30 am to 5:30 pm.
About FASTSIGNS®
FASTSIGNS® of Daytona Beach, FL is a locally and independently owned and operated visual ideas company. FASTSIGNS is an industry leader that began over 35 years ago and has over 750 centers in the U.S. and internationally. We celebrate the spirit of creativity and the power of possibilities. Working with FASTSIGNS can leave a lasting impression for your business. What we make together is a brilliant reflection of your brand, your personality…your statement.
FASTSIGNS is frequently recognized for franchisee satisfaction and through franchising awards which include being ranked #1 on Entrepreneur's Highly Competitive Franchise 500® List for the sixth consecutive year for 2022 as well as being named a 2022 Best-in-Category Franchise by Franchise Business Review.
Let us help you "Make Your Statement." Visit https://www.fastsigns.com/daytona-beach-fl/ or call 386.284.3731.
Click here to download the collage above.
-###-