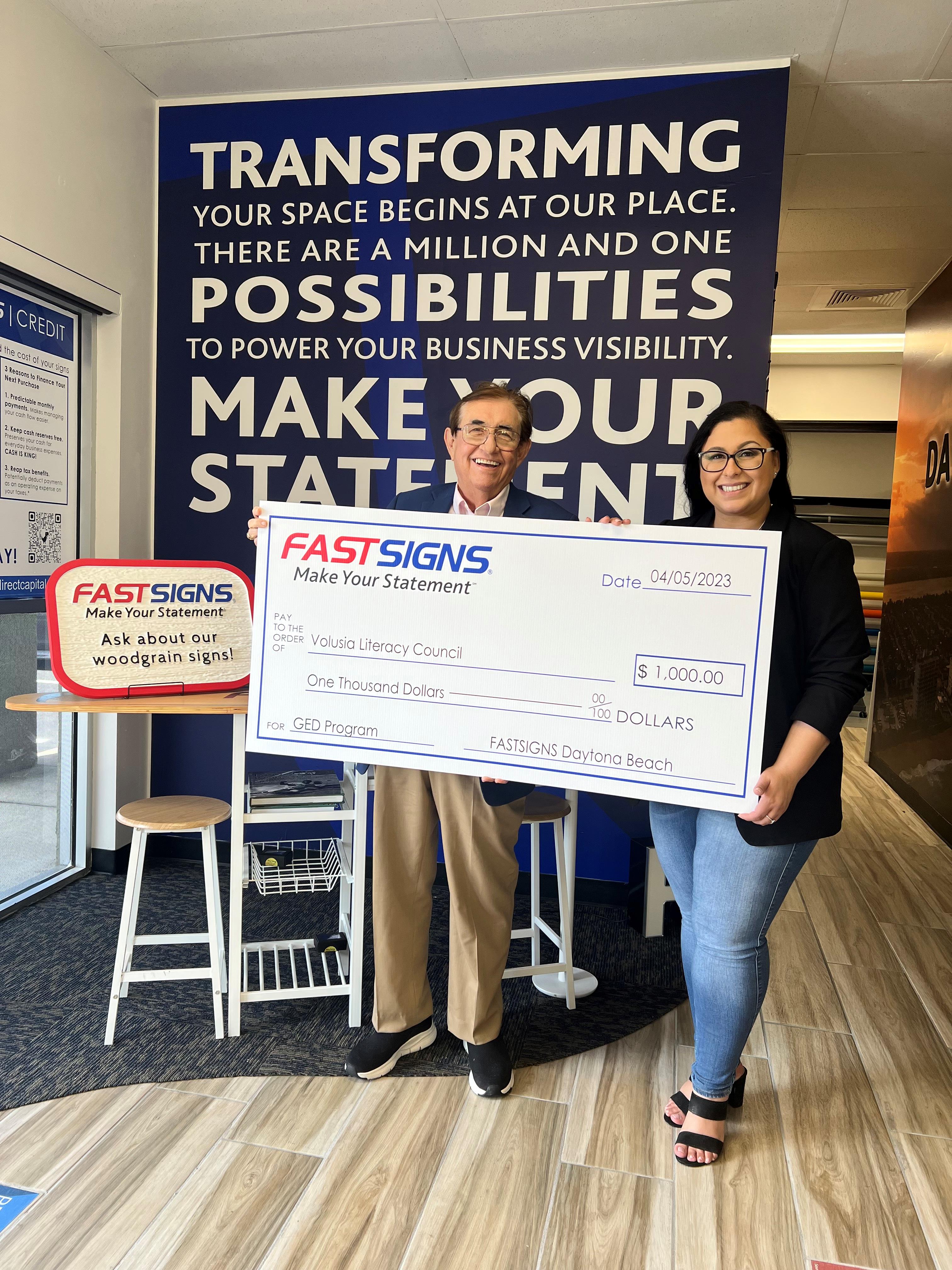 FASTSIGNS® of Daytona Beach was recognized as two of ten recipients in the annual Show Us How You Care initiative for their community giveback work in 2022. The recognition awarded them two $1,000 checks to donate toward projects and nonprofits in their community.
Their second recognition came for their work with the Healing Hands Miniseries at Our Lady of Lourdes a necessary project after the devastating hurricanes that left so many homeless and recovering in their county.
Local shelters were at capacity and the homeless community was growing, so their team collected toiletries and backpacks for the ministry that monthly gives food and goods to the local homeless community. As a result, they wanted this $1000 check to go toward an organization that makes a big impact locally on literacy and our underserved community. The Volusia Literacy Council, a local nonprofit that focuses on education and literacy, was selected. Each year the VLC gives 25 to 30 GED scholarship through Daytona State College. It is FASTSIGNS' honor and privilege to be able to donate eight scholarships with this donation.
This partnership is particularly special because Bill Hinebaugh, CEO of the Voluisa Literacy Council, was one of their very first clients. He not only shared words of wisdom and advice to franchisee Carmen Ruiz, he also welcomed her to the community and made the special connection with Our Lady of Lourdes, a church her family attends, where she volunteers and where her nieces attend school.
FASTSIGNS loves
connections that change lives.
For more information on how to impact the Volusia Literacy Council contact Bill Hinebaugh at w.hinebaugh@volusialiteracy.org
More on our Healing Hands Winning FASTSIGNS Project: https://www.tiktok.com/t/ZTRcpbd9m/