Town of Oyster Bay
Updated Sign Welcomes Beach Goers at Town of Oyster Bay Beach
The Challenge:
A local beach within The Town of Oyster Bay (TOBAY) wanted to update their signs and graphics as a result of weather damage and disrepair. The welcome sign at the entrance to the beach parking lot needed to be structurally sound and sturdy enough due to wind conditions. The client also wanted this particular sign, along with updated light pole banners to make the beach parking lot more inviting.
The Solution: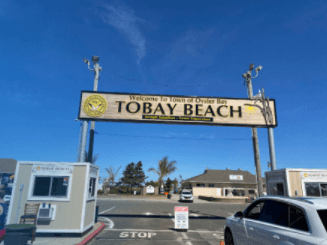 FASTSIGNS worked with the Town of Oyster Bay's designer to create a visual communication solution to fit the customer's needs. The design of the former welcome sign was more one-dimensional with a max metal application. In this new sign iteration, the team at FASTSIGNS of Forest Hills, NY transformed the highly visible welcome sign into an eye-catching piece for incoming traffic made up of locals and visitors alike.
The existing sign frame was damaged badly due to trucks ramming into the sign frame on multiple occasions. Fastsigns designed a new frame for the sign and assisted in project management of the process with a highway truss system fabricator chosen by Town of Oyster bay resulting in a new truss system and sign frame fabricated and installed on time for the sign installation.
The new 34-foot long sign was uniquely crafted with dimensional components. The background was made of DiBond with 3M vinyl for the wood grain. FASTSIGNS also used 1 inch thick Komacel, an exterior PVC material, to create dimension on the seal & the letters. The 87" tall grass artwork was CNC cut using ¼" thick DiBond and then painted in 2 colors to create the grass reed look. One noteworthy aspect of this sign was that all letters and details with multiple colors on both sides were painted and machined in house. As a custom signs and graphics expert, FASTSIGNS has a wide range of capabilities to carry a project throughout all phases of the production process.
The FASTSIGNS team also made & installed 30 sets of light pole banners with the necessary hardware in addition to the Welcome sign as part of this project.
The Results:
The client was pleased with the final outcome of the products and the level of service provided. The Welcome Sign was fully transformed and sturdy enough to withstand weather, and the updated signs around the parking lot poles made it a more lively space. The client is now in communication with FASTSIGNS about adding a clearance sign underneath the Welcome Sign and replacing the light pole banners with new graphics as well. They are also looking to add 30 more light pole banners in the future to honor the Veterans in the streets near the Comptroller's office in the Town of Oyster bay.
*FASTSIGNS® of Forest Hills is owned by Mohamed and Shehnaz Kazi.
Services that FASTSIGNS of Forest Hills can provide include:
Consulting & Design Services
ADA/Braille Signage
Directional and wayfinding signage
Wall, Window and Floor Graphics
Digital Signs, Message boards & Displays
Trade show Exhibits & Displays
Promotional Items
Post and Panel Signage
Monument Signs
Custom Routing and Fabrication
Laser Engraving
Interior and Exterior Signs and Graphics
Dimensional Lettering
Social Distancing Decals
Germ Prevention Signs
Safety Shields and Screens
Vehicle Lettering & Wraps
Interior Decor
Installation