With the help of FASTSIGNS on a team, big things happen. FASTSIGNS® of Kissimmee, FL recently created a comprehensive sign and visual graphics solution for Chatter Buzz Media that was later named a winner of Orlando Business Journal's 2019 Coolest Office Spaces. Winners are selected based on office standout qualities, amenities and tech-savvy features, as well as how the space reflects their company's culture, among other factors.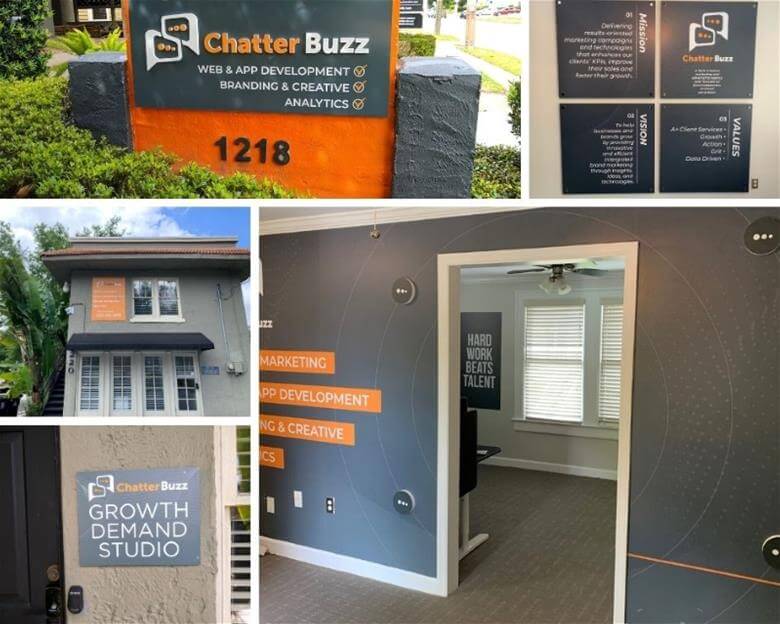 Chatter Buzz Media, an Orlando-based digital marketing firm with 28 employees, had moved into a historic complex on a nearly half-acre site in downtown's Lake Eola Heights neighborhood earlier this year. Wanting to update their office spaces in a contemporary design space originally built in 1925, the project included a quick turnaround time in under one week.
FASTSIGNS executed and delivered in a timely fashion. The team created an impactful exterior monument sign, floor to ceiling wall graphics with brand messaging, signs on standoffs that highlighted Chatter Buzz Media's mission, vision and values, creative quotes on wall graphics and an exterior Chatter Buzz Media branded building sign.
"We were excited to be a part of this comprehensive solution, and we were thrilled when it was named to the Coolest Office Spaces list by the Orlando Business Journal," said Teresa Oliva, franchisee at FASTSIGNS® of Kissimmee, FL. "We look forward to providing other area businesses and organizations with amazing and efficient work spaces."
To read more, visit the Orlando Business Journal link here.
About FASTSIGNS®
FASTSIGNS® of Kissimmee, FL is a locally and independently owned and operated sign, graphics and visual communications company that provides comprehensive visual marketing solutions to customers of all sizes—across all industries—to help them attract more attention, communicate their message, sell more products, help visitors find their way and extend their branding across all of their customer touch points including décor, events, wearables, digital signage and marketing materials. To learn more, visit fastsigns.com/2060 or call (407) 606-8573.