Our team has been very hard at work helping Coffee & T open, and I had the pleasure of speaking with Tiffany Robb, the Owner of Coffee and T. We spoke about all of the excitement about opening up a new business.
Question One: Tell me a little bit about yourself! How long have you been with the company? What do you like to do outside of work?
Hi there! My name is Tiffany Robb, a mother of two, a lover of coffee and an entrepreneur. I grew up in St. John's, Newfoundland and relocated to Ontario in my early twenties. I have an education in the field of Child and Youth work as well as many years of experience in the health and fitness industry. I have a passion for people and believe a smile can make someone's day. What better way to encourage a smile then a hot cup of coffee, friendly atmosphere and the smell of warm delicious baked yumminess!
Question Two: Tell us a little bit about this project?
Coffee & T is so much more to me than a cafe. What originated as what I saw to be a need in our community quickly became a project I knew would combine all the things I am most passionate about. A friendly, cozy atmosphere with the scent of coffee and the warmth of baked deliciousness! A place where people can depend on excellent customer service and a great cup of coffee. Although Coffee & T is taken away only, I hope to leave patrons with a lasting impression and a feeling of comfort, much the same as their own kitchens.
Question Three: What are some of your highlights of the project so far?
This has been quite the undertaking and has proven to have its challenges but certainly the highlights of this project have far succeeded in the struggles. From taste testing to finding that perfect brew, meeting like-minded individuals and being offered encouraging and extremely helpful advice and suggestions, delivering coffee and baked goods to friends and family in return for feedback, involving my children in the hands on aspect of jobs required to prepare the space as well as challenging myself and learning new skills I would otherwise not have gotten the opportunity to learn.
Question Four: How did FASTSIGNS help you achieve your goals?
FASTSIGNS were nothing short of extraordinary when it came to bringing my idea for a standout logo, to life. Lauren's artwork expertise, Laura's patience, professionalism and outstanding customer service, paired with Tyler's tenacity in installing my signs, made for such a great experience. Since the signs have been up, the community has been bustling with chatter and anticipation about Coffee & T. Set to open early to mid December.
Question Five: Is there anything else you want to tell our readers?
Coffee & T will also cater to those looking for that extra special gift of comfort carrying items such as candles, seasonal clothing items, coffee & tea accessories, throws and much more.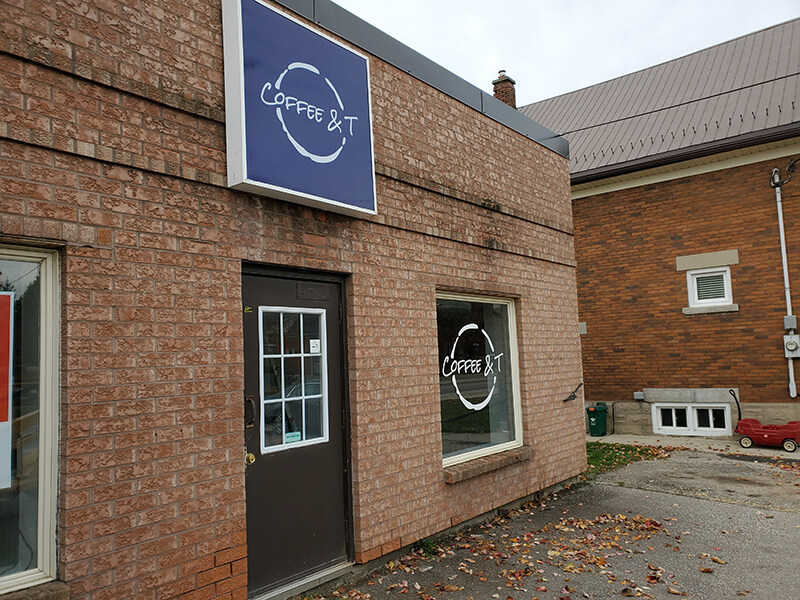 I want to say a huge thank you to Tiffany Robb for taking the time to be part of our blog series. If you want to learn more about FASTSIGNS® of Kitchener-Waterloo and how we have helped businesses reopen, please visit us at https://www.fastsigns.com/681-kitchener-waterloo-on.