(ROSENBERG, Tex.)  – FASTSIGNS® of Rosenberg/Richmond, a local sign and visual graphics provider located on Southwest Freeway at Highway 36 in Rosenberg, is open and ready to extend the FASTSIGNS brand's promise of outstanding products and services to businesses in the community.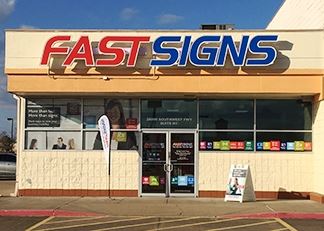 "Rosenberg and Richmond are experiencing explosive growth," said franchisee Sid Jajoo, who manages the new center but owns it in partnership with family members.
FASTSIGNS is designed to support businesses like those found in Rosenberg and Richmond, which are a perfect mix of established and new businesses, both large and small.
"Whatever our clients' business goals may be — whether it's to improve business visibility, raise brand awareness, promote an event — we can provide effective and creative visual communications solutions to achieve their goals," said Jajoo.
The FASTSIGNS of Rosenberg/Richmond team includes local graphic designer Robert Lopez, who has 30 years of design and production experience. Benjamin Hermann is the customer service expert Jajoo enlisted to round out the team.
"My team's knowledge and experience combined with our state-of-the-art FASTSIGNS center enables us to offer sign and visual graphic solutions that many customers may not have known were possible," Jajoo said. "From exterior building signs and dimensional letters, to interior décor graphics and wayfinding signs, trade show exhibits, point of purchase displays, digital signs, and more, we can do it all."
FASTSIGNS of Rosenberg/Richmond is located at 28000 Southwest Fwy, Ste H-1, and open Monday through Friday from 8:30 a.m. to 5:30 p.m. To find the center, call (281) 318-5600 or visit fastsigns.com/2126.
About FASTSIGNS®
FASTSIGNS® of Rosenberg/Richmond is an independently owned and operated sign, graphics and visual communications company that provides comprehensive visual marketing solutions to customers of all sizes — across all industries — to help them attract more attention, communicate their message, sell more products, help visitors find their way and extend their branding across all of their customer touch points including décor, events, wearables and marketing materials. To learn more, visit fastsigns.com/2126 or call (281) 318-5600.