(FULLERTON, Calif.) –To raise awareness for the All the Arts for All the Kids Foundation, the locally owned and operated FASTSIGNS® franchise business in Fullerton, California has created interactive wall murals showcasing young artists' work in the community. These 'live' wall displays feature multi-layered and multi-dimensional acrylic prints from the art foundation's children's gallery. Using the free Live Portrait app, viewers can scan a print on the wall with their smartphone and are then directed to a video of the artist telling their story of the piece.
The first of these interactive wall displays that FASTSIGNS of Fullerton created was for McCoy Mills Ford, a long-time supporter of the All the Arts for All the Kids Foundation.
"After discussing the project with McCoy Mills Ford's general manager and owner Jim Miller, we wanted to create a gorgeous focal point in the dealership's showroom, enhance their brand image and, most importantly, showcase the young artist's work in such a way that feels prestigious, elegant and modern," said Gaby Mullinax, owner of FASTSIGNS of Fullerton. "Knowing that the future is now and always striving to provide the most forward-thinking solutions, we didn't just create an art gallery wall; we made it come to life."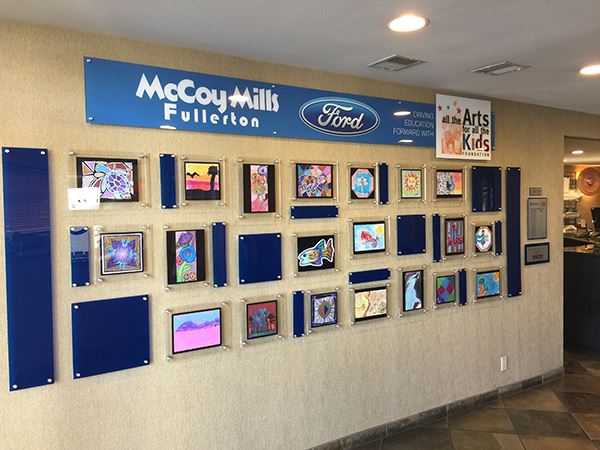 FASTSIGNS of Fullerton has since created similar interactive wall murals for community organizations including the Fullerton School District and California State University, Fullerton.
"The best part of these art walls is seeing people's reactions when they scan the artwork with the app and watch it come alive," Mullinax said. "Integrating this technology with signs and visual graphics can be used for variety of industries and applications, and really makes a lasting impact."
Gaby Mullinax opened FASTSIGNS of Fullerton alongside her existing photo and imaging company, Fullerton Photographics, Inc., to expand the scope of visual communications solutions she can provide customers. FASTSIGNS of Fullerton is located at 908 N. Harbor Blvd. and is open Monday through Friday from 9 a.m. to 6 p.m. and Saturday from 10 a.m. to 5 p.m.
About FASTSIGNS®
FASTSIGNS® of Fullerton is an independently owned and operated sign, graphics and visual communications company that provides comprehensive visual marketing solutions to customers of all sizes—across all industries—to help them attract more attention, communicate their message, sell more products, help visitors find their way and extend their branding across all of their customer touch points including décor, events, wearables and marketing materials. To learn more, visit fastsigns.com/2140 or call (714) 853-1441.