A multi-unit housing development's physical setting can play an important role in creating an effective, remarkable resident experience. Here are three key questions a residential property should consider.
Is the location easy to find and identify?

Can people find their way safely and efficiently?

Does the space reflect branding?
Strategically designed and positioned signs and graphics are crucial to increasing visibility, creating a more productive and organized environment, and improving the overall location experience.
For example, Park West, a 3,400-bed student housing property in College Station, Texas and the country's largest of its kind, used a variety of signs and graphics to increase its visibility in the community, communicate the property's branding and core values, and enhance the resident experience.
"Servitas, the student housing developer of Park West, came to us prior to breaking ground on the project with hopes that we could be their exclusive sign and graphics provider," said Kevin Brightwell, owner of the FASTSIGNS® in College Station, Texas. "They needed our help to not only to market the project to students and parents, but with the design, project management, production and installation."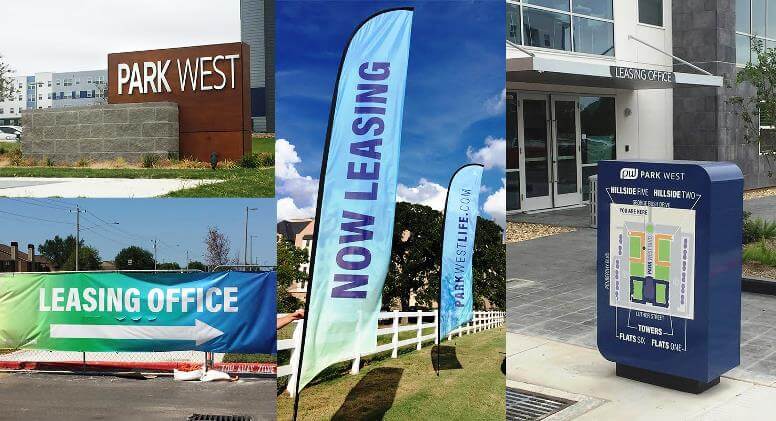 When construction began, the new development needed to be identified, promote its presence in the community and attract residents. Banners, fence graphics, flags and yard signs were placed around the site to establish the presence of the student housing complex. Illuminated monument signs and building signs were installed to identify the property day and night.
To help people find their way, street signs and parking signs direct vehicle traffic. Exterior wayfinding signs that include a map of the complex are placed near walkways. Entrances are clearly marked using dimensional letters, logo signs, banners, and window and door graphics. Inside of the housing buildings, a combination of ADA-compliant signs and wall graphics identify apartment units, community areas, evaluators, stairs and floor levels.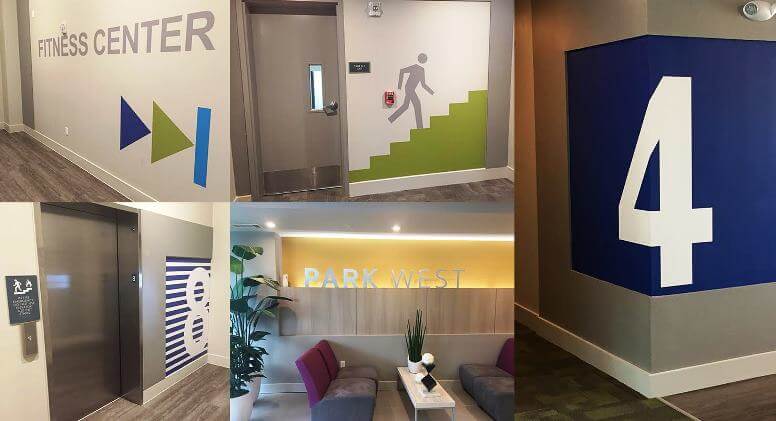 The signs and graphics used throughout the property compliment Park West's branding and décor by incorporating brand colors, style and tone, which gives residents a unique, cohesive experience across the 48-acre complex.
Creating a unique experience helps residential property brands connect with residents and visitors, grow their occupancy rates and make a lasting impression.
About FASTSIGNS®
FASTSIGNS International, Inc. is the largest sign and visual communications franchisor in North America, and is the worldwide franchisor of more than 675 independently owned and operated FASTSIGNS® centers in eight countries including the U.S., Canada, England, Saudi Arabia, UAE, Grand Cayman, Mexico and Australia (where centers operate as SIGNWAVE®).
FASTSIGNS locations provide comprehensive sign and visual graphic solutions to help companies of all sizes and across all industries attract more attention, communicate their message, sell more products, help visitors find their way and extend their branding across all of their customer touch points including décor, events, wearables and marketing materials. Learn more about sign and visual graphic solutions or find a location at fastsigns.com. Follow the brand on Twitter @FASTSIGNS, Facebook at facebook.com/FASTSIGNS or on LinkedIn. For information about the FASTSIGNS franchise opportunity, contact Mark Jameson at (214) 346-5679.