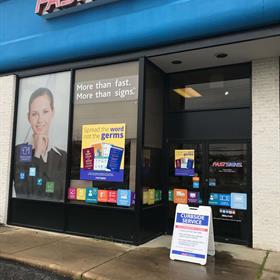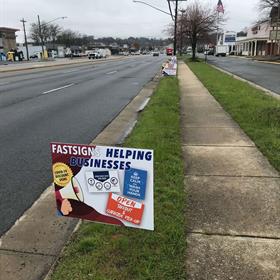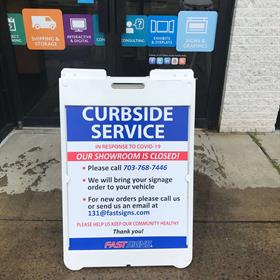 FASTSIGNS® of Alexandria, VA franchisee, Kirby Newman believes in supporting his fellow small business owners. In an effort to do this, the center has implemented several ways to actively show their support and assist local business owners at this time.
First, FASTSIGNS® of Alexandria, VA is sponsoring local restaurants with a $10 gift certificate to be drawn each day to encourage the Fort Hunt community to stay safe and fed during a period of hunkering down. To enter, participants can visit the link here and do a morning check in by entering their email address. This will automatically enter you into the contest. 
Every day at 5 p.m. They will draw a winner who will be able to go into the shopping spree area of the site to pick how to spend their certificate to pay for food or delivery. A few of the local restaurants currently featured include Bread and Water Company, Mama's Kitchen and Dishes Of India.
Secondly, FASTSIGNS® of Alexandria, VA is currently offering a 15% discount on all COVID-19 signs and graphics until April 30. Whether it's "Open for Business" banners, wayfinding and directional signage for a hospital with increased volume, signs for restaurant curbside delivery and pickup, handwashing posters, informational static clings for business windows and decals for food safety preparation, the team at FASTSIGNS is working hard to ensure people remain safe and their businesses are fully supported.
In an effort to support their fellow business owners and citizens, they are working with health care providers, hospitals, restaurants, hotels, food service companies, international organizations, car dealerships, residential condominiums and apartments, and government organizations. Outside their center location, they are also informing local businesses of their involvement with "Spread the word not the germ" large posters on business and yard signs.
Finally, FASTSIGNS® of Alexandria, VA is promoting awareness and positivity by providing free stickers with orders as a healthy reminder for customers:.
"We know this pandemic is posing a serious challenge for business owners, healthcare providers and the service and hospitality industry," said Kirby Newman. "We are here to assist in any way we can during this incredibly stressful time in our community's history."
About FASTSIGNS®
FASTSIGNS® of Alexandria, VA is a locally and independently owned and operated sign, graphics and visual communications company that provides comprehensive visual marketing solutions to customers of all sizes—across all industries—to help them attract more attention, communicate their message, sell more products, help visitors find their way and extend their branding across all of their customer touch points including décor, events, wearables, digital signage and marketing materials. To learn more, visit fast-signs.com/alexandria-va/ or call (703) 546-9308.