With endless choices available for signage and visual graphics, fabric (a.k.a. textile or soft signage) is a cost-effective way to reach your audience. Fabric creates a professional look for your company and makes a great brand impression. The most fascinating uses for fabric signs and visual graphics include building wraps, event backdrops and murals, trade show exhibits and more. Read on to learn more about fabric signs.
Larger-Than-Life Building Wraps
One of the best advertisements for companies and events is a larger-than-life building wrap or billboard that captures attention from the street. Fabric material is ideal for building wraps and can be used to enhance the architecture of any building. It's possible to take advantage of existing building design to give people a clear, unobstructed view of your marketing message or upcoming event. THEMUSEUM brings exhibits to life with visual imagery that fit its brand. For the Unwrapping Egypt exhibition, watch to see how FASTSIGNS installed a giant building wrap in a conspicuous place.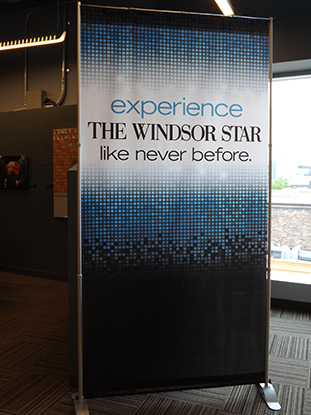 Sophisticated Backdrops and Murals
Fabric banners can be helpful for announcing a new product, inviting attendees to a grand opening event or welcoming students back to school. Use fabric banners to help set the stage for your venue. Flexible fabric backdrops and photography screens are common choices for press conferences, meetings and conventions. 
Abstract designs come to life on luxurious fabric murals that cover walls and provide coverage from floor to ceiling. Professional fabric backdrops create a memorable impression with the seamless look of fabric to take graphics to the edge and promote brand campaigns for retailers in shopping malls and outdoor centers.
Seamless Trade Show Banners, Exhibits and Displays
With trade shows as one of the most effective ways for your company to build business, it's no wonder that showcasing your firm with eye-catching graphics and fabric displays sets you on the road to exhibit success. No matter where you travel, fabric signage is lightweight, easy to ship and can be folded to fit in small packages. Richly colored fabric displays and visual graphics are simple to carry, install and transport. 
Fabric banners welcome attendees and transform your venue as a backdrop for conventions and high-profile meetings. With a high-end look, fabric banners are flexible and allow your imagination to run wild. Dream up incredible ways to create a memorable experience at your corporate events with fabric banners and flags. Incorporate large-scale banners for awnings and wall coverings.
Successful product launches, trade shows and events require advance planning and careful marketing strategies to engage potential customers and generate sales.
Fabric signage puts your brand in the spotlight and provides the element of surprising design that makes your company uniquely different. Compelling branding delivers your message and creates a commanding presence for buildings, trade shows, stadiums, campuses, lobbies, events or retail locations. Tweet us @FASTSIGNS to share your story of a venue or building transformation.