Choosing how to visually reflect the personality of your business is the one of the most important decisions you can make. The logo design, the colors and the fonts/typestyles you use should all work together to convey the look, feel and voice of your brand. Once determined, these elements need to be cohesively incorporated throughout all your visual communications and marketing channels—from exterior signs, interior décor graphics, vehicle graphics, brochures, business cards, product packaging, website, social media and much more.
Legendary logo designer Saul Bass said, "Design is thinking made visual."
So how can you translate your brand into visual elements that are unique to you so your customers can clearly identify you? Here are a few important factors to consider when developing your brand identity.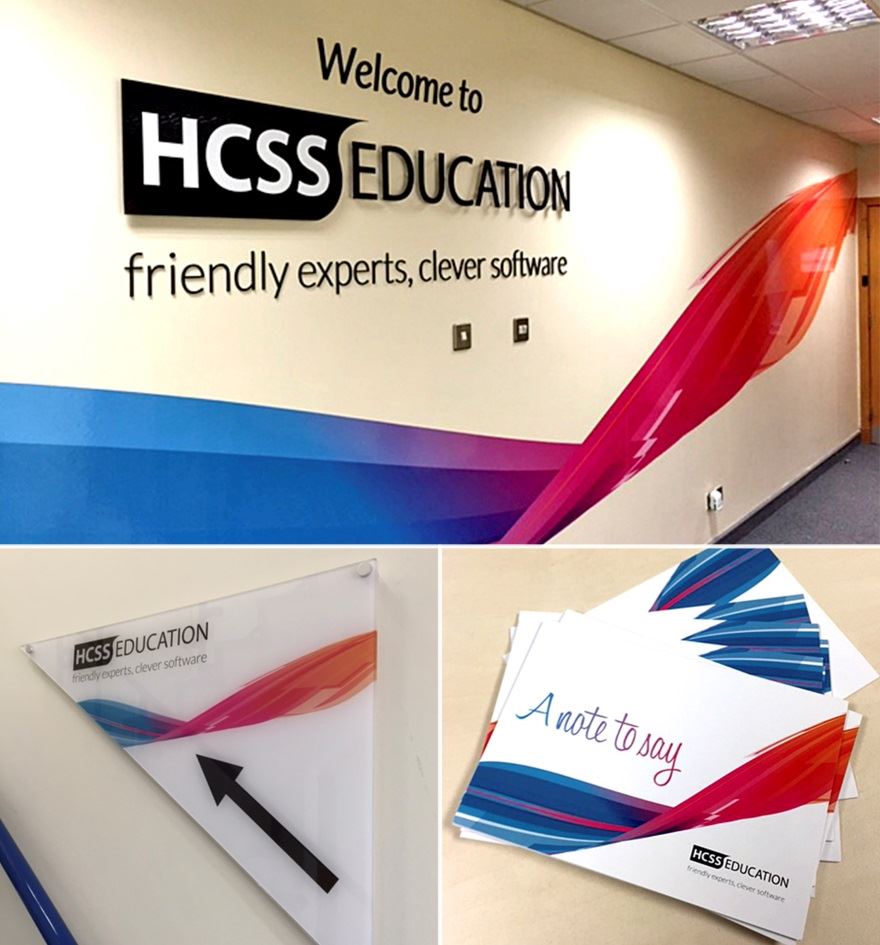 Color
Different colors evoke different reactions from people. If you ask a group of people what their favorite color is, you will get a variety of responses, but there are some commonalities regarding what specific colors mean and express. For example, warm colors (red, orange, yellow or a combination of these) can reflect passion, happiness, enthusiasm and energy. In turn, cool colors (green, blue and purple) can signify a sense of calmness, natural surroundings and sophistication.
When selecting colors for your business, it's so important to look at how the colors will make your customers feel about your brand and the products or services you're providing. 
Font/Typestyle
Selecting the right font is another crucial factor in your branding. The typestyle needs to be both appealing and readable. It needs to be consistent with the image that you want to project, but also work well on larger scale signs and visual graphics. For example, Brush Script or Vladimir Script may be pretty on a printed invitation that is read up close, but it will likely be unreadable on a sign from far away. Instead, select a clear, concise font that won't take away from your logo while still complimenting your brand personality.
Graphic Elements
Your logo and branding may also include other graphic design, photos or illustrated elements—for example, Target®'s red bulls-eye graphic, the Nike® swoosh or Ralph Lauren®'s polo player figure. Graphic elements can be used along with your logo text or by itself to identify your brand. Whether it's a single shape or illustration, effective logo graphics should be simple, yet memorable and unique, and should further symbolize your brand personality.
Lastly, it's essential that your business logo and branding elements can be easily and consistently translated across all your visual communications implementations. Can your logo be displayed on a large exterior building sign at your location as well as on your printed materials and letterheads? Can your branding be extended to your interior décor graphics, such as dimensional logos in the lobby and meeting areas, wall graphics in your hallways and conference rooms, and incorporated on wayfinding and directional signs?
Think you might want to learn more? Click here for more tips and best practices when choosing colors and fonts for your business or contact your local FASTSIGNS location for help.
 Resources:
https://www.logomaker.com/blog/2012/11/26/10-quotes-about-logo-design-from-saul-bass/
https://www.fastcompany.com/3028378/leadership-now/what-your-logos-color-says-about-your-company-infographic
https://www.smashingmagazine.com/2010/01/color-theory-for-designers-part-1-the-meaning-of-color/
https://www.atilus.com/choosing-colors-fonts-companys-brand/ http://www.creativebloq.com/branding/choose-colour-logo-design-8133973
https://www.sprk-d.com/blog/5-elements-of-great-logo-design/