Back the Blue
Local FASTSIGNS Creating Signs of Support for Officers and Families
FASTSIGNS® of Broken Arrow, OK is spearheading a giveback project that will positively impact our community. As a result of recent challenges the Tulsa Police Department has faced, our team is hard at work creating signs for the community to purchase and show their support for local law enforcement.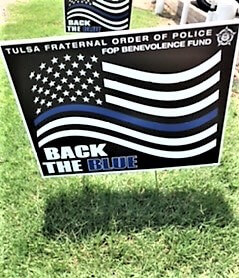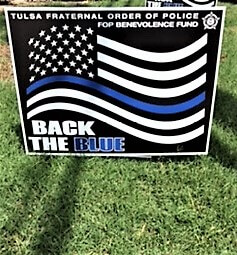 Between July 15 and July 22, signs will be sold for $20 each, and net proceeds of these signs will be directed to the Tulsa Fraternal Order of Police Benevolence Fund that assists law enforcement and their families. The goal is to sell 10,000 signs to be displayed in local communities showing support for men and women in blue.
PURCHASE A SIGN DONATE TO THE FUND
FASTSIGNS® of Broken Arrow, OK will email those who have purchased signs when they are ready for pickup later in July.
For those unable to pick up locally, please select the additional shipping option ($10 per sign) when completing the order form. For any signs not picked up by August 15th, the center will donate these to local law enforcement and their families to display in their yards. FASTSIGNS® of Broken Arrow, OK is also open to partnerships for various sign quantities for area individuals, organizations or businesses to offer community members and residents to support officers and families in a time of need.
Thank you for your consideration and support of those who protect us!
The team at FASTSIGNS® of Broken Arrow, OK