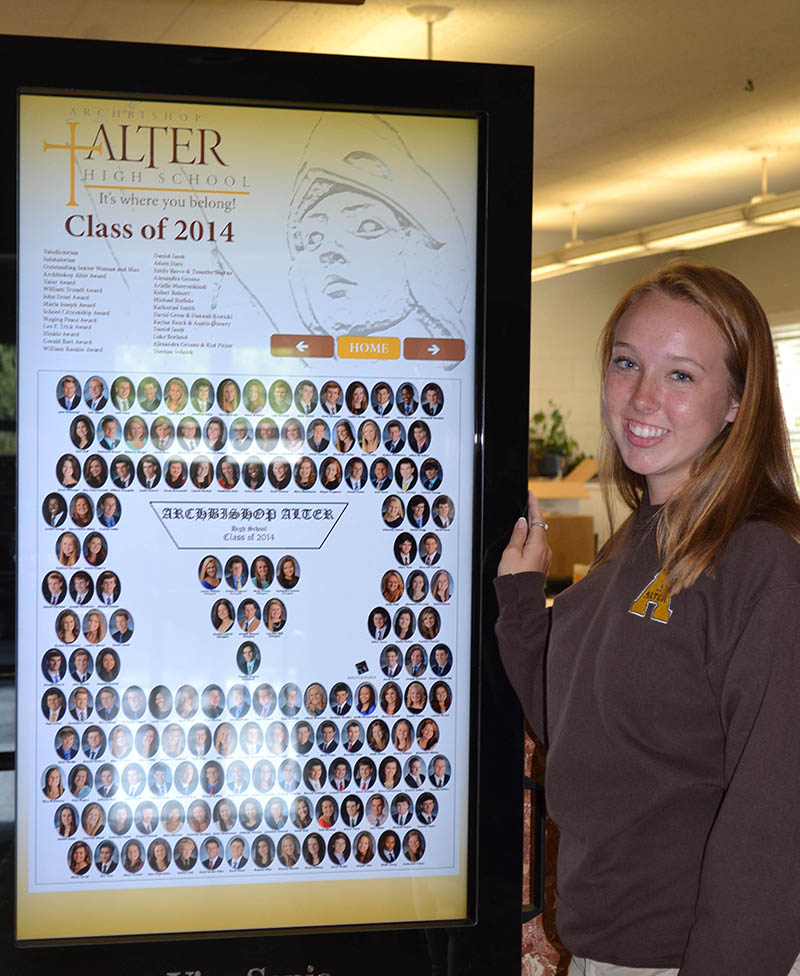 Inspiring Students and Visitors to Interact With a Touchscreen Kiosk
The Challenge
Archbishop Alter High School in Kettering, Ohio contacted FASTSIGNS® for a digital signage solution to modernize the look of their school lobby and replace bulky display units that housed 50 years of class composite photos.
The Solution
After consulting with the Alter staff, FASTSIGNS provided a touchscreen digital kiosk to help the school feature class photos, display their school events calendar and promote the City of Kettering's activity calendar.
FASTSIGNS provided a 46" touchscreen kiosk with a media player and a web-based content management system for displaying pictures, class lists and school events. The FASTSIGNS team developed the content for the digital kiosk and included digitized photo composites for the graduating classes. The interactive kiosk allows people to choose their graduation year, view names of class officers and counselors, and browse the photo galleries.
FASTSIGNS' Ron Weir said, "Because it's very interactive, you can choose to see facts about the history of the school, view enrollment information and find out about points of interest in the city."
The digital kiosk is located in front of the school's main office and runs content constantly.
Rick Willits, Director of Advancement for Alter High School, explained that the touchscreen kiosk solved their communication challenges.
"We eliminated some of the message boards in the lobby area with the digital display," Willits said. "We had many plaques with various awards that have now been added to each of the class sections on the touchscreen kiosk."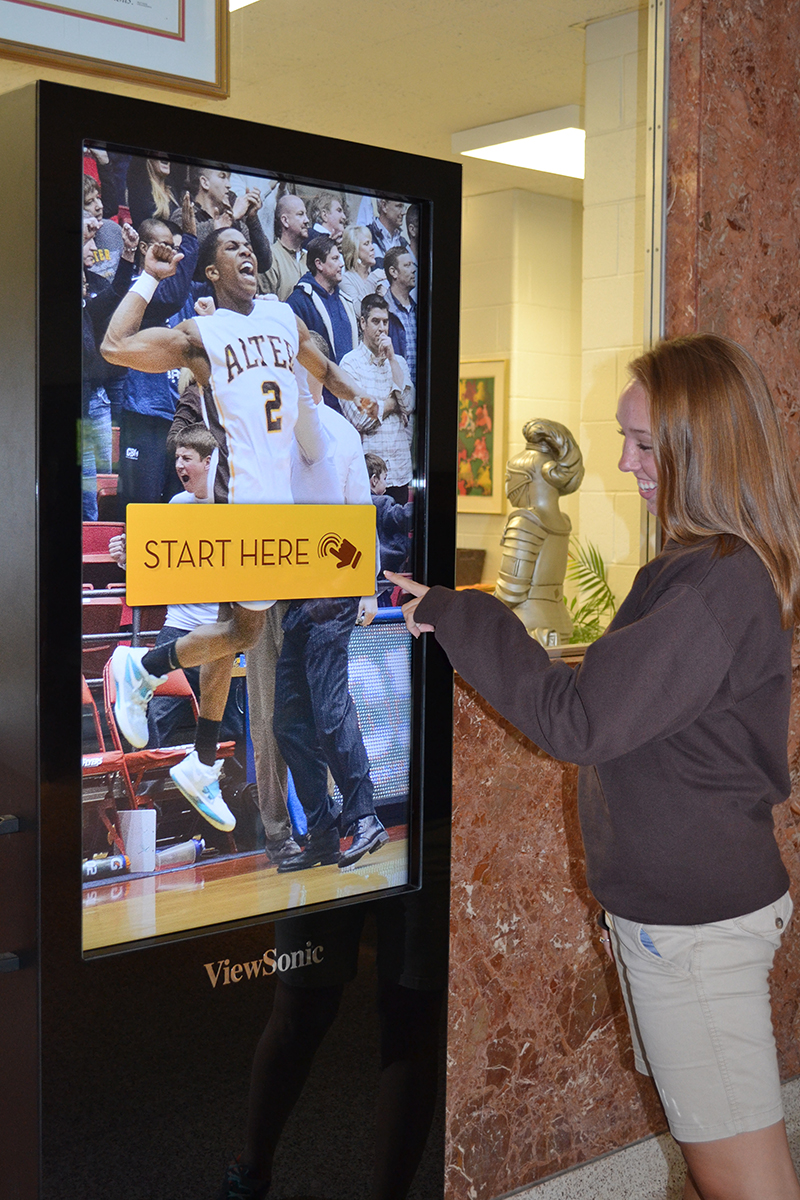 The FASTSIGNS team worked with the high school's design department to create a mobile website interface to access the content. A cloud-based content management system displays messages on the touchscreen display. FASTSIGNS added a USB Wi-Fi device to the media player for Internet connectivity.
The Result
FASTSIGNS provided a high-quality digital signage solution to stop students in their tracks and draw attention to messages in the busy educational setting. "People love the clean look and are happy about the easy searchable functionality of the unit," Willits commented.
FASTSIGNS worked with Alter's staff over the years on projects from wall lettering to parking lot signage to light pole flags. Weir concluded, "This project was well received beyond anyone's expectations. The students are interacting with the kiosk and the staff is oohing and aahing about the digital kiosk." The City of Kettering receives exposure in the community and visitors are intrigued by the easy access to categories of information on the touchscreen display.
*FASTSIGNS® of Dayton, Ohio is owned by Ron Weir.