Texas A&M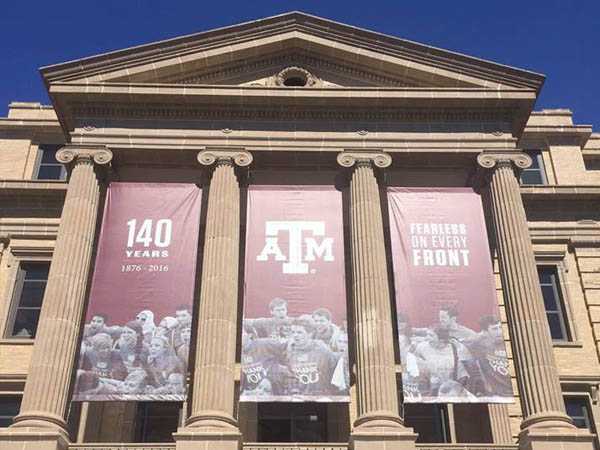 The Challenge:
Texas A&M University made their first brand appearance at the annual South by Southwest® (SXSW) Conference in Austin, Texas, and rented out a downtown hotel to host events. The university needed to brand the venue and build engagement while promoting a campaign commemorating their 140th anniversary.
The Solution:
For five days, two floors of Austin's Hotel Van Zant were transformed into the "Texas A&M House" with temporary signs and graphics.
Directional graphics were used to help guide attendees to scheduled events. Stair graphics displaying the university's historic timeline were placed leading up to the second floor, where a backlit aluminum dimensional logo and a 6-foot neon logo mounted on a cabinet sign were displayed. Brick columns and archways were wrapped to create a branded environment. Banner stands and hanging banners were also displayed for the duration of the conference.
Back on the Texas A&M campus in College Station, large banners hung outside the entrance of the student center and inside the atrium lobby displayed the school's 140-Year Celebration "Fearless on Every Front" campaign. Floor graphics and a wall wrap with dimensional lettering and acrylic standoff displays created a focal point, along with several other signs placed around campus.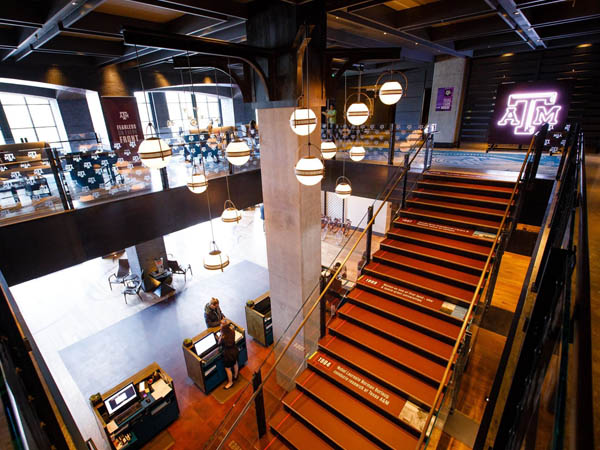 The Result:
The combination of signs and graphics increased Texas A&M University's presence at SXSW, and created a unique, branded experience during the conference. Promoting the 140-year anniversary campaign was extended to the campus, enhancing school pride.
*FASTSIGNS® of College Station, TX is owned by Kristi and Kevin Brightwell.
404 University Dr E Ste C
College Station, TX 77840
(979) 764-7446