Reliable Parts
FASTSIGNS Coquitlam works with innovative technology and trusted local FASTSIGNS franchises to deliver quality signage for clients Canada-wide.

The Background
Reliable Parts is Canada's leading supplier of home appliance and consumer electronic parts. FASTSIGNS Coquitlam has worked with them for many years supplying various signage solutions for different projects.
The Challenge
Reliable Parts was looking to upgrade their in-store graphics for multiple retail locations across the country. This challenge required creating a template that can be adjusted to different wall spaces and stay perfectly proportioned to brand specs every time, integrating flexibility while retaining brand integrity.
The Solution
Using the latest computer-aided sign-making systems and techniques available, we created a logo design template that can be enlarged and reduced as required and retain perfect proportions. The 3D logos are manufactured at FASTSIGNS Coquitlam and shipped to any part of the country where they are installed by a trusted local FASTSIGNS franchise ensuring quality to completion. Contracting FASTSIGNS Toronto East - Scarborough, we have completed our first country-wide installation.
As the client is based in Coquitlam, the marketing manager can conveniently work with a local supplier to coordinate a national implementation. The FASTSIGNS franchise can assure quality, consistency and professional installers country-wide.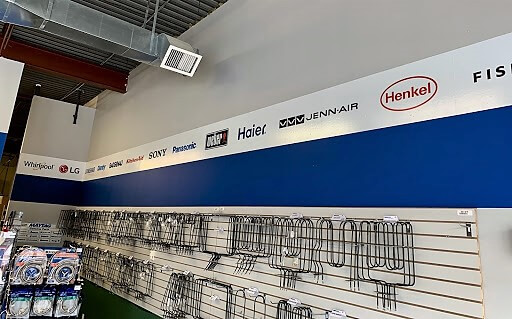 Crisp, clean partner logos displayed around the showroom perimeter.