FASTSIGNS® of Coquitlam, BC offers a comprehensive set of products to help our customers solve visual communications challenges and improve business visibility.
Collaborating with Daniela Hammond when she launched Olive The Best, a gourmet grocery store in Newport Village, Port Moody, allowed us to do just this.
Daniela approached me with a well thought out interior design plan based on her twenty-year experience in the interior design business. This experience gave her an innate understanding of how to make the most of her signage to reflect her store's brand and values.
Our task at FASTSIGNS® of Coquitlam, BC was to support Daniela's vision by telling her brand narrative with signage that used fonts, colours, and themes consistently.
Improve business visibility. Outdoor signs create a lasting first impression.
We started with outdoor signage as it offers a small business like Oliver The Best long-lasting value for money, especially in a high traffic location like Newport Village. The outdoor signage included an illuminated lightbox to increase visibility and branding and differentiate the store from its competitors, day and night, 365 days a year. A blade sign and window graphics increased visibility for pedestrians.
Visual Communication Challenges. Indoor signs continue the brand narrative.
Olive of the Best supplies fresh farm-to-table produce, and Daniela was clear about using imagery and signage to reflect her band values in her store's interior.
Fresh olives and aged vinegar.
The store's foundational products are fresh, pure olive oil and 12 year-aged balsamic vinegar. Anyone who has sat down to dip a crusty piece of chewy ciabatta into a small bowl of pure, fresh olive oil mixed with aged balsamic vinegar understands how mouthwatering and delicious this combination is.
To get the best flavour and health benefits from olive oil, it must be fresh and pure. Sourced from both the northern and southern hemispheres, olives, being seasonal fruit, are hence harvested and pressed at different times of the year. Consequently, a constant supply of the freshest oil is available all year round in Olive The Best.
In contrast, the aged balsamic, originating from Modena, Italy, has matured for 12 years or more. All of Olive The Best's balsamic vinegar is all made using the traditional solera method, reduced in a copper pot over an open fire with no added sugar or colouring, as done for centuries.
Our challenge was to combine the intrinsic values of out-and-out freshness and aged traditions when adding signage to the interior. The exciting part of working with Daniela is that she is open to suggestions. We collaborated on different materials for different signage with innovative results.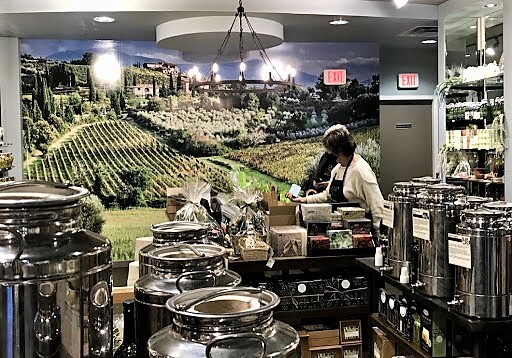 Simplicity.
FASTSIGNS® of Coquitlam, BC printed a large scale graphic that covers the entire back wall of the store. It is a glossy Italian landscape that immediately transports the customer on entering the shop to a lush, sun-dappled, green farm valley in Italy. The image evokes the brand and, because of its size, set the store's atmosphere with the use of one outstanding visual.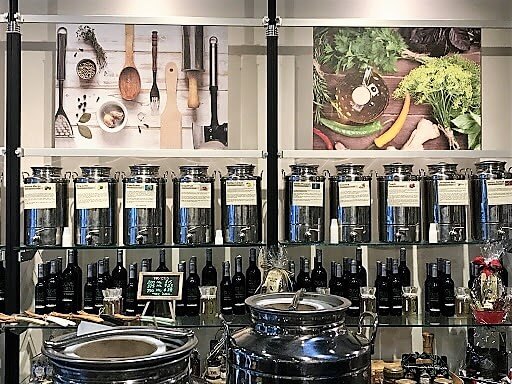 Consistency of style.
Olive The Best's interior effectively combines a fresh modern look with old-world country charm. Daniela did this by combining steel and glass shelving and industrial fittings with recycled timber from an old fence sourced off Craig's List. She repeated the montage of country and modern in all aspects of the signage and fittings. The modern steel and glass shelf fixtures feature printed canvas wall hangings depicting fresh farm products.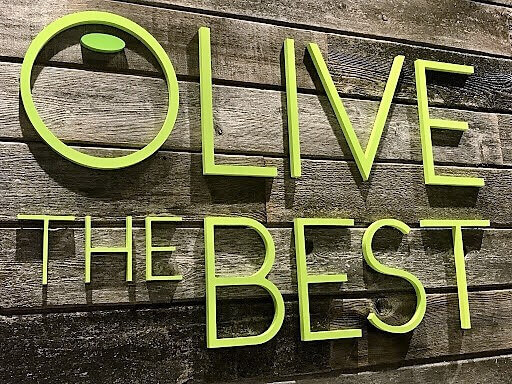 A centrepiece.
The pièce de résistance is the shop's 3D logo, using the brand's thin modern font and custom colour scheme mounted on the recycled timber.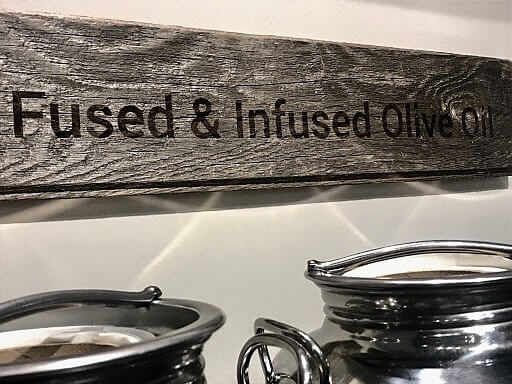 Finishing touches.
The remaining wood cut-offs gave us the idea to label the products with letters burnt into the wood, replicating an aged country feel. After a series of tests, the letters were laser engraved onto the signage. This final, innovative touch fulfilled Daniella's vision and brand narrative, bringing together the aged and modern.
Working with Daniela at Olive The Best allowed us to use the full range of services that our business offers while adapting to the practical constraints of the shop fittings as required.
Local is best
Daniela greeted me warmly and said: "People have more time at home this year. People are cooking more. I want them to have the best flavours at home and to be able to enjoy delicious food that will make this holiday season festive."
Support your community, shop local, buy local. And, a festive holiday season to all!
References: 
Business Partner Magazine, March 15, 2019