"Think about wayfinding signage as a holistic experience that can enhance a complex's aesthetics, livability and property value", says Andrew Crompton, franchise partner for FASTSIGNS® of Coquitlam, BC. "The explosion in delivery services has put signage within a complex under a microscope".
A friend told me a funny story recently. Her next-door neighbour in the townhouse complex they live in sent her a text one morning.
Neighbour: "BTW, you didn't leave something at my front door last night, did you?"
Friend: "No? Was it something nice?"
Neighbour: "It was a soggy package of DQ Blizzard that I discovered this morning."
Friend: "LOL. I would have told you."
Neighbour: "It's a wrong delivery again. Last week I got flowers.
Friend: Haha! Lucky you!"
Neighbour: "They were for #3 230 :-("
My friend lives on a street lined by three similar townhouse complexes, street numbers 240, 230 and 220, and deliveries are either always going astray or don't arrive.
What makes for good signage in town-house complexes? Clearly, where my friend lives, the signage is abysmal. I need to add that the townhouse she lives in comprise only eight units, a relatively small complex. Many of the new townhouse complexes, FASTSIGNS® of Coquitlam, BC makes wayfinding signage for are big complexes of up to 200+ homes or units.
Signage can positively impact your residents and help guests and service providers who visit your complex. Here is a brief overview of the four different types of signage to consider at your townhouse complex
Landmark signage
Landmark signage needs to be clearly visible from a vehicle for visitors, service providers, and prospective buyers. It acts as a way-finder and adds value to the complex's character and style.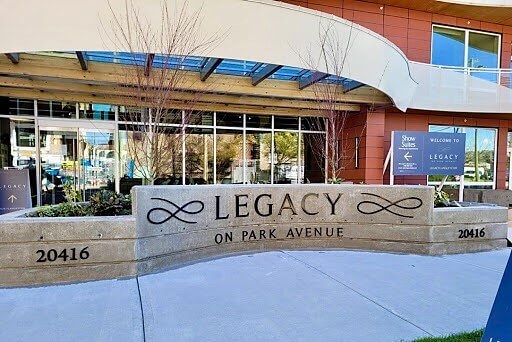 Monument sign at Legacy on Park Avenue replicates the unusual, curved architecture of the condo complex and is visible to passing traffic.
A recent client—Christie Reid, property administrator and site coordinator for a housing co-op built circa 1984 managed byTerra Property Management—became aware of how challenging delivery services were finding the Salal site at the beginning of the COVID pandemic in 2019. Salal Housing Co-op is a townhouse complex of four clusters of more than 25 townhouses per cluster and three parking lots. However, Christie decided to tackle the task of updating the wayfinding signage on the sprawling property. Her first task was to create highly visible signs announcing the three entrances into the complex.
Overview map
Multi-family buildings can be difficult and frustrating to navigate, especially for visitors, prospective buyers, delivery and service providers. A large, clear overview map mounted at the entrance to the complex is a simple solution. It can help direct the flow of traffic, ease congestion, identify parking and facilitate deliveries.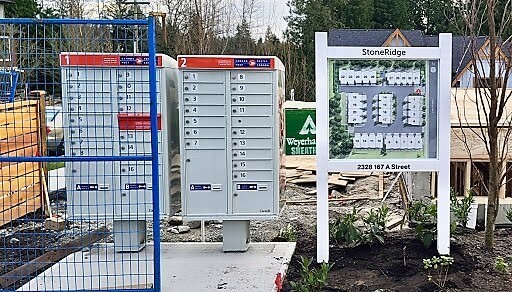 Above and below: StoneRidge townhouse complex development by Archstone has carefully planned wayfinding signage starting with prominent overview maps at entrances and central intersections.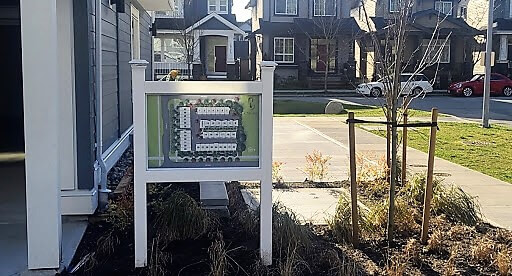 Directional signage
In larger complexes, directional signage helps people find amenities like the pool and clubhouse, parking lot, or parking garages, creating a better experience for everyone. It is also an opportunity to add style accents, which further adds value and character to the complex.
Christie walked the Salal Housing Co-op with residents to understand the frustrations from their point of view. 'Don't assume that your site plan dictates the best approach to how people visit the complex and absorb information. Talk to the people who live on-site. That is how you create logic from an illogical site", she laughs, referring to the labyrinth of pathways at Salal.
Legible number signs
I am a great proponent of creativity; however, as important is legibility. Any sign or number system that is not legible is a wasted investment. Legibility is dependent on placement, lighting, and visibility. Above all else, take care to keep numbers and signs big enough to see from a moving vehicle.
Emergency and postal services
Don't forget to accommodate essential services in your signage plan, including boiler rooms, electrical boxes, and other necessary amenities.
Creativity, character and style
Signs are design features that add character and style to make a living space stand out. Your townhouse could be any range of styles from Country French, Colonial, Victorian, Tudor, Craftsman, Cottage, to Contemporary.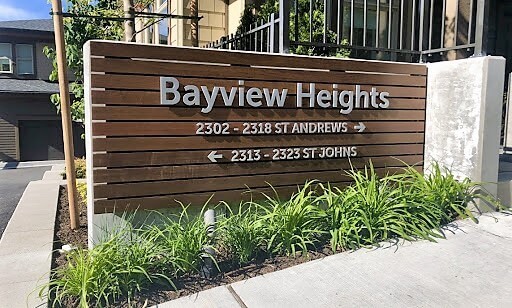 Warm wood signage offset by the cooler 3D aluminium letters welcomes visitors, service providers, and prospective buyers to Springbank Properties' Bayview townhouse project in Port Moody. Visible from a vehicle, the sign acts as a way-finder and reflects the contemporary style of the complex.
My advice is to look at the wayfinding signage as a holistic experience and not focus on one aspect of signage at a time. Details such as choice of selected material, font, texture, lighting, colours, and signage design enhance the complex's aesthetics and highlight the architecture.
At FASTSIGNS® of Coquitlam, BC, we can help you select the material you use and work with you on texture, precision colour and 3D installation, creating unique custom made signage.
We can also go through the FASTSIGNS catalogue of products and come up with a perfect out-of-the-box solution that will accommodate both your style and budget.
Quality
Don't take shortcuts. Often a cheap, quick fix, attractive at the time, can result in time and money down the road. Pay a little extra for good quality, durable and weather-resistant material that will stand the test of time.
My Coquitlam team can manage every aspect of your signage and wayfinding needs, from design to installation, adding value to your property and ensuring that your next delivery from amazon.com lands at your front door and not the neighbours.