Have you ever felt lost while looking for the toilet in a mall or you had to ask a lot of people where's HR office when you are going to a company to do your job interview? 
If the answer is yes, it probably means these places needs better wayfinding signs. Wayfinding is an information system that help people navigate their way through a physical environment and improve their understanding and enjoyment of it. If it sounds complex, just read Oxford definition of "Wayfinding", 'The act of finding one's way to a particular place; navigation.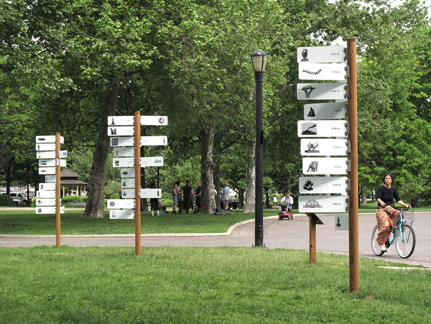 Whether you are driving on the road or walking with your dog in a park or visiting a relative in hospital or even looking for a car parking for your car inside your residence, you will experience Wayfinding signs. 
It's an essential part of each construction project to have a signage system guiding people through surrounding physical environment. Wayfinding's main goal is to inform individuals within a construct environment to be able to navigate their way and guide them to their correct destination.
Wayfinding principles
To have an effective wayfinding system, your wayfinding design characteristics should consider the following based human behavior:
Visual Communication 
We have talked about this is our "stop making us read" blog post. It's not only about literacy or people's ability to read, but not all people enjoy reading. Moreover, it's much easier to tell information through graphics or photos or illustrations which mix the message and information received faster with minimal effort. If it's necessary to use words, try to make it as simple as you can. People not always having enough time to think or elaborate what your wayfinding is telling.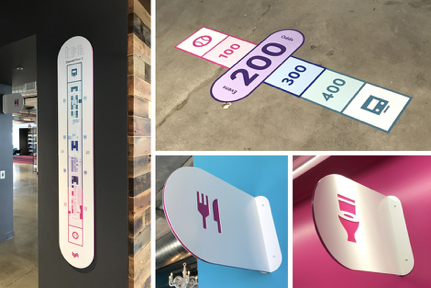 Intuitive placement 
When designing wayfinding, try to mark specific spaces and/or well-known locations.
- Location location location. 
- Make sure it's visible and not obstructed by anything.
- Avoid clustering signs. 
- Make it readable by choosing the right font, size, color, contrast. 
- Consider distance
- Know your audience: cars, bikes, pedestrians.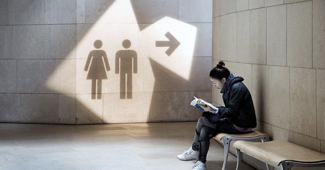 ADA Compliant: 
As a 26% of all American has some sort of disability it's very important to take that in mind when designing way-finding signage. You can read more about it in our previous blog post "Is Your Business ADA Compliant?" 
Signage System Variety
Use deferent Wayfinding systems and signage to guide people. 
Some example are:
Monument Sign

Pylon Signs

Routed Signs 

Dimensions signs 

ADA Signs

Floor Graphics 

Table Graphics

Glass Graphics

Backlit Displays

Building Signs

Digital Signage

Digital Kiosks

Flags

Yard Signs

And more…
After all the easier and faster people understand your wayfinding, the more successful your wayfinding is. Try to make it direct and helpful for people to understand especially when it's creative wayfinding so, people will not only get the information but never forget you or your company. Make your wayfinding creative and appealing so both of your brand and information remain forever in people's minds.