Case Study - Marian University

The Challenge
Many universities face the challenge of branding their campuses and making their surroundings more appealing. Marian University, a liberal arts college in Fond du Lac, Wisconsin, hosts a number of community and athletic events and wanted to update the look of their campus.
FASTSIGNS® Outside Sales Manager Mark Van Ermen approached Marian University with a phone call to inquire about their branding challenges. Then, Van Ermen met with Lisa Kidd, Director of University Relations, to discuss changeable décor and flexible signage solutions.
The Solution
FASTSIGNS toured the university campus to evaluate the areas for improvement and made suggestions for wall murals, street pole banners, dimensional lettering, banners and window decals.
The university chose to work on the most impactful projects first, including adjustable signage for their Athletics Wall of Fame to accommodate the need for expansion on a Lannon stone wall. The athletics building received a signage refresh with dimensional letters and multi-layered acrylic signs that stand off from the wall, featuring athletes and leaving space for new honorees.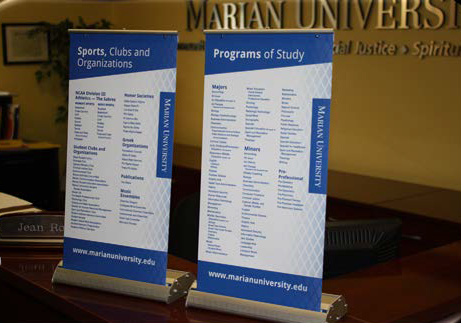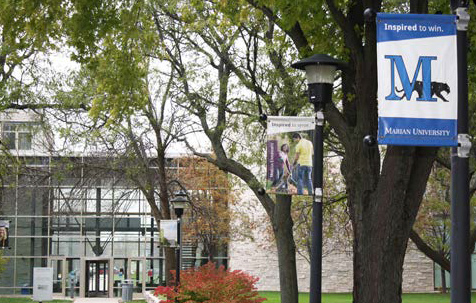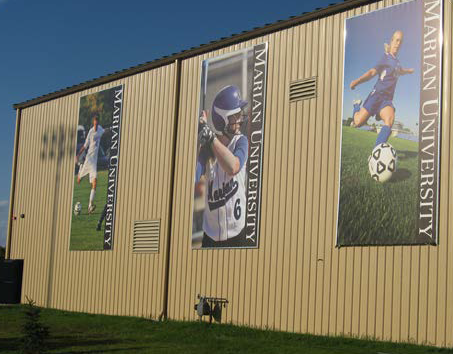 Managing the projects, FASTSIGNS "took our initial ideas and translated them to the most feasible solution and considered the look, design, installation and cost," Kidd said.
"Our vision was to create impactful signage for the Wall of Fame," Van Ermen explained. "We wanted to provide a flexible concept that the university could change and expand in the future."
FASTSIGNS placed branded signs around the campus to reflect the student lifestyle and enhance the visitor's experience. In the welcome center, FASTSIGNS created wall graphics with a collage of the university's chapel. The hallways of the administration building feature digitally printed wall murals.
Other visual communications solutions involved lifestyle photos, wall décor and dimensional letters to brand the college in the offices of Student Engagement and Security.
"We were able to provide multiple solutions for visual graphics to brighten the look of the university and make the campus environment more comfortable," Van Ermen said.
For the university's exterior signage needs, FASTSIGNS created 28'x16' framed banners for the field house to help the university increase the visibility of key athletic sports. The team also added exterior dimensional letters on the field house. To round out the host of solutions for athletics, FASTSIGNS developed a frame system for sponsorship boards to help the university generate advertising revenue.
The Result
From 20 foot wall murals to window graphics and tabletop banners for admission offices, Marian University's campus was transformed with attractive signs, inviting graphics and welcoming décor.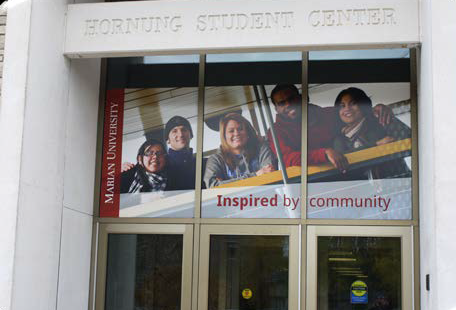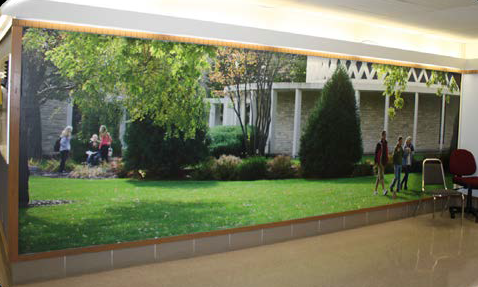 Pleased with FASTSIGNS' ongoing ideas and customer service, the university continues to keep their signage up to date with the help of Van Ermen and the team at FASTSIGNS. "We receive on-site visits to walk through the project, discussion of potential solutions, sample materials sent ahead for approval and on-time installation within tight timelines," Kidd mentioned.
*FASTSIGNS® of Milwaukee, Wisconsin is owned by Robb and Stacy Schmit.