As we all experienced, this last year ushered in a world-changing pandemic that impacted how we do business. Even as businesses reopen, the way organizations interact with customers and visitors remains changed. "Contactless" is still a key phrase and merging print media with digital media, contactless signs and digital signage has proven to be the way to move forward. 
Incorporating QR Codes and Near-Field Communication
Making a static sign digital may seem like a challenge, but QR codes and Near-Field Communication (NFC) has made this much easier. Imagine being able to scan a code or tap your phone to a static sign and an image, video, website, contact card or map location instantly pops up on your phone. These protocols enable the static world to become digital and dynamic.
QR codes and NFC have been around for years, however NFC has recently become more available since Apple opened their restrictions on NFC to only ApplyPay. Android phones have had this ability for many years, but now that both platforms allow the use of NFC tags to trigger a multitude of links to different digital assets, possibilities are growing. QR codes are easy to create online for a web link to virtually anything and that same link can be encoded into an NFC tag depending on the abilities of the smartphone. Most of the time, both are offered to cover all of the bases. 
Driving Sales with Digital Options
Utilizing digital signs in your business lets you communicate brand messages in realtime, show your products in use and can promote special pricing. Retail digital signs can feature multiple messages to target specific demographics at different times of the day. Digital signs and displays are high-impact, with 63% of people reporting digital signage as eye-catching. 


Motion, color and sound help command attention and are a great way to complement the other static signs you have in place. Place QR codes on point-of-purchase displays to offer additional product information, direct to a video and upsell.  
Digital Signs and QR Codes Improve Everyday Experiences
Digital signs and the use of contactless solutions through QR codes is definitely not limited to retail settings. The possibilities are almost endless and can provide value for any business or organization. 
Restaurants have shown fast adoption of QR codes for serving up digital versions of menus, accelerated by COVID-19. This can be combined with NFC tags for even broader compatibility. Using digital signs and kiosks also provide opportunities to keep patrons up-to-date with the latest safety protocols and the day's specials.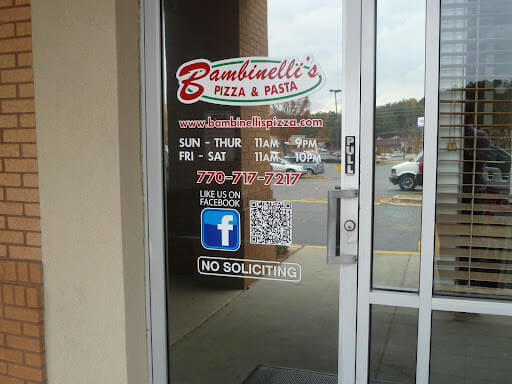 Hospitals and doctors offices can include QR codes and NFC tags in their entrance signs that offer up a map of the building, including how to get to the nearest digital sign directory for more help. Patients and visitors could also be provided with the facility's most current safety and mask protocols. 
Digital signs at museums and events help draw visitors in and help them engage with the exhibit. Museums could make the most of exhibits by using QR codes to direct viewers to videos that provide more information about the topic at-hand. This is especially useful if areas are a little crowded, making sign viewing difficult. 
At an upcoming trade show or networking event, use NFC tags on your event name badges. When someone taps it with their phone, they will have the other person's contact information immediately at their fingertips. Set up digital displays throughout that reinforce branding, spotlight sponsors and run social media feeds following the event's hashtag. 
Encourage interest, drive business and enhance the overall experience with digital signs. Engage visitors, customers and patients with digital signs to inform, entertain, motivate repeat visits and build your brand. Sounds easy? For the experts at FASTSIGNS, it is. Contact your local center today to make it happen.