Stagnant trade show booths and displays are a thing of the past. To connect with today's attendee you have to stay on top of your exhibit game and ahead of the competition.
First impressions are made quickly and they last long after passing by your exhibit space. Take advantage of these unique visual graphic products at your next outdoor trade show to get noticed and remembered.   
1. Printed Canopies/Tents
Canopies and tents are popping up along the horizon of trade shows, conferences and festivals everywhere. As the custom-printed fabric sign movement grows, so will the use of booth tents that display your brand name from a distance. Ideal for outdoor use because they offer shade, canopies also provide a feeling of exclusive space even in high-traffic, crowded areas. Printed canopies and tents are lightweight making it easy to set up, take down and transport. To create a polished, professional look for your tradeshow space, coordinate your printed tent or canopy with table covers, fabric backdrops and teardrop flags—each custom printed with your branding and marketing messages. 
2. Cement Graphics
Utilizing the ground and wall space at your next outdoor tradeshow brings a subtle element of surprise to attendees. Wall graphics on brick or cement help make the most of the physical space provided and grant more opportunities to visually communicate.
Don't forget to look down when planning your outdoor tradeshow graphics—placing graphics at the feet of attendees can help guide them to specific sponsor areas, remind them of an event app or brand campaign, or direct them to restrooms. At the end of the event, the graphics can be removed maintaining the integrity of the brick, wall or ground texture.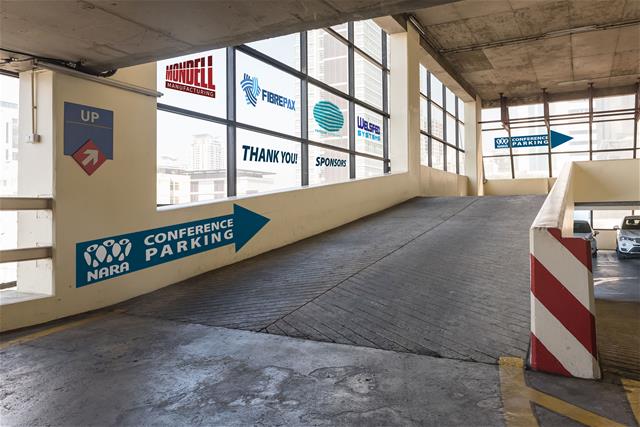 3. Custom-Printed Fans
Handing out items at trade show events is a standard activity, but the greatest value lies in how long they hold on to that freebie. Custom fans made with attention-grabbing shapes and images offer the added benefit of keeping outdoor exhibit attendees cooler. Feature your CEO's face, the shape of your recently launched product or a teaser for an upcoming promotion. Fun, quirky designed fans draw attention while increasing the chance your message is seen as attendees fan themselves throughout the event, well-after leaving your exhibit. 
4. Interactive Elements
Engaging with trade show attendees is a goal for any exhibitor, but speaking directly with each and every person passing by is nearly impossible. Include interactive elements at your outdoor trade show to help extend your team's efforts and your message in a meaningful way.
Set up a digital display at the perimeter of your exhibit with moving video and images to pull passersby in. House content about your product, service or brand on the display that educates the viewer. Touchscreens provide an additional interactive element and prompt users to explore further.
Cutouts or entertaining displays that provide a photo opportunity encourage attendees to interact with your booth. They also tempt visitors to take selfies and share them on social media, promoting you to their online followers in the process. If you are tight on space, consider a small printed frame that can be held up, with your event or brand hashtag, as a photo prop.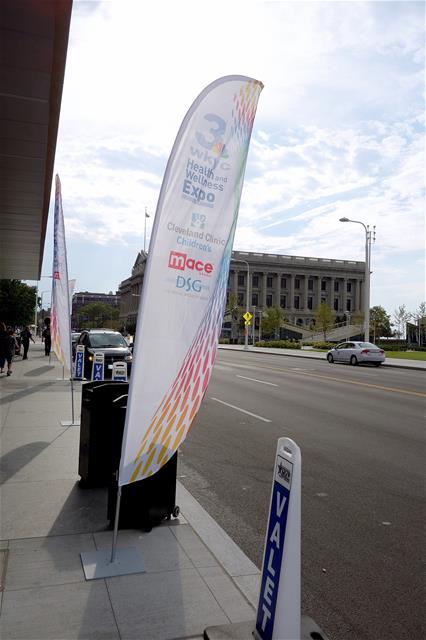 Make the most of your outdoor exhibit opportunities by thinking outside of the traditional trade show display box. Know your target audience and determine which ideas have the most potential for helping you create buzz. Then, expand your presence and achieve your trade show goals by incorporating these attention-stealing ideas.