Whether you operate a restaurant or you're an aspiring food truck owner, it's important to find a niche for your business. Getting a food truck noticed in a neighborhood, community or event venue can be challenging, but rewarding at the same time. The design, presentation and menu for the food truck are an extension of your niche to drive product sales and attract new customers.
Here are five ways to boost marketing for food trucks:
1. Get Rolling with Vehicle Wraps
To jumpstart your food truck business, share your message on high-impact vehicle graphics and wraps as an essential ingredient for your mobile marketing. When BRYN & DANE'S wanted to launch a catering truck to reach customers in various parts of the community, owner Bryn Davis asked his local FASTSIGNS center in Willow Grove, PA to help locate two 26-foot food trucks.
After procuring and wrapping the food trucks, FASTSIGNS franchise owner Clint Ehlers and his team outfitted them with digital displays and speakers. FASTSIGNS applied vehicle graphics to the food truck that featured a cartoon designed by a Japanese animator. The food trucks are used for local and regional promotional event marketing along with special catering events and deliveries of large lunch orders.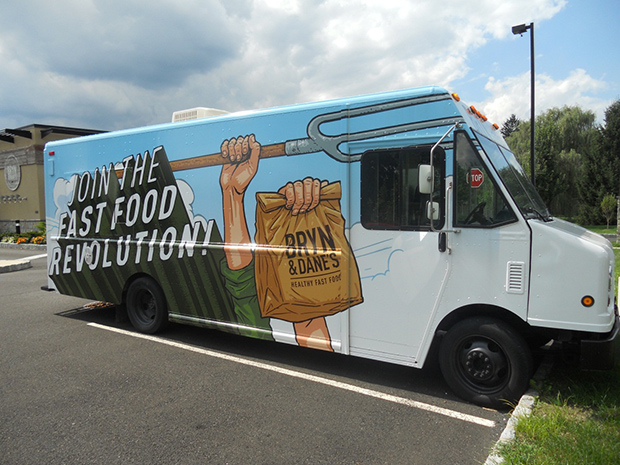 2. Determine Where Your Customers Are
Finding the location for a food truck in your community is as easy as seeking out a park, community center or event such as a concert, outdoor fair or festival. In the Dallas, Texas Arts District, a food truck court is located between the park and the opera house and includes everything from cupcake and Greek food trucks to seafood, BBQ and vegan specialty food trucks. By parking near customers, this helps incite visual excitement from potential passing patrons and keeps your food truck on the move to reach more food fans.
Blue Gypsy food truck owner Janie Jeskey specializes in what other competitors don't provide for auctions, local fire company events, car shows and more. Jeskey takes her Harrisburg, PA based food truck on the road wherever her customers are gathering and attracts interest with a colorful wrap designed by FASTSIGNS. Depending on where Jeskey travels with her food truck, the menu changes based on the customers and type of event. Using changeable menu boards, Jeskey alters her magnetic decals and cooks different dishes for each event. FASTSIGNS also created a banner, A-frame menu board, tent and website for Blue Gypsy to coordinate with the food truck branding. Jeskey receives ongoing interest in the popular, eclectic menu items, and she hands out business cards in the shape of a food truck.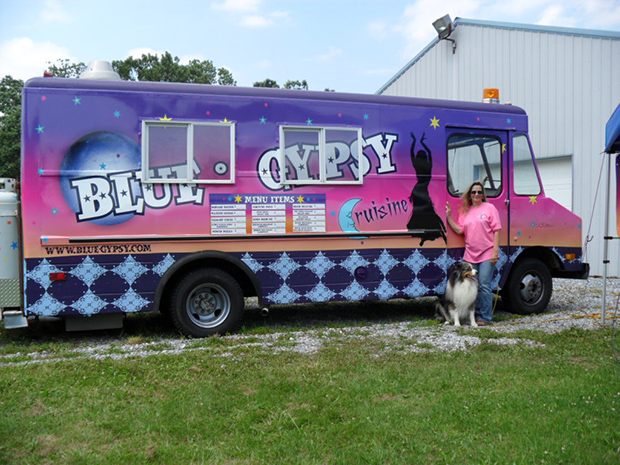 3. Plan Promotions to Get Foodies Interested
Make plans to reach food-lovin' fans and improve your social media outreach by connecting with fans using mobile marketing solutions such as mobile websites and SMS Text Message Marketing. If your food truck or restaurant website isn't formatted for mobile use, you may not reach customers who want to visit your food truck to experience your top dishes, new recipes or menu updates.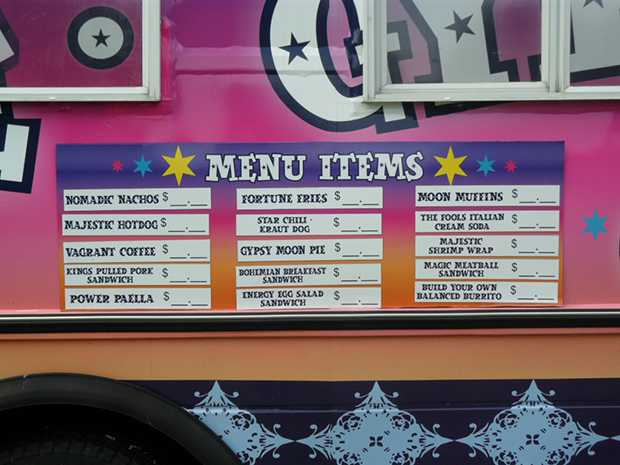 4. Launch Loyalty Programs and Printed Materials
Inviting repeat customer to join a loyalty program, you can encourage customers with a free purchase or discount for visiting a certain number of times. FASTSIGNS of Beaverton provided food truck graphics and signage for Gourmet on the Go mobile kitchen in Portland, OR, where customers use punch cards for every $5 spent and receive a free burger and fries after 10 punches. Popular apps are available to launch your loyalty program and it's also possible to cross promote a food truck on printed material including brochures, fliers and window graphics.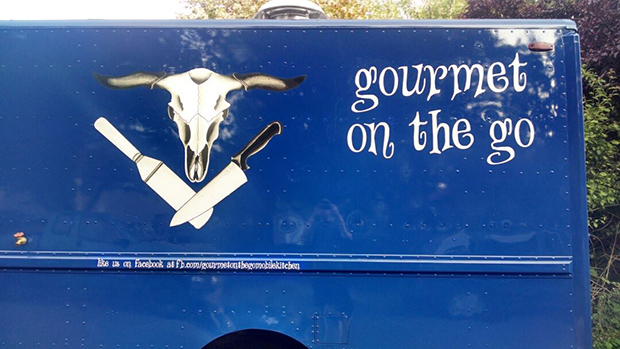 5. Invest in High-Quality Photography
If you are a foodie or you use social media to promote your restaurant or catering business, you are well aware of the importance of high-quality photos that can be used for your visual imagery on food truck wraps, posters and on your website or social media. Consider hiring a professional for how to take a perfect food photo.
Learn more about independent food trucks that contribute to a $1 billion industry on YAHOO! Food's article on 27 Best Food Trucks in America.  Food trucks and restaurants attract customers with exterior signs, vehicle wraps and printed materials such as menus, table tents and posters. Get moving with ways to promote your food truck business and launch your mobile marketing strategy. Locate a center near you. Tweet us @FASTSIGNS to tell us your food truck story.
---
Sources:
www.thedallasartsdistrict.org/visit/food-trucks-in-the-district
https://gizmodo.com/how-to-take-a-perfect-food-photo-1531661720
https://www.yahoo.com/food/a-taste-of-the-countrys-best-food-trucks-117032284796.html