Whether you are in the business of putting on events, promoting products or services at others' events, or just occasionally hosting small meetings, determining the type and number of signs and visual graphics needed to help you achieve your event goals can be challenging.  FASTSIGNS can help you with signs and visual graphics that scale with your event.
From a single banner stand to many large hanging banners
Get attention and communicate information before and during your event with a single banner stand or go big and include many large hanging banners. Banners are available in standard and custom sizes, vinyl or fabric, and can stand, affix or hang.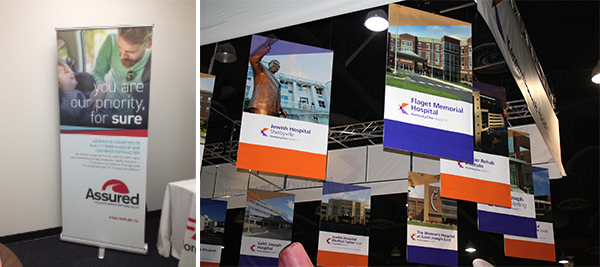 From one directional sign to a full wayfinding system
Help people quickly and safely get where they want and need to go.  Use simple directional signs with arrows, create area maps, or have elaborate wayfinding systems, all to add organization and structure to your event. 

From a simple digital sign or kiosk to multi-screen displays
Communicate event schedules and locations, menu and dining options, safety information, sponsors, theme messaging or whatever you need using digital signage, inside or out.  Choose from table top displays, kiosks, wall displays or portable screens.  Update the message and use the same – or different content – throughout your event venue.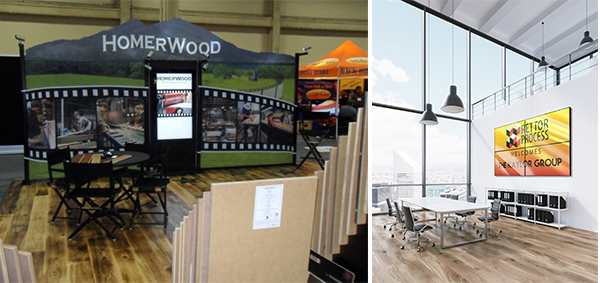 From a sign identifying the elevator to a full elevator wrap
Maximize your event messaging space by using places people gather to communicate.  From a small sign on or near the elevator bank to full elevator wraps, extend your theme to more surfaces.

Signage that scales with your event
 
Large or small, simple or elaborate, or indoors or out, events bring people together to learn, promote, be entertained, celebrate, fundraise or honor.  The next time you needs signs and graphics that scale based the size of your event, contact FASTSIGNS®.