The Opportunity
FASTSIGNS® has worked with Tulane University in New Orleans, Louisiana for over 13 years on various printing, sign and graphics projects.
The Challenge
Tulane University's athletics departments, facilities managers and university staff wanted their signage and visual graphics to help enhance school spirit and update athletics buildings.
The Solution
Tulane University needed a visual makeover to be able to make a better impression on visiting student recruits. "Tulane University wanted to compete in the ultra-competitive world of recruiting and needed to step up and do more to attract kids," FASTSIGNS' Kevin Hebert said. "We provided signs and graphics for the athletics department and provided lots of printing."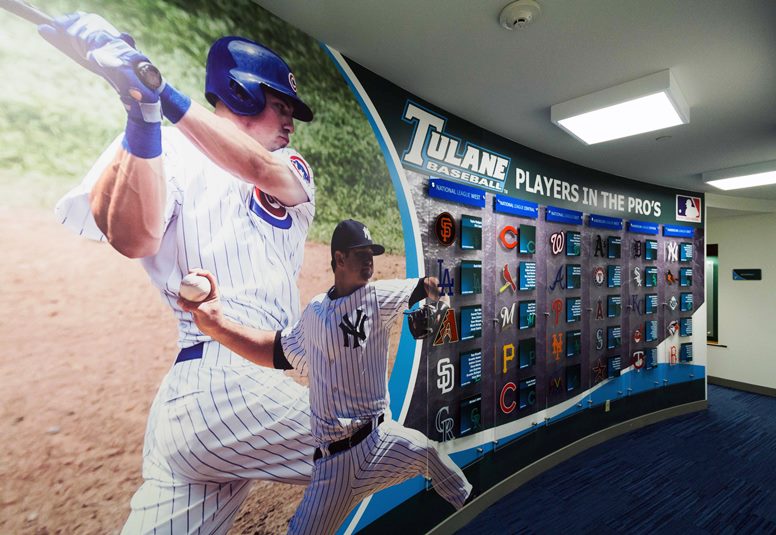 Tulane University's baseball offices feature a prominent, concave wall with logos and graphics for alumni students turned professional athletes. The applications for this wall included a repositionable fabric wall covering and changeable panels. With just one day to complete both production and installation, Hebert's team created dimensional letters using their router and installed the signage on Tulane's All American baseball wall.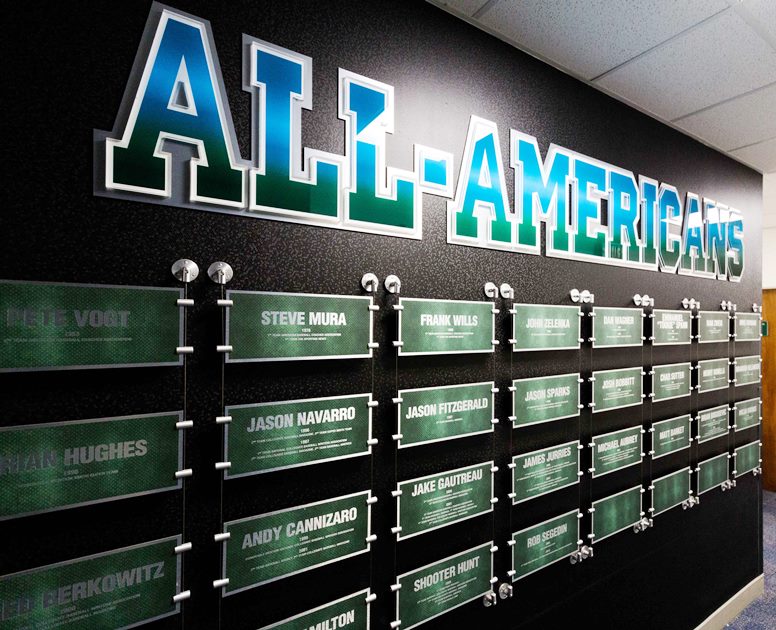 The football program needed graphics to line hallways. FASTSIGNS created large wall murals and floor and ceiling graphics, as well as wrapped a reception desk with 3M brushed aluminum and added vinyl letters. The football program also wanted room identification signage and name plates for doors and offices.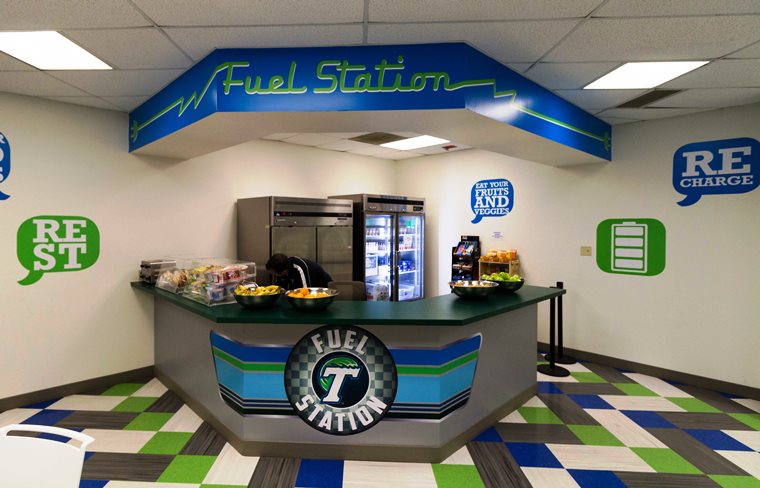 FASTSIGNS transformed a gift shop into the fuel station, a.k.a. athletics nutrition area, and designed the logo, wrapped the counter with brushed aluminum and created a lively place for student athletes to enjoy power drinks, protein shakes and fruit.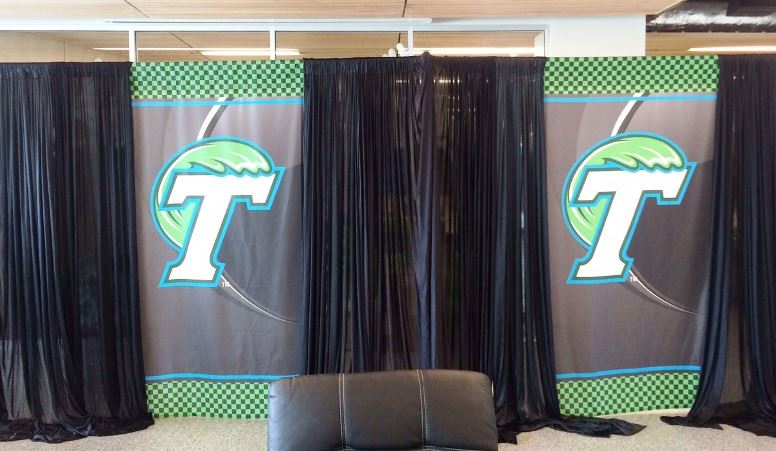 For a sophisticated way to welcome visitors, Hebert said his team created fabric decorations for the area where football recruits and their families are taken when visiting the campus. "The fabric signage replaced pipe and drape partitions in the football stadium," he said.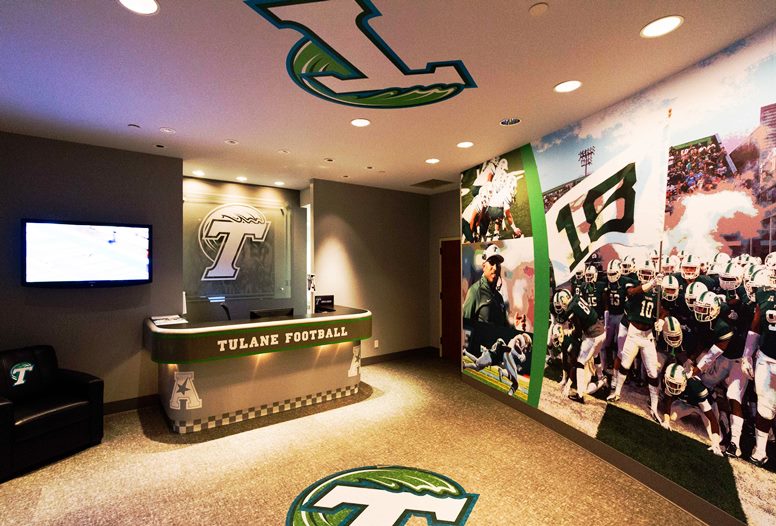 Hebert's team provided printed materials including sports schedules, posters, direct mail and fundraising marketing pieces. FASTSIGNS chose a wide range of visual communication solutions from vinyl graphics and acrylic signs to fabric signage and floor, ceiling and wall graphics.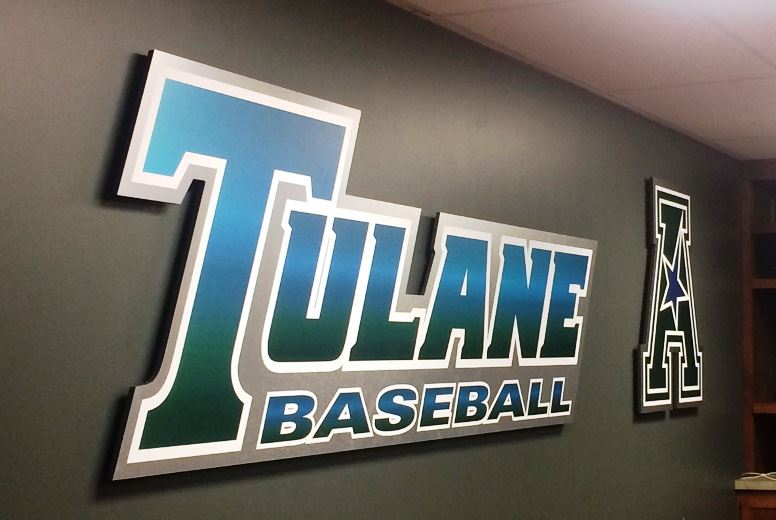 The Result
Tulane University was ecstatic with the new graphics and visually appealing signage. Hebert said, "The transformation of Tulane University's athletics facilities increased the visibility of the campus while adding more "cool factor" during recruiting visits, and they are now signing better quality athletes."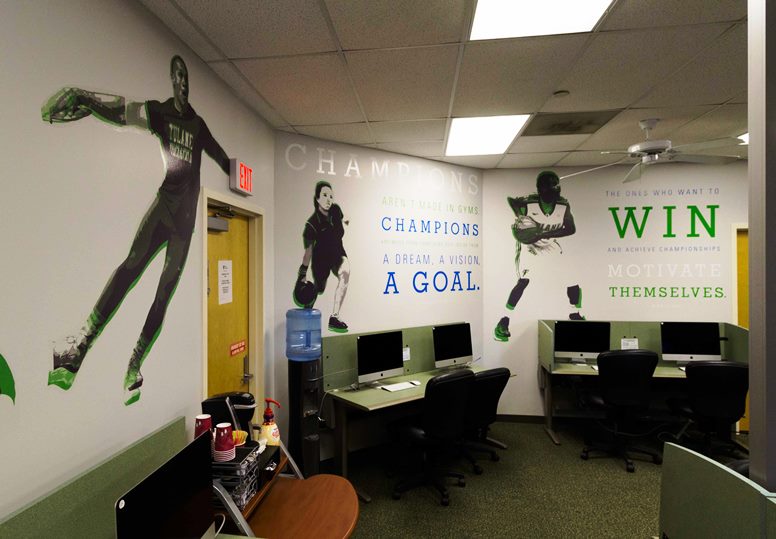 *FASTSIGNS® of St. Charles, LA is owned by Kevin Hebert.