VIA Port Aquarium
New Aquarium Brings Life to the via Port Mall
The Challenge
VIA Aquarium, part of the VIA Port Mall, built a new aquarium and gift shop that would attract patrons, bring in new revenue and help acquire new tenants. The client wanted an atmosphere that matched the event but could also remain in place when the event was over.
The Solution
The VIA Aquarium and Treasure Chest gift shop both started with blank walls and needed everything from wall graphics, indoor and outdoor wayfinding signs, vehicle graphics, banners and more, all before the grand opening event.
One-word wall graphics were installed throughout the exhibit serving as backdrops to the stingray tank and shark cage with some graphics measuring 12 feet tall and over 110 feet long. A steel sheeted wall was installed using vinyl graphics and magnetic fish that children could rearrange during their visit.
The new gift shop, The Treasure Chest, was an extension of the aquarium. Exterior signage and graphics were added to complete the look and match the overall theme.
Outside, wayfinding and roadside signs were placed around the perimeter of the mall directing visitors to the aquarium. Feather flags and new illuminated channel letters were placed outside the aquarium entrance.
For the grand opening event, a stage backdrop was made and it remains in the store today.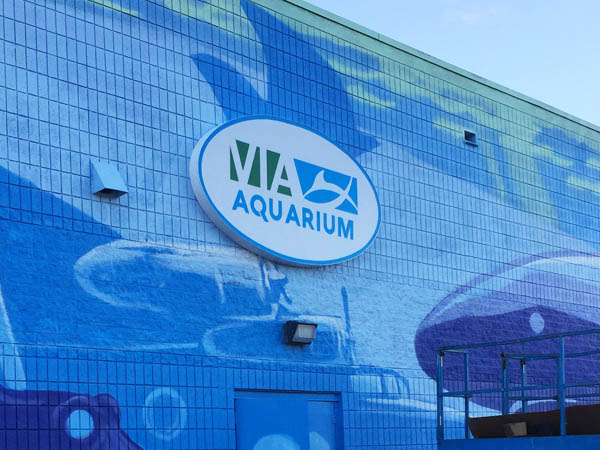 The Result
The new branding and timely implementation allowed the client to remain on track for the grand opening and bring awareness to the VIA Aquarium with a combination of strategically placed signs and eye-catching graphics. Even temporary sign solutions stayed in place close to a year, giving the customer a good return for their investment.
FASTSIGNS® of Saratoga Springs, NY is owned by Rick Bult.
Plaza 15, 30 Gick Road, Saratoga Springs, NY, 12866
(518) 306-4449