Country Fair
Boosting Product Sales Using Custom Content on In-Store Digital Signage
The Opportunity
For over 20 years, FASTSIGNS has worked with Country Fair® convenience stores in northwestern Pennsylvania for various visual communications projects.
The Challenge
Country Fair needed a digital signage system to draw the attention of their convenience store customers and emphasize the fountain drink stations within 72 retail locations.
The Solution
FASTSIGNS consulted with the Director of Food Service for Country Fair on unique ways to display their content. FASTSIGNS created animated spots at the point of purchase to help advertise soft drinks, coffee, deli items and other promotional purchases. These enticing ads stimulate purchase decisions with the power of motion graphics.
"We manage a digital sign network for Country Fair," FASTSIGNS' Dan Stutzman said. "Using art files provided by Country Fair, we created content for the digital displays that is eye-catching and effective for reaching their customers."
FASTSIGNS designed the digital signage solution using two 46" Samsung displays that transform the entire fountain drink station in the convenience stores. FASTSIGNS provided custom, repositionable frames to hold two digital screens in each Country Fair location.
With the ability to move the digital signs when employees needed to service the ice dispensers, the digital signage is both visible and accessible over the fountain drinks machines.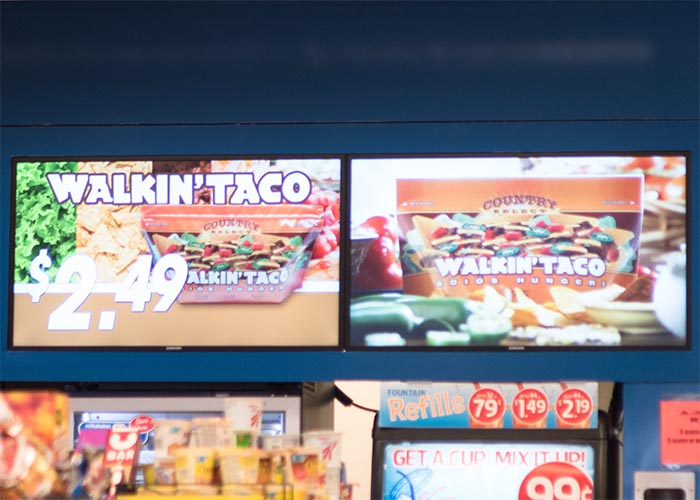 "The digital screens are hinged at the top to allow employees to perform routine maintenance to the ice machines," Stutzman explained.
By providing an initial content bundle of 20 fully animated advertisements, FASTSIGNS helped the convenience stores grow their sales.
FASTSIGNS provides content management services to keep the motion graphics and promotional topics fresh for customers who frequent the convenience stores.
Stutzman said, "We update the content design and manage the digital signs on a monthly basis for Country Fair."
The Result
FASTSIGNS helped solve Country Fair's challenge of promoting fountain drinks and complementary food purchases in a fast-paced convenience store atmosphere. The digital signage solution meets the custom design and content needs of the convenience stores, and elevates the look of the stores.
Now that FASTSIGNS has installed and serviced digital signs for Country Fair, the company has requested additional locations be outfitted in the future with digital signage in the deli, too.
*FASTSIGNS® of Erie, Pennsylvania is owned by Naomi and Dan Stutzman.