Attendees at the 2018 FASTSIGNS Outside Sales Summit in Arlington, Texas partnered with the Tarrant County Alliance For Children Advocacy Center as part of the "FASTSIGNS Community Giveback" to donate coping kits - including stress balls, journals, coloring books and other items - to children who have experienced trauma. 250 kits assembled on August 18 during a  "Breakfast with a Purpose" event were provided to help relieve children's stress in anxiety provoking situations such as counseling or court appearances.
Through the FASTSIGNS Community Giveback Project, Franchisee's and their employees from three countries, as well as FASTSIGNS International team members and vendors, were able to come together and support a local cause and help the Arlington community.  
"Our give back projects seek to make a positive impact in the communities we visit when we host events. Along with our partners in giving, we are honored to have the opportunity to help support the children and staff of the Tarrant County Alliance For Children Advocacy Center with these Hope Coping kits," said Tracy Lake, Director of Events at FASTSIGNS International, Inc.
Thanks to our partners in giving -  Canon Solutions America, Inc., Distinct Displays, Grimco, Makitso USA LLC, N. Glantz & Son, Orbus Exhibit & Display Group, SA-SO Signs & Safety and Vista Systems - for their generous contributions to provide funds for the donation items.
"I believe that these children will begin to heal from the abuse that they've endured as long as they can have the support of amazing communities like this," said Lindsey Dula, Director of Program Services at Alliance For Children.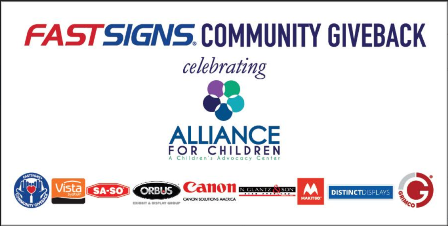 About FASTSIGNS®
FASTSIGNS International, Inc. is the largest sign and visual communications franchisor in North America, and is the worldwide franchisor of almost 700 independently owned and operated FASTSIGNS® centers in ten countries including the U.S., Canada, England, Saudi Arabia, UAE, Grand Cayman, Mexico, Chile, Malta and Australia (where centers operate as SIGNWAVE®).
FASTSIGNS locations provide comprehensive sign and visual graphic solutions to help companies of all sizes and across all industries attract more attention, communicate their message, sell more products, help visitors find their way and extend their branding across all of their customer touch points including décor, events, wearables and marketing materials. Learn more about sign and visual graphic solutions or find a location at fastsigns.com. Follow the brand on Twitter @FASTSIGNS, Facebook at facebook.com/FASTSIGNS or on LinkedIn. For information about the FASTSIGNS franchise opportunity, contact Mark Jameson at (214) 346-5679.