Digital signs have given businesses the ability to adapt and engage the public in ways they could have never predicted. With their growing popularity, marketers are understanding the importance of reaching customers using creative digital signage.
Digital Signs Make a Difference
Digital display signs have proved to be effective in creating a lasting impression in a world where consumers demand instant connection and information. According to the SignAd Network, a study by Arbitron revealed that 47% of those who have seen digital signage in the past 30 days specifically recall seeing the ad. In addition, 8 out of 10 American consumers have entered a store because a sign caught their interest. That means digital signs for business are especially important, and creative digital signage could directly affect your bottom line. That direct link to sales has businesses coming up with some unique and truly amazing uses for digital signs. Here are five of our favorites.
1. Battersea Dogs and Cats Home
Photo credit: AdWeek
This home in London for dogs and cats pushed the boundaries of creative digital signage with its #LookingForYou campaign. Volunteers for the home handed out brochures with a radio frequency tag at a local shopping center. For those that took a brochure, a dog named Barley suddenly popped up on digital signs throughout their walk through the shopping center. The Battersea staff sought to raise awareness of their home and increase animal adoptions. In addition to creating a memorable advertising experience in England, Battersea received attention from around the world for their efforts.
2. T-Mobile Live Angry Birds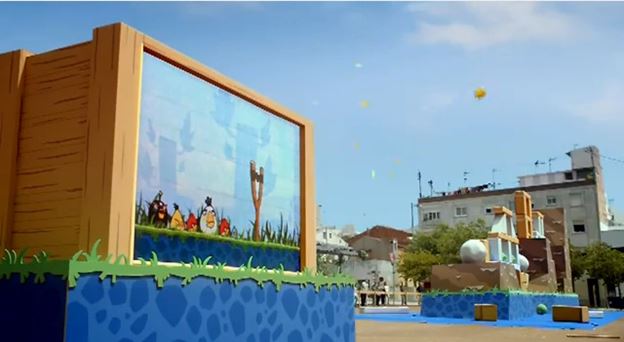 Photo Credit: simplyzesty blog
T-Mobile capitalized on the popular Angry Birds smartphone game in 2011 with their Angry Birds Live campaign in Barcelona. People on the street playing the game on their smartphones were able to see their specific game on a digital sign. The sign reflected the typical screen associated with the slingshot game. When the digital bird reached the end of the sign, a live human was launched from behind the sign.
3. East Coast Jewelry Mother's Day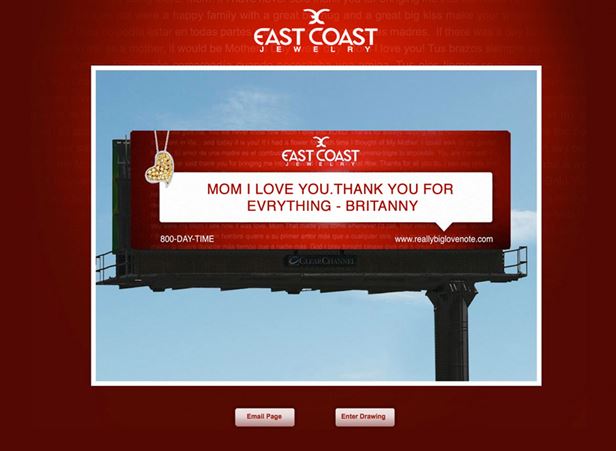 Photo credit: pumpedinc
East Coast Jewelry in southern Florida used creative digital signage to tug on heartstrings on Mother's Day. By using East Coast Jewelry's microsite, reallybiglovenote.com, the public was able to post special messages to mothers. The messages were then broadcast on a giant digital sign on a local, busy interstate.
4. SLS Las Vegas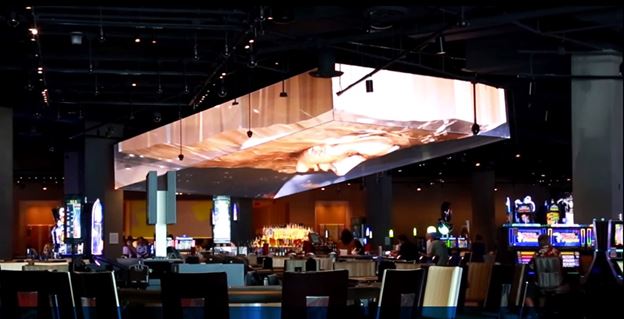 Photo credit: Digital AV Magazine
This newly renovated casino in Las Vegas is going big (It is Vegas) with its LED displays, including the largest LED display in Las Vegas. The digital sign stands at a ridiculous 88 feet high and 47 feet wide. The digital display sign rotates several images and is a stunning attraction to the resort. The casino resort didn't stop with just the entrance. There are 12 LED displays throughout the resort including a fully enclosed digital DJ booth and a hanging display above the main bar.
5. Los Angeles International Airport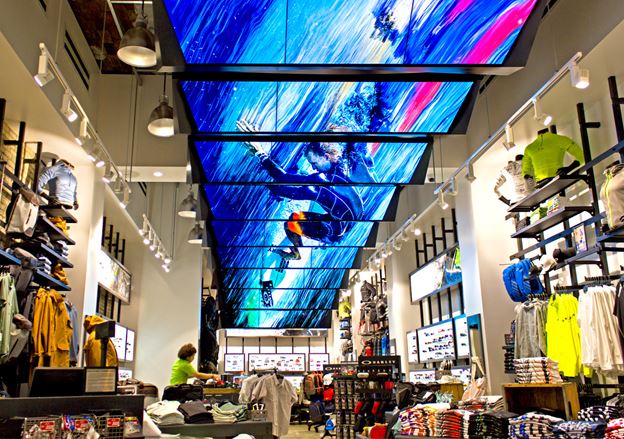 Photo credit: Digital Signage News
The Tom Bradley International Terminal is using 19,000 square feet of digital screens to "bring back the romance of travel." The huge displays are interactive and react to travelers' movement. The ad agency, Moment Factory, developed four hours of original video content, and travelers are also able to create their own. The creative digital signage offers a new and memorable experience in a sometimes sterile environment.
It's an exciting time in the digital sign industry as signs are better able to reflect real-time desires of consumers. Digital signs give business owners the freedom and versatility to create a memorable experience for their customers while also building their own brand, a true win-win for everyone.
Resources:
http://www.commercialintegrator.com/photos/10_wacky_uses_of_digital_signage/7
http://onwardmag.com/digital-can-transform-store-storefront-experiences/
http://www.digitalavmagazine.com/en/2014/11/20/el-resort-sls-las-vegas-ofrece-un-nuevo-concepto-visual-con-la-tecnologia-de-daktronics/
http://dsnews.digisignage.com/tag/retail/
http://www.pumpedinc.com/east-coast-jewelry_brand-development.html
http://www.adweek.com/news/advertising-branding/ad-day-dog-trails-shoppers-around-mall-its-billboards-hoping-be-adopted-164527
Related Articles:
5 Things Casinos Can Teach You About Digital Signage