At FASTSIGNS®, we get to have a lot of fun with vinyl. Vehicle graphics aren't just limited to company vehicles; they can also adorn everything from boats and jetskis to construction vehicles and golf carts. As we get ready for warmer weather and all of the outdoor events that come with it, we wanted to share some ways to incorporate golf cart wraps and golf cart graphics into your next course event.
Extend Event Theme
Golf tournaments are popular for corporate outings, as well as for community events that raise money for a charitable cause. Custom golf cart wraps can be created and installed for individual tournaments and fundraisers, and then removed when the event concludes.
Create Pre-Event Competition
Want to create an extra element of competition ahead of your next corporate golf event? Invite each team to design a proposed golf cart wrap. Choose the winner and unveil the winning wrap at the tournament.    
Sponsorship Opportunities
Provide another way to put your sponsor or hosting organization's name in front of golfers and spectators. Incorporate the cost of the wrap into your sponsor packages; you make money and they get more visibility. If you are hosting a fundraiser, you can use the space on golf carts to thank the sponsors who made the event possible.
Not Just for Golf Events
Golf carts provide an easy way for volunteers and official event staff to navigate through large spaces and crowds, or to travel around the event venue to execute their duties. Label the golf carts with vinyl lettering that denotes "EVENT STAFF" or "FIRST AID" at a concert, festival or 5K to more easily identify who is available should participants and attendees need assistance. Golf cart wraps can also promote attractions at large community events and feature sponsors.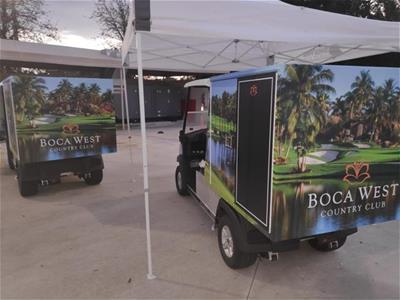 Apartment complexes, universities, hospital campuses and other organizations that encompass a large amount of physical space can benefit from golf cart wraps.
Wrap It Up
Just like you can wrap golf carts with vinyl, the possibilities are virtually endless when it comes to utilizing vinyl to transform other items. Have an unattractive utility box sticking out like a sore thumb? Wrap it with a design that helps it blend into the grass. Everything from drab metal mail carts and filing cabinets to aging conference room tables and unattractive, but necessary, break room lockers can get a makeover with a vinyl wrap. Vinyl graphics and lettering can also help extend branding to unexpected places, as well as label equipment.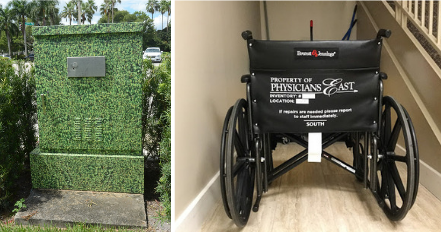 Versatile and functional, vinyl wraps and graphics can go a long way to dress up golf carts at your next event and beyond. Ready to put vinyl wraps to the test for your brand? FASTSIGNS® is more than ready to help.