Houston Business Signs from FASTSIGNS® of Houston, TX - West
Is your business in need of a professional sign company in Houston TX to help you increase your visibility, reach more customers, and achieve your business goals?
FASTSIGNS® of Houston, TX - West has been serving Houston area businesses since 1987. We've worked with businesses in every industry including retail, healthcare, education, construction, restaurants and many more.
We start with a consultation. It's important to find out your company's goals and vision for your new signage. We need to know what you're looking to achieve and the details of your project. You can provide your own designs or you can work with us to design your signage.
Get started now by Requesting a Quote!
Types of Business Signs
Below are just a few of the main types of business signage we offer. If you don't see what you're looking for below please contact us. All of our signs, graphics, and wraps are 100% custom.
Building Signage
Building signage typically refers to your business's main identification signage but it can also refer to many other sign types.
For most retailers, their main ID sign will be a set of illuminated channel letters on their storefront. We also offer many other types of illuminated signage as well.
Many manufacturing companies will still want a large building sign to identify their location but will choose a non-illuminated option as they do not require visibility at night like retailers and restaurants do.
We can also provide other types of building signs such as entrance markers and address numbers.
Monument Signs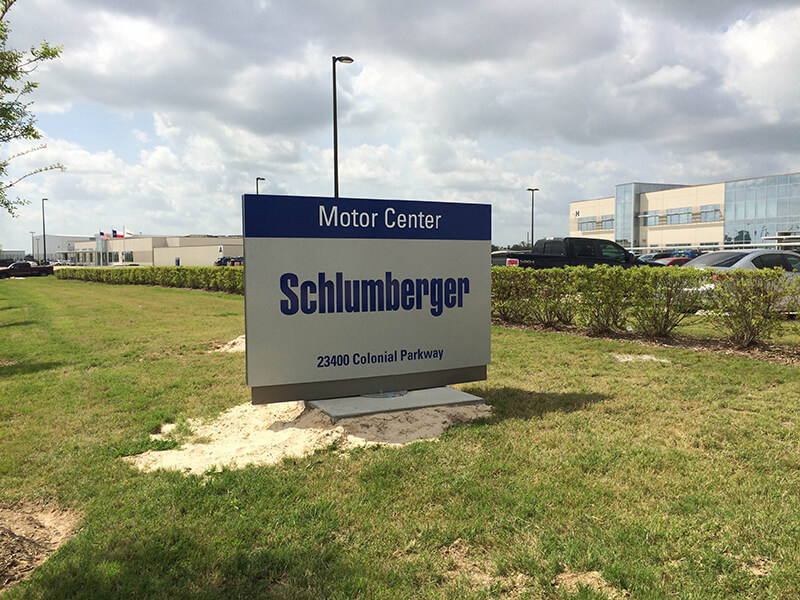 Monument signs refer to large signs installed in the ground, usually at a main entrance to a shopping center or business. The main goal with a monument sign is to provide visibility from the road.
Monument signs come in all shapes and sizes and can be constructed from aluminum, concrete, brick, and even high quality foam. They can be lit or non-lit and have a variety of different elements on the sign face. Generally, monument signs are less than 10ft in height.
Pylon Signs
Similar to monument signs, pylon signs are also freestanding structures that are installed into the ground. Pylon signs can reach up to 40+ feet high and are typically constructed with one or more steel pipes as a support structure.
Pylon signs can be dedicated to one business or shared between multiple businesses at a shopping center or business park.

At FASTSIGNS we can help you with a brand new pylon sign or with sign faces for your property's multi-tenant sign.
Facility Signage
At FASTSIGNS, we manufacture signs that are needed throughout all types of facilities. This can include ADA compliant room signs with braille, Houston fire marshall compliant stairwell signs for your office building, safety signage for your distribution center, or directional signs for a parking garage.
We work with many Houston property management companies on a regular basis providing small business signs that are necessary for operations and safety.
Houston Sign Permits
Almost all outdoor signs that advertise a business will require a sign permit from the City of Houston. There are a few exceptions including real estate Sale/Lease signs or Under Construction signs of 40 square feet or less. For full details visit the Houston Sign Administration or contact us.
FASTSIGNS® of Houston, TX - West is a licensed Houston sign contractor and can walk you through the sign permitting process. You can generally expect a review process of 2-3 weeks from the City of Houston.
Commercial Sign Installation
FASTSIGNS can provide your business with a complete solution from start to finish. Our expert installers are out in the field installing commercial signage on a daily basis. Whether it be vinyl graphics, illuminated channel letters, or hanging a banner - we will get it done right.
Once your custom signs are ready your FASTSIGNS representative will schedule a time for your on-site installation. FASTSIGNS® of Houston, TX - West is a fully insured and licensed sign contractor in the City of Houston and the state of Texas.