Question One: Tell me a little bit about yourself! How long have you been with the company? What do you like to do outside of work?
I started playing the piano when I was 5 years old and began teaching at 13. In 1998 I opened Notably Yours Music Studios with 40 private students out of my home.
In 2011, I placed a sign outside my house with a more personal name for my studio - this time using the name Keys with Kandice. I wanted people to have a name to attach to the lessons and feel a sense of personal connection to their lessons and teacher.
In 2013 I had a talented friend who was interested in teaching violin lessons, and thought we'd see if this was an opportunity to grow.
We did initially grow but still summers were meager, and by this point I had been teaching for almost 30 years. When I am not working I am a single mother of five wonderful children.
Question Two: Tell us a little bit about The Kitchener Academy of Music?
In September 2018 I decided it was time to move towards opening an actual school - the goal being to offer music lessons for ages 4-104 on any instrument with a focus on fun, games, theory and any style in the world. I wanted to inspire students to play and practice their instruments by igniting that spark of joy, accomplishment and self-confidence that comes with learning music. I legally changed the name of my studio, spruced up the website, opened 3 studio spaces in my home and started hiring teachers. Our teachers must be qualified and experienced but most of all they must have the passion for music and teaching that will inspire students to get off their "screens" and help us build an awesome community of musicians!
By November 2019, we had completely outgrown our 3 studios at home. It took some trial and error to find exactly the right location but finally we found our new home at 10 Pioneer Drive.
We had room for a sign on top of the building, one out front, signs for the interior hallways as well as a directory and one of my favourite features - a space with big windows overlooking the parking lot where I could place my grand piano with spotlights - so everyone passing by would know that we were there!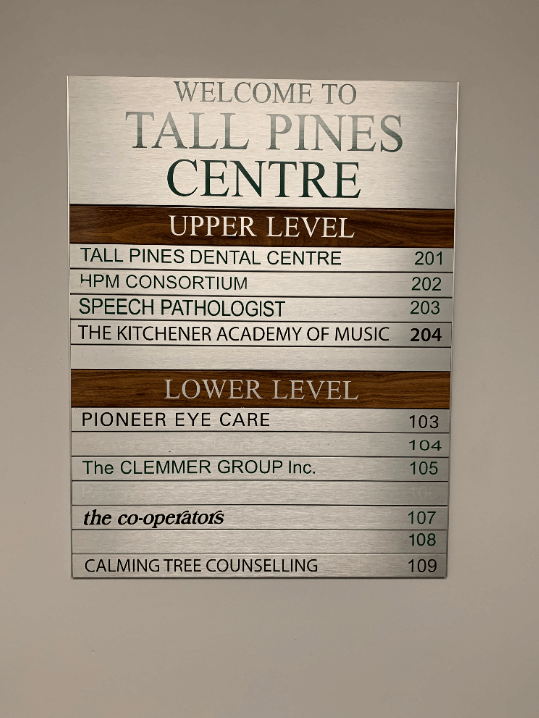 Question Three: How were you involved with this project?
Once I had the renovations underway (the space had been a church before) I needed to get some real signage.
The owner of the building directed me to FASTSIGNS who had done most of the existing signs. Working with the team at FASTSIGNS, I simply had to send an idea of what I was hoping for in terms of design.
I continued discussions with them because I was set to open before the outdoor signs were ready, FASTSIGNS made a special trip to the new school to install the directory and interior hall signs so they'd be able to direct people for our opening day.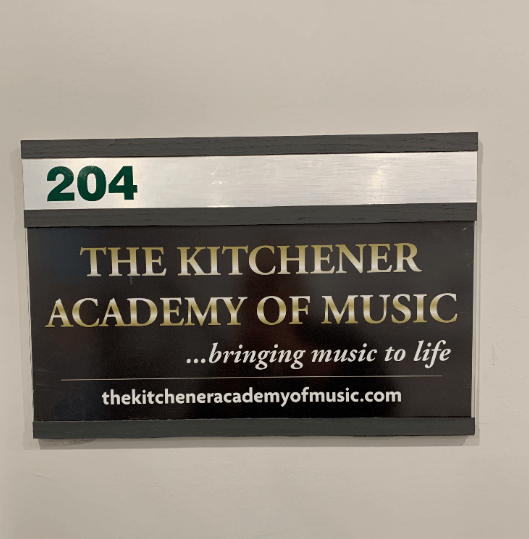 Question Four: What are some of your highlights of the project so far?
The Kitchener Academy of Music has been open now for exactly one month. We have only had a soft opening thus far but plan to do the Grand Opening in March. We honestly haven't had time to plan one with all of the new students and registrations we have daily! Since December our number of Google searches have increased by 250% and I definitely attribute that to our beautiful outdoor signage and the grand piano in the window stirring up lots of curiosity!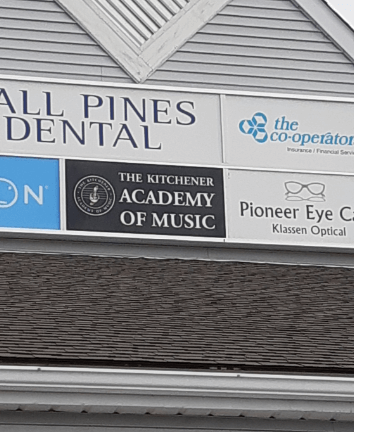 Question Five: Were there any challenges? How did you overcome them?
It took a few years to grow from a home business to a new building, but the demand necessitated the need to grow! As mentioned above, after outgrowing our 3 studios at home, there was some trial and error to find our new home at 10 Pioneer Drive. We were fortunately FASTSIGNS were able to assist early on with sign dimensions, and as the process moved along, helping with sign and logo design.
Questions Six: How did FASTSIGNS help you achieve your goals?
The team at FASTSIGNS was able to pull up the dimensions of the signs from the previous businesses and I just had to send an idea of what I was hoping for in terms of design. The girls got to work and came up with not only beautiful signs, but had great ideas about font and logo sizes which differed according to where they were being placed.
On top of that, because I was set to open before the outdoor signs were ready, FASTSIGNS even made a special trip to the new school to install the directory and interior hall signs so they would be up and able to direct people on our opening day. I felt like that was above and beyond what they had to do and it made me feel like they really cared about my project and we were presented at our new location.
Finally, after the outer signs were up (and attracting customers the moment they were installed) I asked for a couple more window signs to place around the grand piano windows and a beautiful vinyl logo for behind our reception desk. At this point, costs were running high and my budget almost tapped out but the staff at FASTSIGNS not only made them affordable and suggested ways to do so, but they also showed me how to put up the vinyl logo so I could save on installation costs. Not many places are interested in saving you money, most of the time, it's about them making money only!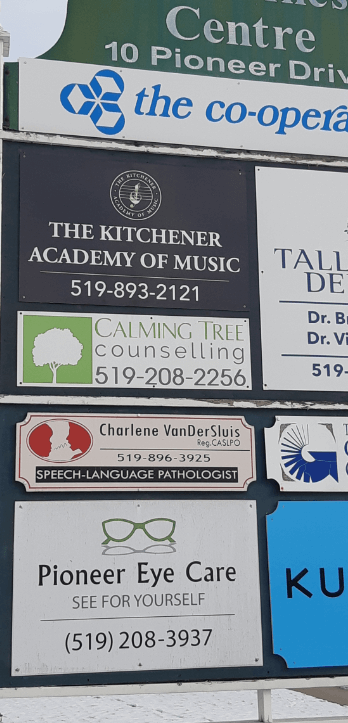 Question Seven: Is there anything else you want to tell our readers?
I think I've said everything but would like to reiterate how I felt that FASTSIGNS really made the signage process feel like it was a personal cause for them. They seemed to be on top of my crazy last minute requests and made them happen as if it was for their own new location. I have no hesitation recommending them and certainly know exactly who I'll be calling when we outgrow this new location and open a second! Thanks Laura, Lauren and Jenn for all you've done!