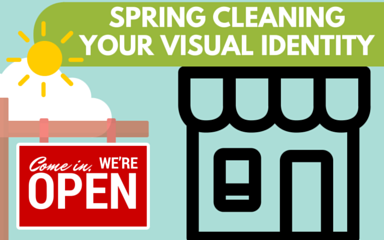 Winter weather can be charming at first, but after months of cold temperatures, gray skies and poor traveling conditions, you're ready for the refreshing arrival of spring. That's not to mention the damaging effects a rough winter can have on retail stores or any business that relies on in-store sales. Not only does bad weather keep potential customers away, it also puts tremendous stress on the outdoor business signs that make up a part of your business identity. Water, dirt, and an onslaught of salt and other chemicals can cause outdoor signs to fade, crack or malfunction. Now that spring is here, it's time to take stock of your outdoor signage and give your visual identity a round of spring cleaning.
Update Legal Signage
Take a close look at your legal signage to see if it has been damaged in any way. The American with Disabilities Act (ADA) requires all architectural signs satisfy a long list of guidelines and specifications. A rough winter can cause signs to be displaced or damaged beyond recognition. It's important to fix or replace any damaged signs as soon as possible as a service to your customers and to avoid damage to your business' reputation.
Upgrade to LED Signs
It isn't the suddenly shining sun that's making your outdoor signage seem dim. It's the cumulative effects of quickly changing temperatures, power surges and possibly outdated sign technology. If your old business sign is changing colors or letters are going black, an LED sign is an option that is technologically reliable and attractive to the eye. Business signs for buildings should be bright, easy to read and efficient, making LED signage the optimal fit for new outdoor signs. 
Refresh, Refresh
Once your legal bases are covered and your primary outdoor signs are in good condition, it's time to see where your complementary signage can be improved. Business signage for buildings isn't just the large dimensional letters or flashy digital signs that feature the name of your business. Outdoor monument signs can give directions or inform customers of your hours and services. Now that the snow has melted, add some perennial flowers and welcome customers with a lively and colorful landscaping display.
If you want to add some personality to your visual identity, a scrolling digital sign offers an opportunity for customized content. High-resolution digital signs are great for displaying information, but clever messaging and engaging content can go a long way in showcasing the character of your business.
Consumers are ready to get out of the house after a long winter, and that means spring sales for most retailers. Update your storefront banners and displays to bring the optimistic message and fresh color that customers are craving.
Business is about to awake from its winter slumber, so be ready to capitalize with updated graphics, repaired signs and a fresh message to welcome the rush.
Resources