Private or public, simple or dramatic, marriage proposals are as different as the couples who are making the decision to choose forever with one another. Getting a little (or a lot) creative with a proposal has been around long before smartphones and social media made them more readily consumed. We love love and we love a good proposal, especially when it involves a sign or two.
Here are three proposals from this last year that ranked high on our favorites list:
Photobombing Dad With a Sense of Humor
Levi Bliss decided to propose to his girlfriend, Allison Barron, with the Nevada mountains as the picture-perfect backdrop. After happily saying "yes," she looked up to see her father, Jake, in the distance holding up a sign reading, "Say NO." The joking father-in-law to be did this as a way to add a laugh to the couple's special memory--he and his now son-in-law have a great relationship. While we aren't a fan of handwritten signs (no offense, Jake), we are all about a good sense of humor and a couple in love.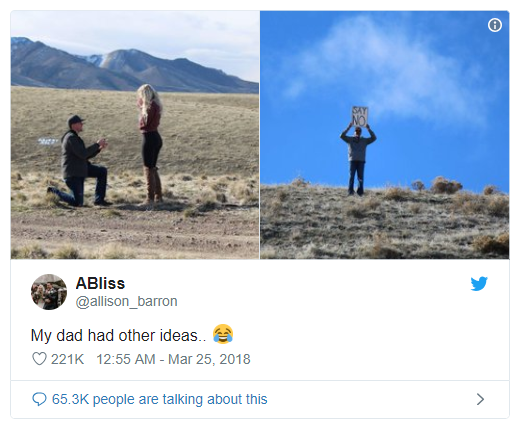 UT Knoxville Grad Gets Boulder of a Proposal
Graduate of the University of Tennessee, Knoxville, Ashley Wiloughby, had dreamt of receiving a wedding proposal via her Alma Mater's iconic, 50-year-old rock, since she was a freshman. Years later as a UT Knoxville grad preparing to move to Nashville, her now fiance arranged for that very rock to be painted and transformed into a billboard-like proposal to surprise Ashley. Thankfully, the rock was, in fact, big enough and she said "yes."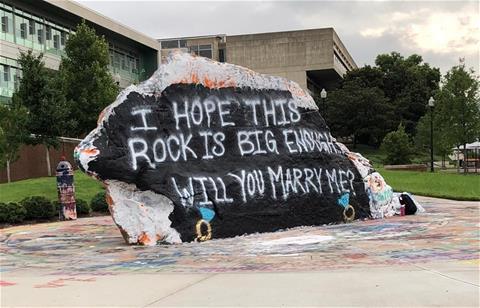 Dreaming of a Grocery Store Engagement
When Sidd Sinha proposed to Melanie Diaz, he decided to recreate a dream she had about getting engaged at a grocery store. Using her favorite store, Trader Joe's, for the setup, he created a made up "millennial grocery tour." Making the experience even more unique for Melanie, Sidd had custom signs created that symbolized different aspects of their relationship and led them through the store tour. The final sign at the end of their tour popped the big question to which Melanie said, "yes!"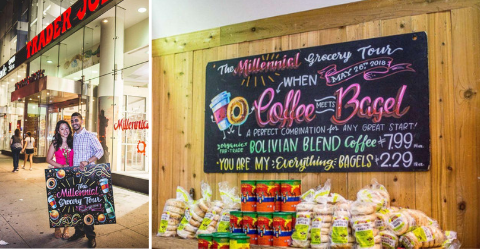 Congratulations to all of the happy couples. Did you have a proposal that incorporated something funny or uniquely special to you? Let us know some of your favorite stories so we can spread around the love-friendly vibes!