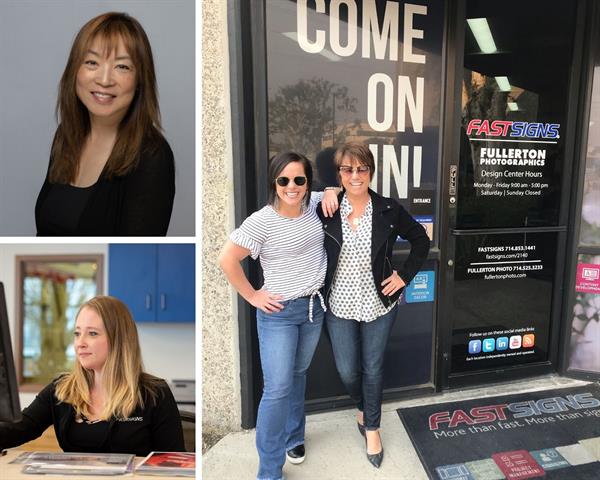 As all of history up through 2020 has taught us, women are resilient, cultivators of courage and truly essential forces for positive change. For International Women's Day and all of Women's History Month, we celebrate the achievements of women and highlight all of the many fearless females of FASTSIGNS, who hail from more than 750 independently owned and operated FASTSIGNS® centers in nine countries including the United States and Puerto Rico, the United Kingdom, Canada, Chile, Grand Cayman, the United Arab Emirates, Malta, the Dominican Republic and Australia (where centers operate as SIGNWAVE®). 
From all around the world, the women of FASTSIGNS exemplify courage and creativity every day in their local centers, bringing fresh perspectives and innovative ideas into a traditionally male-dominated industry. Some have been first-time female FASTSIGNS business owners in their state, growing their business, honing their creativity, and positioning themselves as sign and graphics experts in their communities. 
Linda Fong, franchisee at FASTSIGNS of Downtown Oakland and FASTSIGNS of Hayward, California, who recently celebrated her 25th year in business, shared some thoughts on the importance and strength of the women in the FASTSIGNS brand. 
"I have had great past and present women owners to emulate and connect with, and whom I look to as female role models. They show that being feminine, kind and strong are great leadership assets in women to aspire to. One particular franchisee is my hero for taking on three resale centers and having babies at the same time!"
"It has never been a better time to be a woman in any industry," said Linda Fong. "The ability to be recognized as a serious business person was not always the case. FASTSIGNS is a wonderful top shelf organization, and the tools and training as well as the camaraderie between the franchisees in and of itself has been invaluable in our success."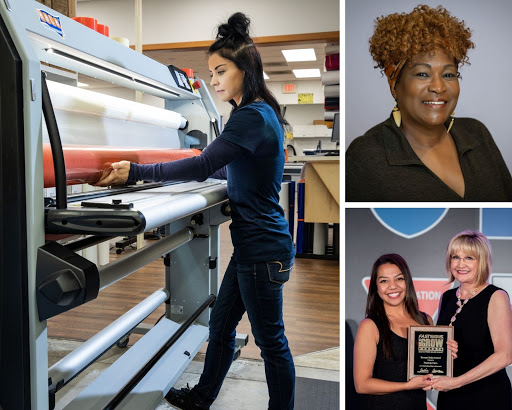 For women with any experience in the sign industry and franchising, there have been visible changes witnessed. Diane Henderson, franchisee at FASTSIGNS of Burlington, Ontario has been in the sign industry for 25 years, and she has seen it transform from being very male-dominated in positions from sign makers to CEOs, to becoming more balanced. 
"Many women have stepped up to become strong leaders in this industry, and I am proud to be a small part of that. Today, women are seen in many roles in the sign industry including CEO of FASTSIGNS International, Inc., Catherine Monson, CEO of the International Sign Association, Lori Anderson, and Executive Director of the Sign Association of Canada Karin Eaton. Every day, I see extremely successful fellow female FASTSIGNS franchisees doing amazing things! I see them give back to their communities in ways that really come from the heart - they inspire me every day to give back."
When asked what she would share with up-and-coming females in this industry, she shared words of encouragement. 
"For women starting out in a career in the sign industry, I would say - you have a lot to give! This industry provides many opportunities to be creative, to be a leader and to create your own niche/signature in this industry."  
FASTSIGNS also enables dedicated female business owners to take themselves and their already-successful business to the next level. Franchisee Nikki Taheri, a small business owner for over 20 years, converted her established business into FASTSIGNS of Bayonne, NJ.
"From the lens of a business owner who has become a franchisee, I couldn't be more happy about the choice I made of joining the FASTSIGNS family! FASTSIGNS has elevated me to new heights in my ability and career. It allows me to dare to grow, to expand and become more involved with my community." 
The women of FASTSIGNS mirror their own courageous leader, CEO and Chair of the International Franchising Association, Catherine Monson. One of the key female leaders in her industry and a Joan of Arc figure in the world of franchising, Monson has adapted and led by example through challenging seasons including The Great Recession and during the COVID-19 pandemic. 
"Our CEO, Catherine Monson is an inspiration," said Taheri. "She provides leadership, education, and updated business trends and forecasts. FASTSIGNS helps me prepare for today, tomorrow and beyond, as I maximize my business and the entire franchise network. Priceless!!"
While 2020 brought challenges to the network, it also revealed a level of grit and creativity that shone forth in its franchisees. 
"The pandemic showed that FASTSIGNS has the ability to adapt their business strategy on the fly. We are not pandemic proof, but we are pandemic adaptable! I'm so grateful for these fabulous resources to become the best version of myself," said Taheri.
Taheri highlighted that the sign and graphics industry is a highly competitive business requiring fast-thinking and quickly moving to accomplish projects.
"As an artist and a business owner, the franchise model is the perfect opportunity to flex my muscles to run a business and incorporate my creativity as a visual communication expert. We are at the end of an era with traditional signage and the rise of digital signage.  FASTSIGNS makes this transition seamless to the new age of the sign industry." 
As FASTSIGNS goes boldly into the "new age of the sign industry," it will arrive with strong and driven females at the helm and at the heart of its centers. From center employees to franchisees and from the FASTSIGNS International, Inc. team to their CEO, we proudly highlight and thank the fearless females of FASTSIGNS for all you do.