Making the Grade With Visual Solutions for University Signage

The Opportunity
The University of Windsor's Campus Bookstore was under construction in an existing building and needed signage and modern branding to fit within the existing décor.
The Challenge
FASTSIGNS® of Windsor worked closely with the University of Windsor Bookstore Project Committee and architects at DiMaio Design Associates to create a new logo and signage that would increase foot traffic and help students and staff navigate throughout the bookstore.

The Solution
FASTSIGNS provided wayfinding and identification signs to blend the aesthetics of the new building. The team designed highly-visible signature signs for two locations: the interior of the building and the exterior walkway. These illuminated signs blended the university's logo with the sleek look of brushed aluminum. Providing a modern twist, FASTSIGNS added an illuminated crest-shaped colour box to the signage. Over the main entrance, FASTSIGNS installed halo lit dimensional letters to match the existing tenants' signs.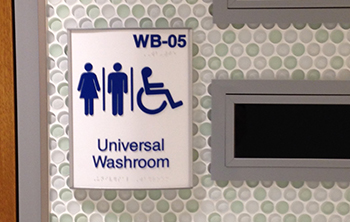 To communicate with employees, FASTSIGNS designed wayfinding signs using a frameless design engraved with Braille and Tactile to stay ahead of the curve and meet the new Accessibility for Ontarians with Disabilities Act (AODA) accessibility requirements. FASTSIGNS also added Braille and Tactile signs to identify for public washrooms. To identify key customer service areas, the team created hanging frosted signs with brushed aluminum hardware.
The merchandise areas included colour matching lettering on walls and ceiling clouds and the meeting room was identified with a glass sign that stands off the wall. FASTSIGNS provided colourful banners for the main student areas to direct visitors to the new bookstore.

The Results
FASTSIGNS worked with the University of Windsor throughout the process of updating signs and graphics. The bookstore received a new look and has become a busy, high traffic area.
"We take great pride in our work at the University of Windsor, and it was both challenging and exciting to create sign materials and designs to achieve our clients' goals," explained Donna Bilodeau who, along with Jackie Raymond, owns the Windsor FASTSIGNS. "We stretched our creativity both in design and production, and brainstormed ways to work as a team to come in on time and on budget for this job."