Make sure to pick up the Orlando Weekly Best of Orlando issue. Read what owner Renee Friedman Goldstein has to say about the Power of Signage on page 16. "After all, a sign is worth a thousand words, and yours could be the one that people can't stop talking about," said Friedman.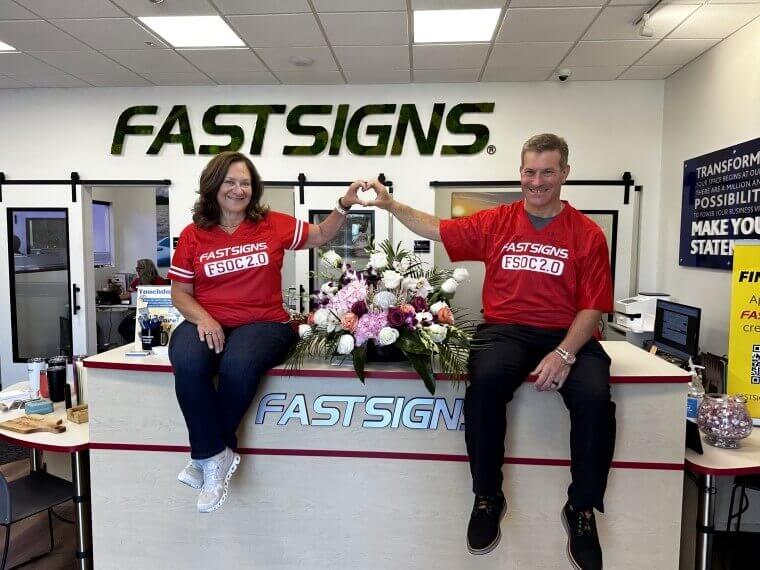 The power of eye-catching signage to attract, interest and direct people is undeniable, and standing out is more than just a desire for most businesses – it's a necessity. Signs, decals, banners, vehicle graphics, business ID signs and printing are more than "just signs," says Renee Friedman with FASTSIGNS of Orlando - Central, an advanced center that specializes in every type of signage and printing service your business, office or organization may need as well as all basic signage needs including ADA signage, wall and window graphics and more.
"For businesses, they're your first impression, your silent ambassador and your secret weapon in attracting potential customers," said Friedman. Professional signage equals professional services. There's also practical – wayfinding and directional signage tells new customers or patients to where an entrance might be or visitors to an event.
Think about it. People look for clues when they are passing by a place that they're not familiar with, whether it be a new restaurant, an apartment complex or a special event. Signage is more likely to make people check out a place, and signage matters even more than a place's popularity and convenience with potential customers.
In a 2022 national survey by FASTSIGNS, when asked what would make you want to check out a place you're not familiar with, almost half of people surveyed said signs would draw their interest – in fact 47% of respondents said eyecatching signage is likely to make people want to check out a place.
A BUSINESS WITHOUT A SIGN IS A SIGN OF NO BUSINESS
Signs are like a magnet to attract interest and potential business – they are your non-stop salesperson, working around the clock to communicate your brand's message, identity and offerings. And a unique, visually appealing sign has the potential to grab and direct a customer's attention and turn a one-time visitor into a repeat customer.
"Signage is more than just a marker telling customers your business location. It's a powerful marketing tool," said Friedman who's been in the visual communication and graphic services industry for over 35 years. The services her center offers customers also includes wayfinding, rebrandinging dimensional logos, reception signage, building ID signs and more. Since 1987, Friedman has worked with clients as their marketing partner, not just their sign vendor.

"When they say "I need a sign," it's really just a conversation starter," says Friedman. "We really want to make your brand seen and remembered." Someone requesting signs may really need graphics on their vehicles, or they may need to think digital instead of just a large monument sign or something more trendy like neon. Friedman and her team help customers turn a request into a visual solution and often help customers think ahead or spend more effectively.
MAKE YOUR STATEMENT
Whether you're an established business looking to grow or simply starting a new business and wondering where to start, it's important to think ahead. "Harness the power of signage and let it do the talking for your business," said Friedman whose center includes advanced equipment and experienced staff better prepared to take on large and complicated, deadline oriented projects including working with construction companies, hospitals, schools, hotels and with the manufacturing industry on projects ranging from banner displays, to project management including permitting, installation, manufacturing and more.
"Sometimes we're guiding you through from the very start," said Friedman, who understands the needs of new businesses and entrepreneurs well. She began her career in sales in Dallas, Texas, before purchasing her first FASTSIGNS franchise in Atlanta, Georgia. There, she served as the Preferred Sign Vendor for the 1996 Olympics in Atlanta, creating all the signs for the Olympic Village and beyond. In 2001, she opened her center in Orlando, Florida. This year, Renee and her husband Richard Goldstein relocated across the street, opening their new, expanded center at 4835 E. Colonial Drive.
As an original Orlando center, Renee has clients all over Florida and the United States though the center concentrates primarily on the Orlando Central area, stretching from the Orlando Municipal Airport to Winter Park, the University of Central Florida as well as the Parks and Downtown. In fact, Commissioners named May 2 FASTSIGNS Day in Orlando and the center was recently named Mills50 Outstanding Business of the Month.
Renee says to remember that a well-designed sign can convey your brand's personality and quality, and can help to differentiate you from competitors. Whether it's a bold, vibrant sign that exudes energy and creativity, or a sleek, minimalist one that communicates sophistication and professionalism, your signage should be a visual representation of your brand's unique identity.
"After all, a sign is worth a thousand words, and yours could be the one that people can't stop talking about," said Friedman. Call Renee and her team today to get started on your next project!