In the FASTSIGNS® family, we have been fortunate to see the growth and evolution of many careers — from corporate support employees opening their own franchise location to FASTSIGNS center employees who chose to purchase a location. Over the last 32 years, we have witnessed so many individuals become entrepreneurs and create a different future for themselves and their loved ones.  
Artistically inclined at a young age, Joelene Calvert studied graphic design in college along with business courses. Having a grandfather that was a business owner provided her with the beginning interest in possibly owning her own business one day.
In 2002, Joelene began her career with FASTSIGNS as a graphic designer in one of the Minnesota locations. Over time she was promoted and became the manager of the FASTSIGNS location in Brooklyn Center, MN. Calvert anticipated one day opening her own graphic design business, potentially a FASTSIGNS. It was then that she made a plan and set goals with her husband, Chris. When the opportunity came, they purchased FASTSIGNS of Brooklyn Center in 2011.
"When I made the decision with my husband to go from an employee to a business owner, we knew it would be a commitment and take time and energy. It was the potential of success that drove me and I didn't want to spend my life saying 'what if.'"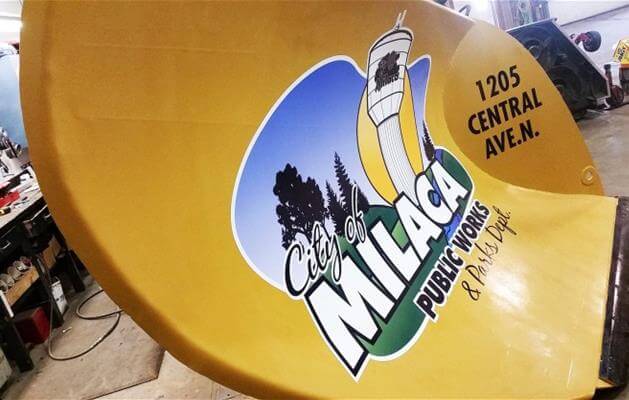 The variety of projects and day-to-day tasks that come with working at a FASTSIGNS drew Joelene in and is one of the reasons she turned her job into a lifetime career.
Her advice for those wondering if they can follow in her career path footsteps?
"I think the keys to success for any business is to stay open minded and work hard. We all have days where we are tired and overwhelmed. The difference between a successful person and those who aren't – they put their feet on the ground, they get out of bed and they keep moving forward. Keep trying even if you feel like a failure and are struggling. Seeing the smiling faces from customers who like what they see is a huge motivation for me. I like knowing I am creating something valuable for them."
For Joelene, her personal goals and business goals are often intertwined. "If I wasn't able to positively influence those around me — my family, my staff, my community — I wouldn't feel successful, regardless of the financial bottom line."
Business owners have ups and downs and different day-to-day struggles. Joelene explains the importance of having a solid vision for what you want to achieve, not only so you can measure your progress, but also to help get you over those obstacles along the way.

Maintaining a vision goes along with goal setting and regularly thinking about where you see yourself and your business in one year, five years and beyond. I work backward from that to know what I need to do in the now — what I need to do today in order to reach and achieve my vision."
In February 2016, Joelene and Chris were attending the FASTSIGNS International Convention in Orlando, FL when they received a phone call that their house had been completely destroyed in a fire. Throughout the recovery and rebuilding process, their steadfast determination and continued positive outlook left an impression on many in the FASTSIGNS network.
What began as a graphic design position has evolved into an entrepreneurial journey — one that we at FASTSIGNS International, Inc. have been honored to be a part of. Recently, Joelene and Chris opened their second FASTSIGNS location in St. Cloud, MN. 
"I remember as a brand new business owner, I was so ingrained and frustrated by the day-to-day challenges, and sometimes questioned myself, 'Is this really what I should have done?' You can really get down on yourself; we all can, but you have to remember that your failures are learning opportunities. I love the Walt Disney quote: 'We keep moving forward, opening new doors, and doing new things, because we're curious and curiosity keeps leading us down new paths.' I preach that one to my FASTSIGNS team and to my kids. You are going to fail – that is part of life. Don't look backward; keep moving forward."