Signs and visual graphics providers FASTSIGNS® of Toledo and FASTSIGNS® of Maumee, Ohio received Wide-Format & Signage magazine's Project of the Year Award at the 2018 FASTSIGNS International Convention for the comprehensive signs and graphics the team created for City Egg.
Ten Star Enterprises, owners of the Scramblers restaurants, were preparing to launch a new fast casual restaurant concept. FASTSIGNS, who has collaborated with Ten Star Enterprises for 15 years, provided a pitch with the winning name, branding and restaurant decor for the new concept: City Egg.
"The clean, simple logo is ideal as it can be easily replicated across every City Egg marketing channel, from signs and print materials to websites and uniforms," explained Karrie Brock who, along with Shannon Benge, owns FASTSIGNS of Toledo and FASTSIGNS of Maumee.
FASTSIGNS worked with architects to prep the exterior of the flagship location for City Egg by providing backlit channel letters and graphics for a custom cityscape awning. Inside, FASTSIGNS added vinyl graphics and dimensional elements to the walls, hung branded boards featuring the products and pricing, and created specialty kiosk counters that extend City Egg's branding while providing a unique but durable surface for customers to order at.
"We love seeing the happy reviews and comments that come to City Egg, as well as our FASTSIGNS centers, and are proud to have been a part of this journey," said Brock. "Patrons are enticed by the modern branding and warm decor of City Egg, but then they continue coming back because of the service and wonderful food. We love working with Ten Star Enterprises, Shain and the team, and are excited for their next location to open in Downtown Toledo this spring."
The signage and architectural packages that FASTSIGNS collaborated on will be recreated for future franchise locations of City Egg. Their work with the City Egg project will be featured in Wide-Format & Signage magazine's April 2018 issue.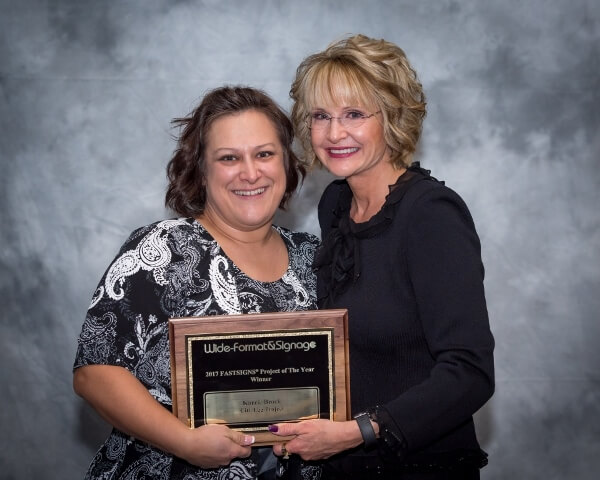 About FASTSIGNS®
FASTSIGNS® of Toledo and FASTSIGNS® of Maumee are locally and independently owned and operated sign, graphics and visual communications companies that provides comprehensive visual marketing solutions to customers of all sizes—across all industries—to help them attract more attention, communicate their message, sell more products, help visitors find their way and extend their branding across all of their customer touch points including décor, events, wearables, digital signage and marketing materials. To learn more, visit fastsigns.com/584 or fastsigns.com/2122.