Hospitals of today are ditching the static white walls and creamy color schemes in favor of more engaging environments that motivate and inspire their patients and families. Nowhere is the shift in hospital interior design more dramatic or important than at children's hospitals, where young patients prefer the comfort of technology and art.
One of the most important elements of healthcare interior design is visual communication. Research shows that creating a stimulating and imaginative environment has a positive effect on the health of hospital patients, guests and staff. With that in mind, healthcare experts, designers and artists around the world are collaborating on the most innovative and effective children's hospital interior designs the healthcare industry has ever seen.
Here are the 10 most inspiring children's hospital interior designs:
Royal London Children's Hospital - London, England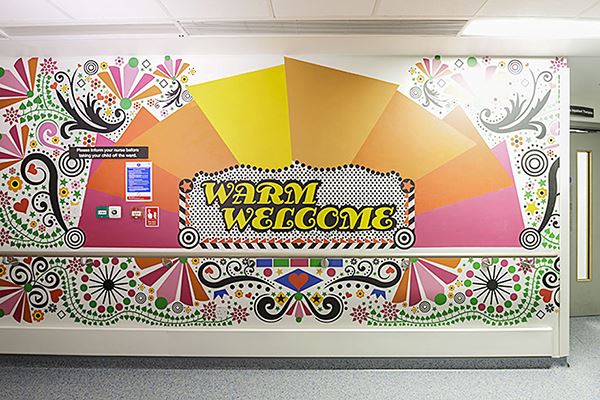 Photo credit: vitalarts.org
One of the top children's hospitals in the world, this educational facility is a temporary home for more than 40,000 children. Its use of wall murals was designed to "bring some joy to the young patients and parents with color and some fun," according to artist Morag Myerscough.
Nemours Children's Hospital - Orlando, Florida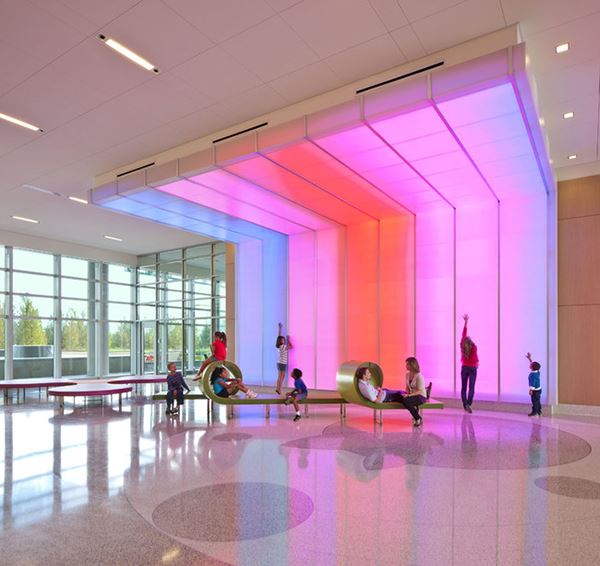 Photo credit: Jonathan Hillyer
Opened in 2012, this facility was designed with interaction as its primary principle. The main lobby features a giant display that allows children to "paint" their own walls. Its GetWellNetwork also uses touchscreen displays that make patients feel at home with access to TV, internet, email, music and games.
Phoenix Children's Hospital - Phoenix, Arizona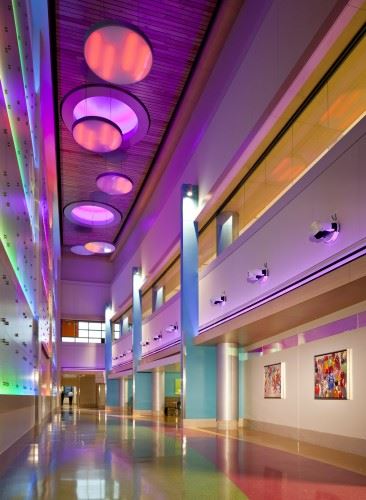 Photo credit: HKS Architects
Designed by HKS Architects, this hospital interior design uses a simple wayfinding strategy with distinct color schemes and digital wall covers depicting native natural landscapes and wildlife.
Children's Hospital of Philadelphia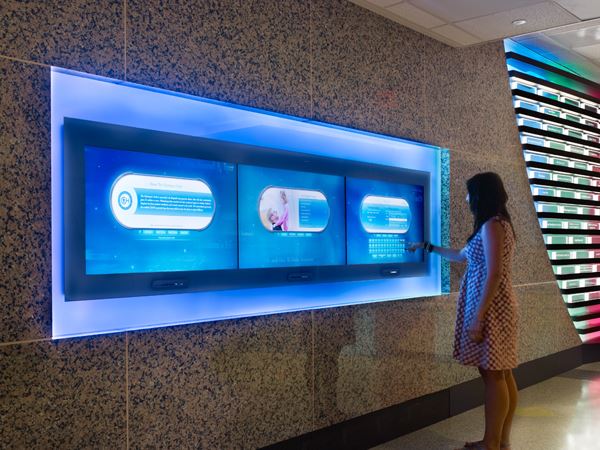 Photo credit: thelightingpractice.com
Many children's hospitals lead the way in hospital interior design innovations because generous donors have consistently given to the cause. This multimedia information display at Children's Hospital of Philadelphia recognizes those who made it possible.
Queen Silvia Children's Hospital - Gothenburg, Sweden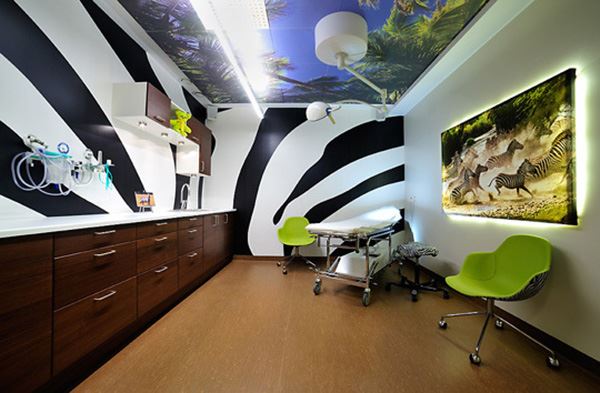 Photo credit: BrittaBritta
Exam rooms in this facility take a jungle theme to the next level with animal-print wall decals and animal photos. The rooms were designed to reduce stress for children and families during sometimes uncomfortable physical exams.
Royal Children's Hospital - Melbourne, Australia

Photo credit: dexigner
This hospital was designed with a wayfinding strategy specifically tailored for children. By using simple language and engaging signs depicting Victorian landscapes, designers created a facility that is easy and fun to navigate.
Texas Children's Hospital - Houston, Texas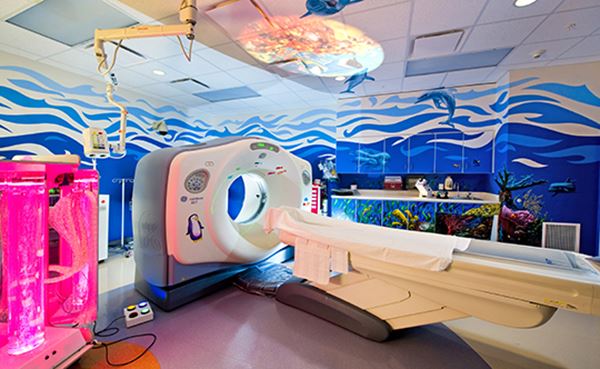 Photo credit: Texas Children's Hospital
The wall mural in this CT imaging room on the West Campus has had a noticeable effect on children undergoing the uncomfortable and sometimes frightening process. The soothing atmosphere is inviting and intended to help put the child at ease.
Penn State Hershey Children's Hospital- Hershey, Pennsylvania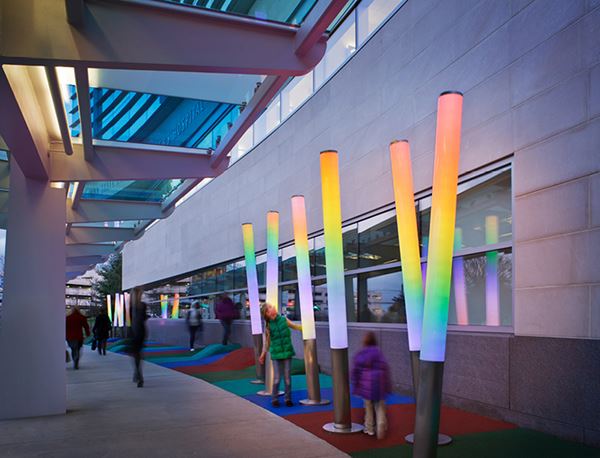 Photo credit: Warren Jagger Photography
This facility has won several awards for its design theme of healing through nature. Gardens and other green spaces are strategically placed to connect the patients' to the outside world while interior designs encourage them to be physically active.
Lady Cilento Children's Hospital - Brisbane, Australia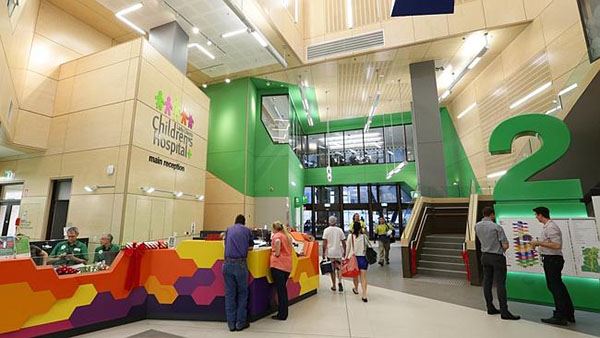 Photo credit: Diane Snape
This design emphasizes open space, bright colors and clear directional signs influenced by the preferences of current and former patients.
Nationwide Children's Hospital - Columbus, Ohio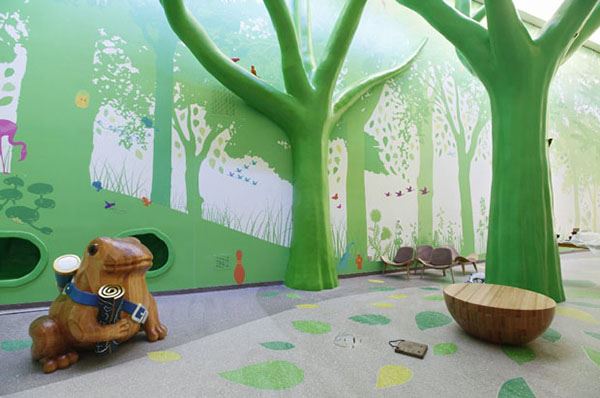 Photo credit: Chris Russell/Columbus Dispatch
The Magic Forest features giant trees, larger-than-life animals and imaginative wall murals as a way to give patients a positive diversion from a stressful situation.
Hospital interior design is a fresh way to deliver a positive experience for patients and their families during a physically and emotionally challenging time. If you have any more examples of awe-inspiring healthcare interior design, tweet us @FASTSIGNS.
---
Resources: