Sports advertising has evolved dramatically over the years. From wooden signs and baseball cards to LED Jumbotrons and massive athlete endorsements, sports advertising has a lasting influence on pop culture (remove hyperlink). Sports fans are some of the most loyal brand patrons and the best sports advertisers play upon this devotion. Sports are advertised three ways: marketing by sports associations like the National Football League (NFL) or Major League Baseball (MLB), sports marketing products or services at specific events, or promoting a sport in mageneral in order to increase public participation. The history of sports advertising is as colorful as the means used to display it. Below is a timeline of historical milestones in sports advertising that show just how much the industry has changed over the years.
1870s - Tobacco Cards
These cards were the first type of modern sports advertising. They featured baseball stars of the day on inserts in packs of cigarettes. Tobacco companies hoped to boost sales or develop brand loyalty using famous athletes as a vehicle for advertising. These cards were the first promotion of sport for another industry's benefit. This baseball card concept evolved into the more widely known bubble gum cards, which became collector's items.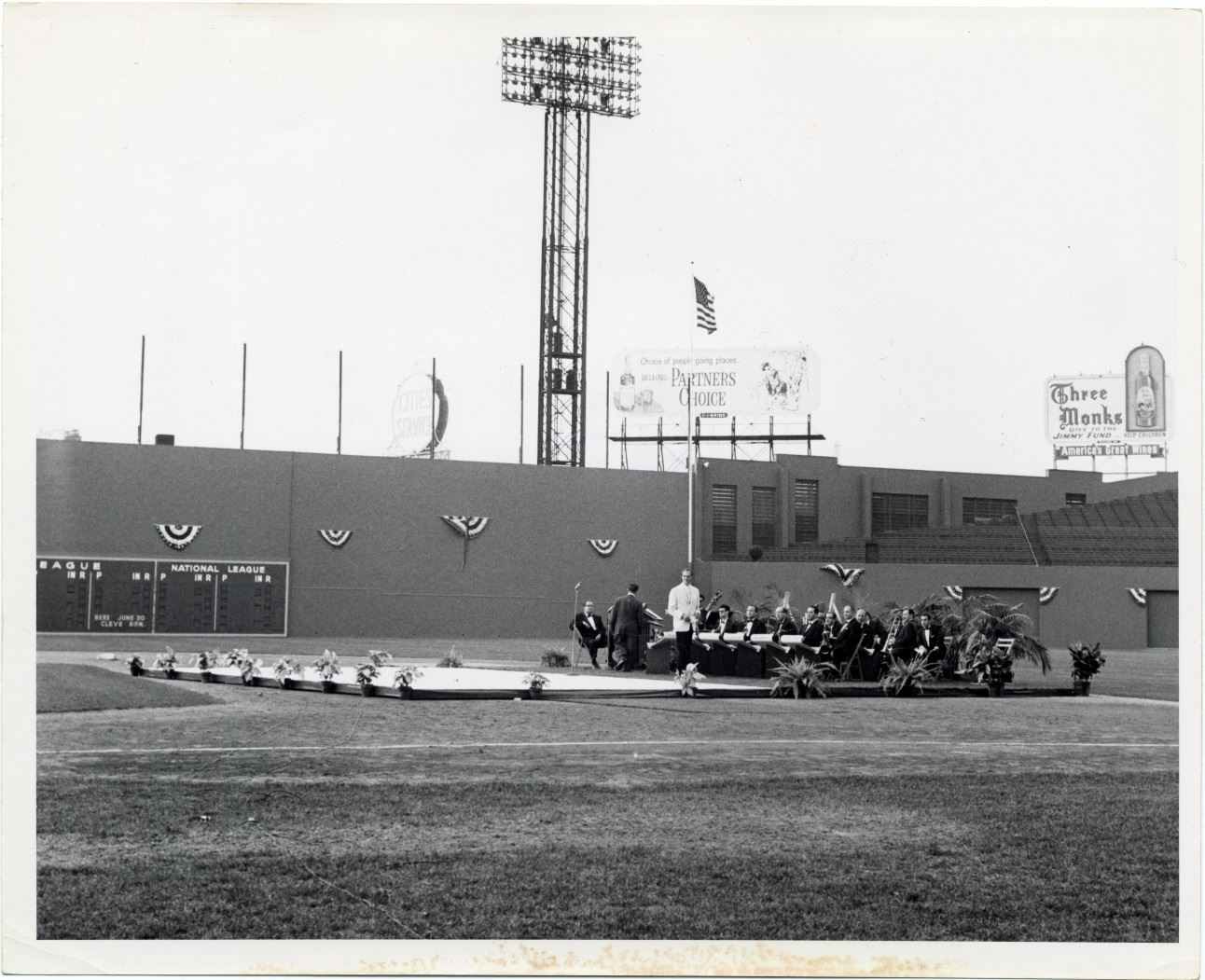 1912 – Fenway Park Opens
Fenway opened its doors in 1912, becoming the first major league baseball ballpark in America. With the origin of stadiums came stadium and venue branding. Today, fans see advertisements all over their favorite venues from sponsored flags in the parking lot to floor graphics in the bathrooms. Stadiums are expensive to construct and many teams use arena advertising as a way to make back the investment in the stadium. These partnerships with teams allow companies to display their signage throughout the stadium or venue.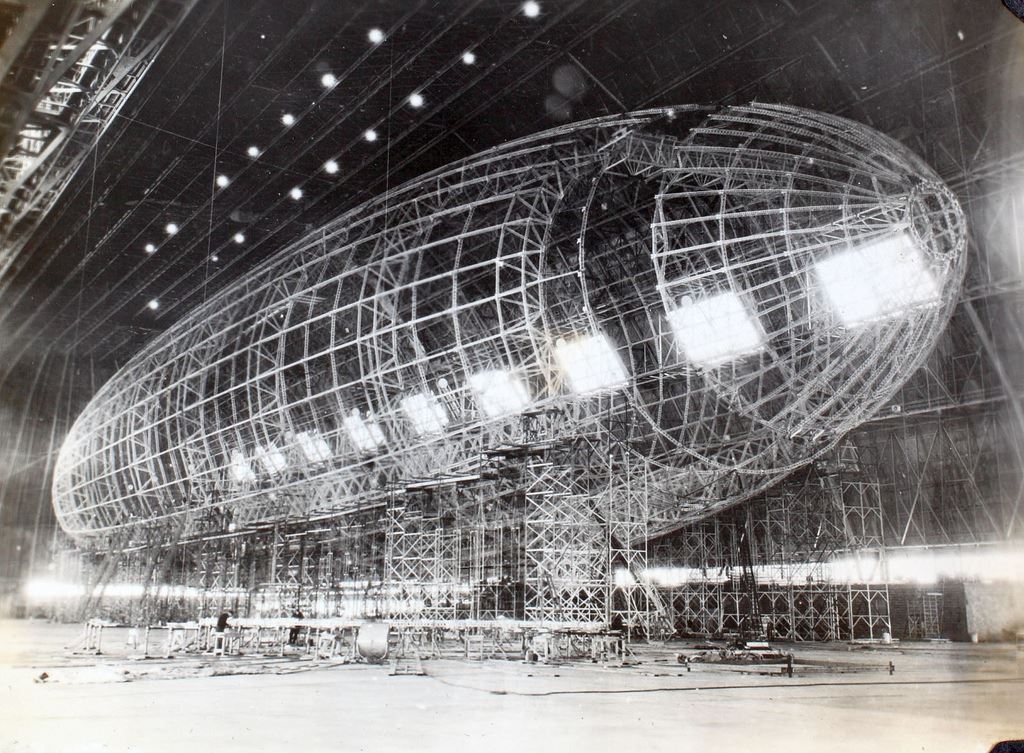 1925 – First Goodyear Blimp
Most people have seen the famous Goodyear blimp soaring high over sporting events at one time or another. The first blimp used to fly over events for advertising and aerial views was The Pilgrim, built by Goodyear Tire and Rubber Company in 1925. A blimp is a "non-rigid airship," meaning there is no internal structure to the blimp and the pressure of the gas lifting it maintains the blimp's torpedo shape. Goodyear later began outfitting these blimps with night signs first made of neon tubes and later LED signs, which would help to advertise products as well as deliver public service messages to audiences below.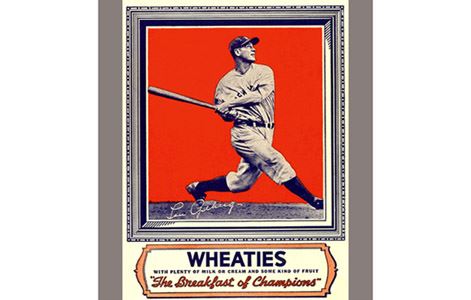 1934 – Wheaties Brands Breakfast of Champions
General Mills cereal brand, Wheaties, began featuring pictures of athletes on its boxes to help sell the brand as the "Breakfast of Champions." The first athlete to appear on a Wheaties box was Lou Gehrig in January 1934, but pictures were on the side or back of the packaging. Famous athletes dominating the front of the boxes didn't begin until the 1950s and continues today as a way to market the cereal and its partnerships with sports stars.
1936 – Adidas Gives Free Merchandise for Advertising
Adi Dassler, owner of German company Adidas, had kept close tabs on American sprinter Jesse Owens, pegging him to be a star of the 1936 Berlin games and wanted Owens in Adidas shoes, though he was the target of racial propaganda. Dassler wanted to display the virtue of his company and the quality of his products and sought to have them worn by as many athletes as possible, without distinction. Owens received free shoes from Dressler, marking one of the first-known examples of an athlete receiving free merchandise to be used for public relations or advertising means. This is now a popular practice involving sponsorships in exchange for an athlete being "the face" of a company.
1939 – First Sports Game is Televised 
The first U.S. televised sports game happened on May 17, 1939.  It was a college baseball game between the Columbia Lions and Princeton Tigers and was broadcast by NBC. Today, TV commercials during major sports games are some of the most viewed advertisements in history. The most expensive sports TV commercial was a two-minute spot purchased by Chrysler in the 2011 Super Bowl with a price tag of $12.4 million.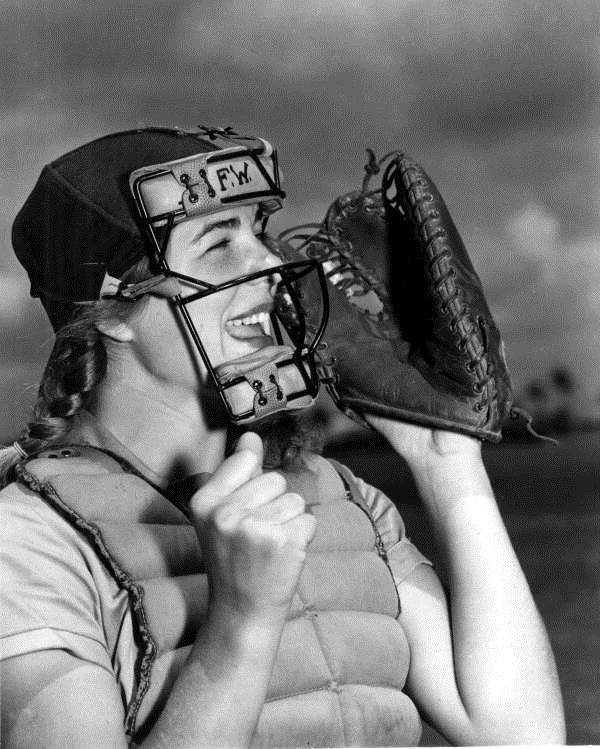 1943 – An All-American Women's Baseball League
AAGPBL was formed by Chicago Cubs owner Phillip Wrigley during the WWII in response to many Major League Baseball players serving overseas in the war. The league ran for 12 years and even inspired the major motion picture, A League of Their Own. But the league met its demise when the men returned and televised games and strong sports marketing efforts for male baseball overshadowed the lagging promotion of AAGPBL.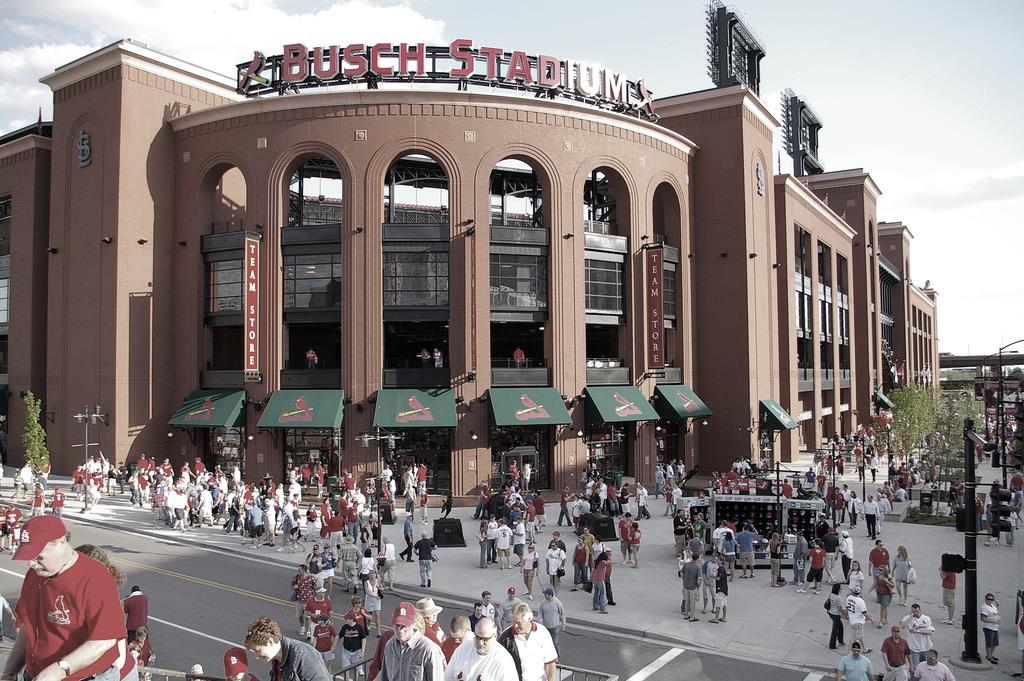 1954 – The First Stadium Sells its Naming Rights
Sportsman's Park, the home of the St. Louis Cardinals, allowed brewery Anheuser-Busch to buy the naming rights to the baseball stadium, making it the first venue in history to sell its naming rights. The stadium opened that year as Busch Stadium. While some fans considered this an over-commercialization of sports, owners saw it as a way to make some much-needed revenue for teams and many others have followed suit by selling the naming rights to their stadiums.
1964 – The Inception of Nike
In 1964, Phil Knight and Bill Bowerman founded Blue Ribbon Sports with a simple handshake and a pledge of $500 each to purchase 300 pairs of shoes from overseas. Knight sold these shoes out of this trunk, while Bowerman began ripping them apart to see how he could improve them. This company became Nike in 1972. And when Nike landed legendary basketball icon Michael Jordan for a massive endorsement contract in 1984, they would cement their brand as the leader in sports apparel in the future.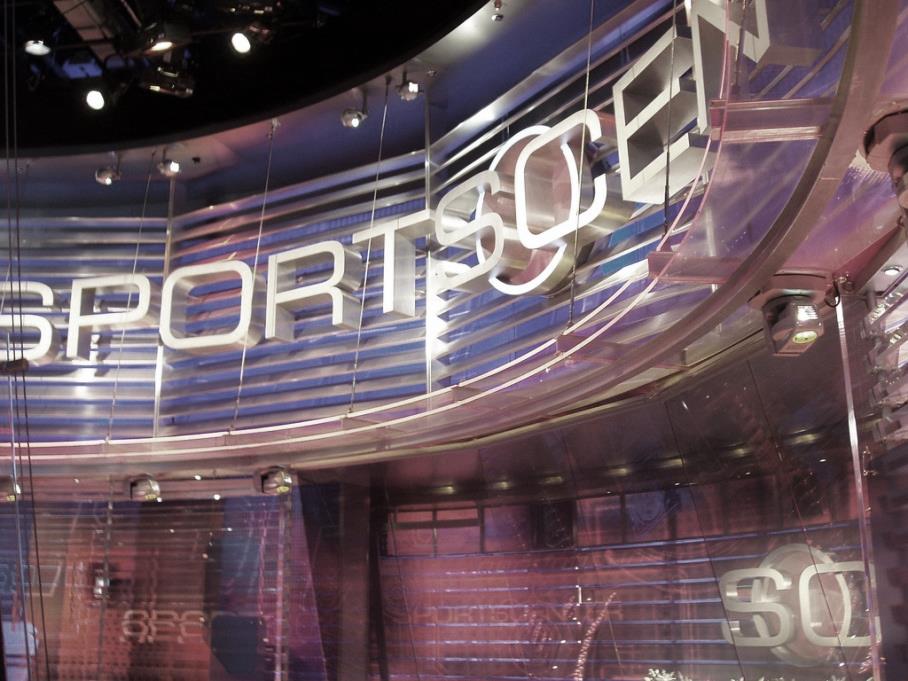 1979 – ESPN Debuts "All Sports, All the Time"
ESPN launched during this year, with the tagline, "All sports, all the time." And anyone who has watched the current ESPN knows this claim to be true. During its early years, ESPN struggled financially, but after acquiring key partnerships the NBA and MLB to broadcast games for both leagues, ESPN ensured its success as a major broadcaster of all things sports-related. Today, ESPN broadcasts 65 sports, 24 hours a day, in 16 languages throughout 200 countries.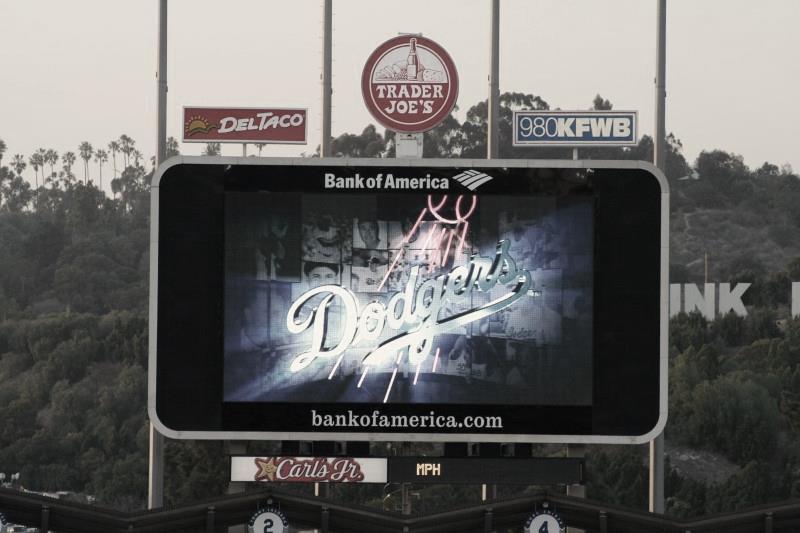 1980 – The Introduction of Massive Stadium Screens
Mitsubishi installed the first big screen at Dodger Stadium, although it wasn't called the Jumbotron. The team called it "the largest color television in the world." The Mets landed one in 1982 followed by the White Sox, Mariners and Twins. Sony was credited with the term Jumbotron, which wasn't created until 1985. Today's "Jumbotrons" are massive LED screens that can cost millions; the Dallas Cowboy's five-story Jumbotron cost over $40 million! Most stadiums today have a Jumbotron, even historic Wrigley Field in Chicago. Management at Wrigley purchased one in July of 2013, making the Cubs the last MLB team to install one.
Today's games, stadiums and lucrative athletic careers couldn't be possible without the advertisements, endorsements, sponsorships and partnerships between companies and sports organizations. While baseball cards and printed scorecards are mediums of the past, marketers still apply the lessons and principles introduced in the early years of sports advertising when creating strategic marketing efforts for sports teams, athletes, franchises and stadiums today. While some fans hold onto the purity of sport traditions, others consider things like dasher board ads, stadium naming rights, Jumbotron advertisements and commercial advertisements just another play in the game. View our gallery to see how companies are currently leveraging advertising and marketing at sporting events. 
---
Resources:
http://www.timetoast.com/timelines/history-of-sports-marketing
http://www.freshbusinessthinking.com/business_advice.php?CID=&AID=8869&PGID=&Title=The+History+Of+Sports+Marketing#.VBhT4fldV8E
http://www.pophistorydig.com/topics/%E2%80%9Cwheaties-sport%E2%80%9D1930s/
http://www.pophistorydig.com/topics/tag/sports-stars-advertising/
http://www.nytimes.com/2008/12/11/business/media/11adco.html?_r=0
http://espn.go.com/chicago/mlb/story/_/id/9471189/chicago-cubs-city-chicago-agree-wrigley-jumbotron