Custom Wood Signs
Wood signs offer a classic or rustic look for your business, organization, or home. They are extremely durable, versatile, and can be designed according to your specifications.
Whether it's a home or a business, custom wood signs can be tailored to fit any style and décor. Custom wood signs are a beautiful and unique way to personalize any space. Wooden signs can be used to display a favorite quote or a special message, or to commemorate an event or a milestone. They can also be used to mark a business entrance or to indicate directions.
Personalized wood signs are a popular way to add a personalized touch to any space. Whether it's a name, a phrase, or a logo, custom wood signs can be designed to fit any style and budget. These wood signs can be made from a variety of materials, including cedar, pine, and mahogany. The possibilities are endless!
Custom wood signs can be a great addition to any home or business. Whether it's a simple name plaque or a more elaborate design, custom wood signs can be tailored to fit any space. With the right design and materials, custom wood signs can be a great way to show off your style and give your space a unique and personal touch.
This guide covers wood sign materials offered by FASTSIGNS. Included are common applications, design ideas, popular sizes, and recommendations for installation.
Find your local FASTSIGNS and let us help you build a custom wood sign.
Wood Sign Materials
There are a number of different materials available, including:
MDO (Medium Density Overlay) is dense plywood with a very thin paper film on either or both sides
Omega SignBoard® features a white vinyl surface over a hardwood plywood core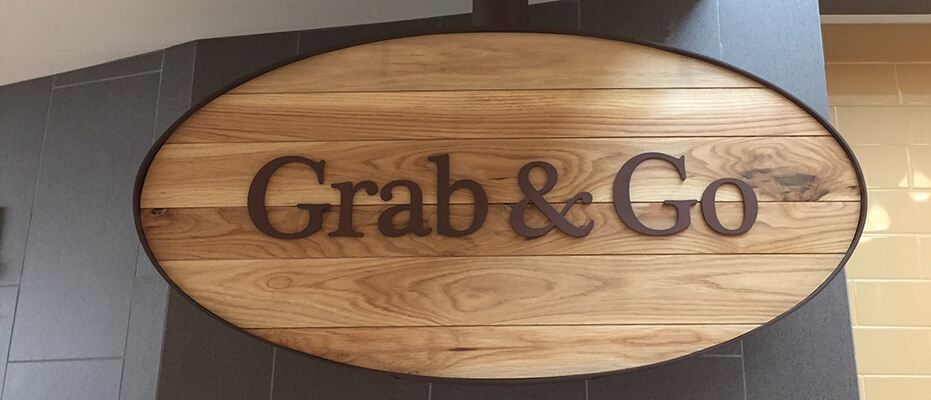 Common Wood Sign Applications
Wood Sign Design Ideas
FASTSIGNS can help to increase the effectiveness of your wood signs by:
Using contrasting paint colors to improve visibility
Employing carving to make dimensional lettering
Using borders to help readability
Use rounded corners, custom shapes, and dimensional lettering
Sign Installation
Wood signs may be displayed in several ways.
Bolted directly to walls
Bolted to posts and then planted in the ground
Note: Professional installation is recommended. FASTSIGNS can help you install and mount your new wood sign to ensure it's safely and properly secured.
Caring for your Custom Wood Sign
Ensure your wood sign is sealed properly to prevent warping.
Signs products and materials may vary by location. Contact your local FASTSIGNS or request a quote to get started on your custom wood sign project!