Trade Show Event Planning
The following guide contains complete trade show advice and information. Our trade show experts have compiled a wide variety of resources to help you plan, market, and create displays, goals and budgets for your next trade show. From pre-trade show planning to exhibit setup and takedown, this guide includes everything you need to succeed.
BEFORE
Setting trade show objectives
Budgeting for your trade show
Checklist for essential graphics you'll need
Choosing the right shows
Preparing for the show
Selecting the best locations
Creating a winning display
Trade show marketing strategy
DURING
Setting up your exhibit
Preparing your exhibit team
Approaching Prospects
AFTER
Managing the business leads you receive
Measuring and analyzing results
Preparing Before the Trade Show
Set Specific Objectives
Too often, companies attend shows simply because "our competition will be there." By setting very specific objectives for each show, and then planning your exhibit to meet those objectives, you can dramatically increase the return on your show investment. Below are some sample goals for the event:
Build your company's image
Write contracts and orders
Launch new product lines
Generate sales inquiries
Meeting existing customers
Canvas your competition
Recruit dealers or employees Inform and educate your marketplace
Next, set quantifiable objectives for your trade show exhibit. If your goal is to generate sales inquiries, for example, calculate the exact number of leads you should expect from a show, and then plan and staff your exhibit to meet that objective. A written plan can help build support for these goals and provides a useful tool for measuring trade show performance.
Budgeting for your Trade Show
Review your overall trade show objectives and calculate the total investment needed to meet those goals. By setting an annual budget, you can then begin to determine how many shows you can attend and how much you should invest in exhibit displays, promotions and other event expenses.
One of the line items on any special event budget should be for signs and graphics. An indispensable component of your strategy, signs help you manage your event by providing a static, consistent method of directing, informing and selling.
To help you begin planning your budget, here is a breakdown of how most companies spend their trade show dollars.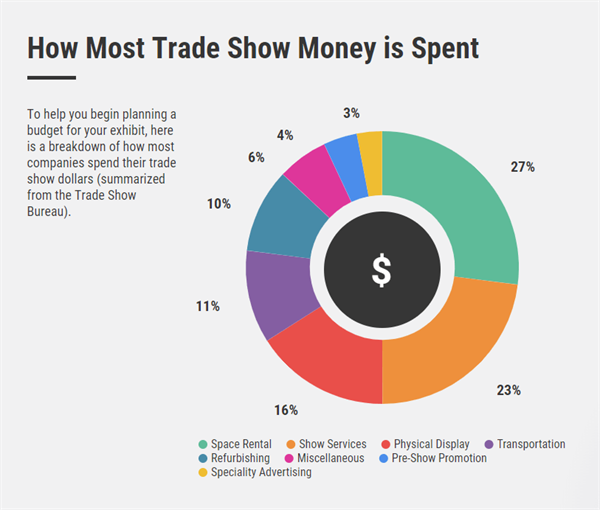 Checklist of Essential Trade Show Graphics
The experts at FASTSIGNS have put together a graphics checklist for all the signage you'll need at your event. Your FASTSIGNS consultant knows all the tricks of the trade show.
We'll help you:
Create a striking design that communicates a clear message and business image.
Distill your product information into easy-to-read, bullet-pointed copy.
Choose the right color scheme that complements your logo and shows off your products.
Select a booth and graphic materials that are durable and lightweight for easy, affordable transport and storage.
Strategically position graphics to guide traffic flow in and out of your booth space.
Keep your trade show booth on budget while also achieving a highly effective, professional look.
FASTSIGNS has everything you need to create a powerful trade show exhibition. Contact your local center for assistance.
Choosing the Right Shows
Picking the right shows is key to any good trade show strategy. Make a list of shows that you may want to attend and gather as much statistical data about the show as possible, including:
Total show attendance
Net attendees (excluding press, exhibitors and non-prospects)
Net square footage of paid space
Number of exhibiting companies
Price of exhibit space
Description of exhibiting companies
Product-interest ratio (statistics that show level of attendee interest in your products)
Audience interest factor (statistics showing how many attendees actually buy)
Job title breakdown of attendees
By matching data on your prime prospects with data from each show, you can plan to attend only those shows attended by people who can and will become profitable, long-term customers.
Preparing for the Show
Selecting the Best Locations
The location of your display at any show is a key factor in your exhibit's success. When selecting your space, consider how close you'll be to building entrances and exits, registration and press areas and your competition. Make sure your space has convenient access to power and other utilities and is within a reasonable distance of restrooms and food service areas. Avoid dead-end aisles, spaces obstructed by columns and ceiling pipes or other areas that do not promise high-volume attendee traffic.
Here are the types of spaces available at most shows and tips for choosing the best location for your display:
Island—Surrounded on all sides by aisles; one of the best possible locations
Peninsula—Surrounded on three sides by aisles; a very good location
Aisle—One side faces the aisle; three sides connect to other displays
Cross-aisle—Two aisle spaces opposite one another
Creating a Winning Display
Look and feel – create a graphic look that communicates a clear, strong image for your company. If you're promoting a highly technical product or service, establish a graphic theme that supports a high-tech presentation. If you're selling a recreational product, consider a more creative and colorful look for your display
Color—Select a color scheme that complements your logo and existing sales materials
Color can also help you attract attention, set the tone or support an established company message. Yellow is an attention-getter; black represents power; blue and gold suggest quality; and green is positive and calming.
Consider using four-color digital graphics as an innovative way to bring photographic-quality images to your signs, banners or backdrops
Images—Graphic images can be used to attract attention to your booth, support a message and illustrate core benefits. Larger-than-life graphics splashed across the backdrop of your display create excitement about your company and your products.
Letter size—Make signage lettering large enough to be read from a distance
Positioning—Place graphics where they will guide traffic flow to your exhibit space
Use words to identify your company, position your products and services, and inform and educate your prospects.
Keep copy short and use action words focused on the buyer
Distill your product information into easy-to-read, bullet-pointed copy
Copy and graphics should tell a prospect within six seconds or less: who you are, what you do, and how they can benefit from your products and services.
Your Trade Show Marketing Strategy
Pre-show Promotions
By advertising your company, products and any special-exhibit activities before the show, you can multiply the positive effects of your trade show investment. Plan early and target your promotions to your core-customer prospects.
Direct Mail, Public Relations and Ads
Rent a segmented list of attendees from the show sponsor and send direct mail letters or brochures announcing your exhibit to the prospects on that list
Place an ad in magazines or tabloids published specifically for show attendees. Send press releases to show publications and other trade magazines announcing any new products or services you will feature in your exhibit
Look into co-op promotional opportunities in which you can share ad costs and space with non-competitive show attendees
Announce your show attendance in mailings, newsletters or other communications you normally send to your existing customers or prospects
Include your exhibit booth number in any pre-show promotions
Premiums and Incentives
Handing out free promotional giveaways adds to your trade show costs, but can be a good way to attract more people to your exhibit. Of course, many people who collect free items at shows may be poor customer prospects. Therefore, if you can target premium items to your prime prospects, they can be valuable tools to build traffic and find new customers.
During the Trade Show
Setting up your Exhibit
Use lighting to set the mood and spotlight your products
Flowers and plants can be used to hide wiring and to set a more natural mood
Select a booth and graphic materials that are durable and lightweight for easy, affordable transportation and storage
Be sure you have plenty of easily accessible storage space for sales literature
Approaching Prospects
To make the best possible use of your available "selling" time at the show, consider these fundamental strategies for trade show presentations:
Prepare your display, staff and greetings to make a positive first impression
Ask questions to determine a prospect's interest in and need for your products
Spend 20% of your time talking, and 80% listening
Present the features, benefits and competitive advantages of your products in a clear and forceful way
Write down as much information as possible about each good prospect. Because 64% of trade show literature is thrown away, hand out less expensive literature at the show, and then send top-quality material only to your best prospects.
If a prospect is very interested, explore budget and purchase timing options.
Practice your greeting, presentation and closing techniques. And then practice again.
After the Trade Show
When your trade show comes to an end, it's time to take action on the leads you've gathered. Follow these suggestions for ensuring that you make the most of each and every one.
Managing Leads
If your company does not currently use an effective "closed loop" lead management system, consider these lead-tracking basics before you head out for a show:
Think about how you will question and "qualify" a new customer prospect
If you do not already have one, create a detailed "Sales Lead Card" to gather information on the prospect, company, product requirements and purchase timeframe
Set up a system to forward detailed, high-quality sales materials to your best lead prospect
Create a system to track each and every lead until it is exhausted or sold
Measuring and Analyzing Results
By keeping track of all leads generated at a show and by analyzing the impact those leads have on your final sales you can evaluate the effectiveness of your trade show strategies. A number of computerized lead-tracking and sales management software systems are currently available. Some companies use outside resources to handle the high flow of sales leads generated at shows.