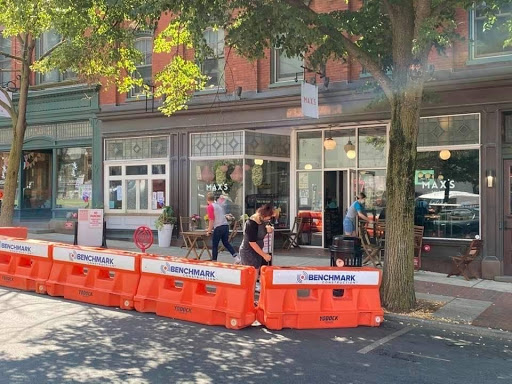 FASTSIGNS® of Lancaster, PA was recently recognized at the 2021 Virtual FASTSIGNS/Signwave International Convention for their contributions to their community as a part of the FASTSIGNS Cares program. In 2020, they used their business as a platform for positive change for restaurant clients in need of outdoor dining setup. When the mandatory Government shutdowns began, the team at FASTSIGNS was concerned about how their customers were managing. 
Bistro Barberet & Bakery, along with other local restaurants were struggling to keep their businesses up and running. For Cedric Barberet, owner at Bistro Barberet & Bakery, this time should have been one of celebration and a boost to market the business, since he had won Chopped Sweets on the Food Network. So Angela Allison and the team at FASTSIGNS® of Lancaster, PA joined in an effort to help keep them customer-facing and provide some type of dining experience. 
After an emotional conversation with Cedric and Estelle, Angela immediately went to work to acquire a parking permit and barricades for the outdoor bistro. Angela was determined to find a way, if she had to pay for it herself. She emailed and called clients and asked for financial assistance through a sponsorship structure. She also called construction companies in addition to filing the permits. Shortly after, Angela shared with Cedric & Estelle that FASTSIGNS had found a way to sponsor their outdoor seating and it would be ready that week. FASTSIGNS then created graphics with their logo and the sponsors' logos and applied them to the barricades. 
The original goal of the project was to assist one client restaurant with one month of seating so that they could generate revenue without the added expense of barricade rental and parking permit fees. Not only was the first month entirely donated, more clients contributed to keep their barricade bistro initiative 100% funded through October 31. The FASTSIGNS team ultimately assisted with three other outdoor cafes. 
"We were honored to be able to impact local business in this way. We cultivated deeper relationships with local sponsors and community members through this project," said Angela Allison. "I am grateful to grow with a company committed to helping others, where I have created connections that benefit our business, employees and clients. Through this project, we were able to use FASTSIGNS as a vehicle to truly impact our community for good."
About FASTSIGNS®
FASTSIGNS® of Lancaster, PA is a locally and independently owned and operated sign, graphics and visual communications company that provides comprehensive visual marketing solutions to customers of all sizes—across all industries—to help them attract more attention, communicate their message, sell more products, help visitors find their way and extend their branding across all of their customer touchpoints including décor, events, wearables, digital signage and marketing materials. To learn more, visit fastsigns.com/lancaster-pa/ or call (717) 500-3579.