ADA Signs
ADA Signs & Compliance / Handicapped Signs / Wheelchair Signs / Braille Signs
Jefferson County | Louisville: Okolona, Newburg, Highview, Fern Creek, KY
ADA signs are vital for ensuring businesses and public spaces are accessible to everyone, regardless of mobility. The Americans with Disabilities Act (ADA) requires all newly constructed or altered buildings to include accessible entrances for people with disabilities.
There are a variety of ADA-compliant signs needed to ensure you are in compliance including braille signs, raised letter signs, and tactile signs.
WHAT MAKES A SIGN ADA COMPLIANT?
To be ADA compliant, a sign must meet specific criteria, including:
Non-Glare: An indoor sign's background and characters must be glare resistant. Typically, this is done using a matte, eggshell, or other non-glare finish.

Height: All ADA signs must be mounted between 48 and 60 inches from the ground to the bottom of the sign.

Contrast: The text on ADA signs must have high contrast, meaning the text must be a visibly different than the background color.

Font: The text on ADA signs must be in a sans serif font, such as Arial or Helvetica.

Size: The characters on ADA signs must be between 5/8 inch and 2 inches in height.

Spacing: The spacing between the characters on ADA signs must be between 3/8 inch and 1/2 inch.

Stroke: The thickness of the characters on ADA signs must be between 1/16 inch and 1/8 inch.

Braille: All permanent room identification signs must include raised characters and braille.

Location: ADA signs must be placed on the wall next to the identified door.
IDENTIFICATION SIGNS
All permanent rooms and spaces within a building must have an ADA-compliant identification sign. These signs must include the room number or name and appropriate symbols. Examples of ADA symbols are men and women on restroom doors and walls.
INFORMATIONAL SIGNS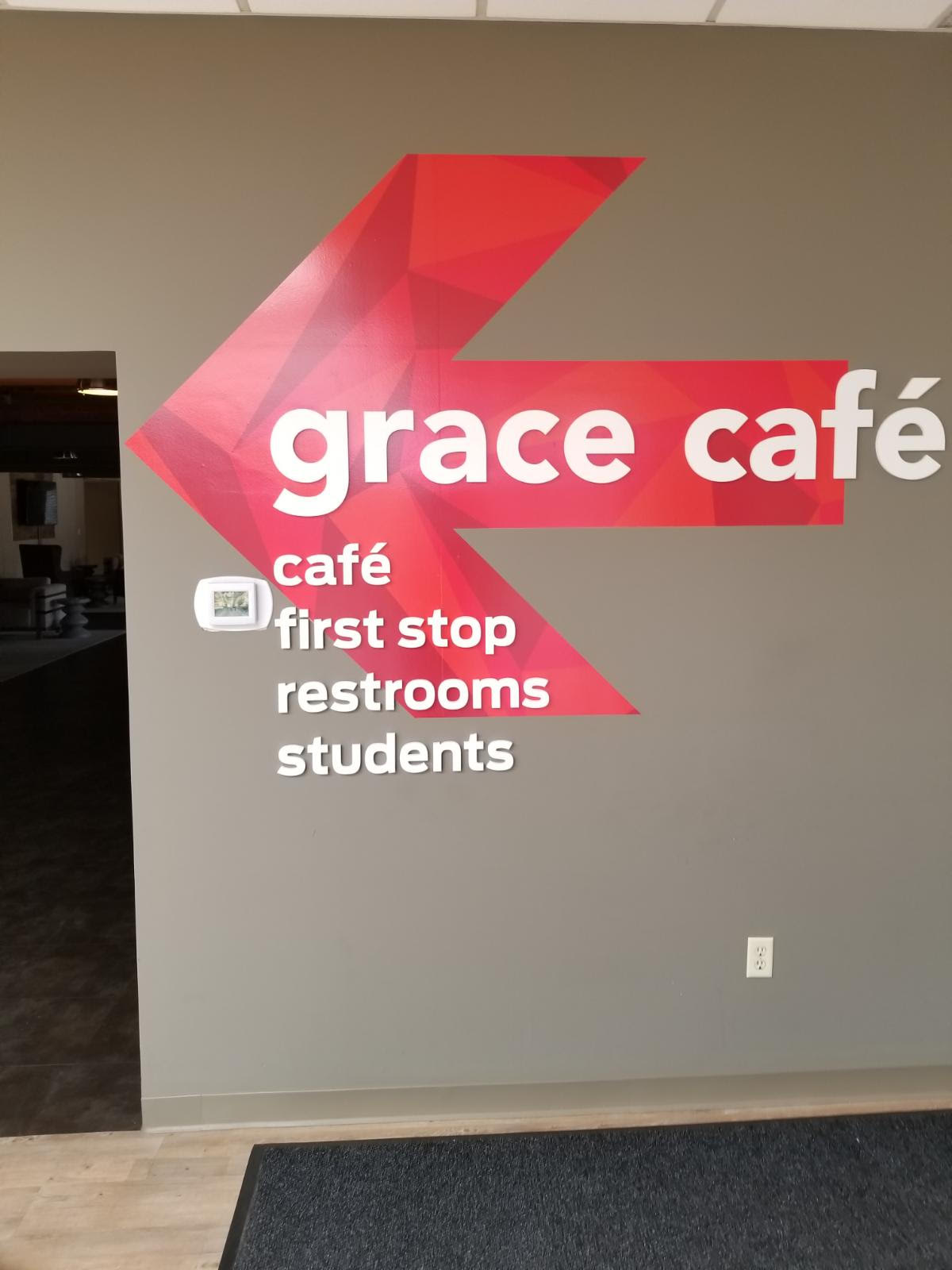 Informational signs provide essential information about a location or area, such as prohibited food, how to pay for parking, or other vital information about the building, location, or company.
DIRECTIONAL SIGNS
Directional signs with wayfinding symbols assist visitors to traverse building and open spaces. A series of directional signs with arrows lead people from one location to another when properly designed and placed.
OVERHEAD SIGNS
Overhead signs should be attached to overhead supports. Someone who is disabled may not be able to recognize a change in a company's layout. Overhead signs help ensure everyone has adequate, accessible, informed access to key places within a building or space.
SAFETY SIGNS
Safety signs are one of the most common ADA-required signs your company will need. Safety signs help identify exits, stairwells, and other important safety areas. These sorts of safety signs are critical for both customers and staff.
TOP-RATED ADA SIGN COMPANY in Louisville, KY
ADA compliance is a requirement for all businesses in Louisville, but it is tough to know which signs meet ADA requirements. FASTSIGNS® of Louisville, KY, is here to help. We assist clients in Louisville, Highview, Fern Creek, Okolona, Newburg, and the surrounding communities of the greater Louisville area in bringing their company into compliance.
Contact us today!