PVC Signs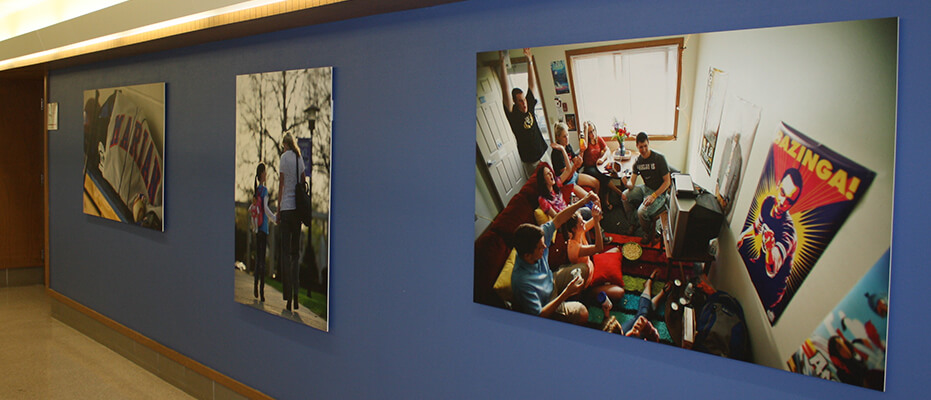 Expanded PVC (polyvinyl chloride), also known as foam PVC, Trovicel® and Sintra®, helps you project a high-quality, professional image. Medium-weight and durable, expanded PVC can be installed and transported easily and is great for long-term indoor or short-term outdoor use. It is available in a variety of colors, and its matte finish reduces glare, hides fingerprints and can be cut easily into shapes, so you can create custom applications.
PVC Sign Applications
Point-of-purchase displays
Menu boards
Directional and informational signs
Name plates and name tags
Tradeshow signage
PVC Sign Ideas
Increase the effectiveness of your PVC signs by:
Adding striping and/or borders
Using bent easels
Adding lettering colors
Using a logo
Incorporating a graphic symbol
Cutting into unusual shapes or designs
Installation
PVC signs may be displayed in several ways:
Self-supporting (bent easel)
Hanging
Applying suction cups
Using double-sided tape or Velcro®
Framing
Care
Do not leave PVC signs inside your car. Expanded PVC tends to warp when exposed to heat or sunlight for extended periods of time
Install PVC in sheltered, low-humidity areas when possible. It may absorb moisture and mildew when left in exposed outdoor locations
Without proper handling, PVC can be scratched
How PVC Signs Can Help Your Business Succeed
PVC signs, also known as polyvinyl chloride signs, are an effective and affordable way to draw attention to your business. PVC signs from FASTSIGNS offer a variety of options for outdoor signage that can be customized with any message you'd like. These durable and weatherproof signs are perfect for any business looking to expand their visibility while staying within budget.
PVC signage is built to last in all kinds of weather conditions, making them ideal for businesses located in areas with extreme temperatures or harsh climates. The material is lightweight yet incredibly strong and resistant to fading over time so your sign will look great year after year.
Sign products and materials may vary by location. Contact your local FASTSIGNS® center for more information on product availability.