Fabric Signs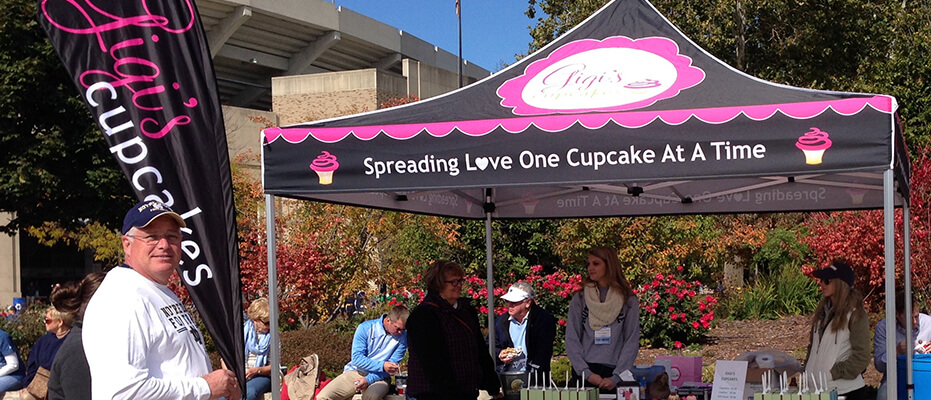 Have you ever considered using fabric to create great looking and functional signs and graphics? FASTSIGNS® provides custom fabric graphics that create a seamless look for buildings, trade shows, stadiums, campuses, lobbies, events or retail locations. Let us help you transform your venue by printing colorful logos, messages and images on fabric for use as wall graphics, fine art prints, exhibit graphics, stage and photo backdrops, point of purchase displays, banners, flags, awnings and so much more.
Introduction to Fabric
If you own or operate a business, you are probably aware of the endless material options for signage and visual graphics. In addition to vinyl, wood, aluminum, acrylic and glass to name a few materials, dye sublimation and direct-to-fabric printing create digitally printed fabric signs and visual graphics that have vibrant color, smooth gradations and rich black that results in sharp, brilliant images.
7 Reasons You Should Use Fabric Signage for Your Next Project:
1. Seamless look. The flexibility of fabric takes graphics to the edge.
2. Rich color. Vibrant hues make a memorable impression.
3. Lightweight. A cutting-edge alternative to bulky metal frames and heavy graphics.
4. Easy to ship. Folds up to fit in small packages and arrives wrinkle-free.
5. Washable. Many fabrics are machine washable and durable.
6. Convenient. Simple to carry, install and transport.
7. Sophisticated. Looks smooth, elegant and professional.
Create Eye-Catching and Durable Fabric Signs
Are you looking for an effective, creative way to advertise your business? Look no further than fabric signs from FASTSIGNS! Our custom fabric banners are perfect for any special event or promotion. We specialize in creating high-quality cloth banners that will make a lasting impression on your customers. With a variety of colors and designs available, our experts can help you create the perfect sign to match your branding needs. Our fabric banners are made from durable materials that won't tear or fade over time - giving you long-lasting advertising power.
Did you know?
Fabric provides a professional look for flexible, functional and fabulous signs and visual graphics. Whether the challenge is getting people to attend an event, introducing a new product or service, driving traffic to a trade show booth, branding a corporate office or drawing attention for a grand opening, fabric signs and graphics are ideal for helping your business or organization create the professional look you need for your brand. Enjoy our informative video about fabric signs and graphics.
Learn more about Fabric Signs and Graphics.