Vinyl Banners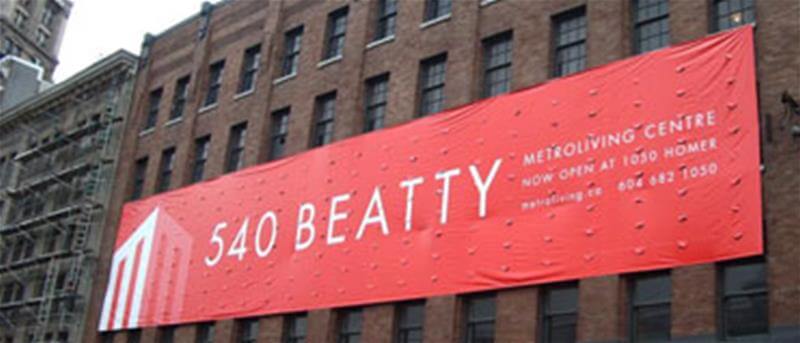 Rely on FASTSIGNS® vinyl banners for your promotions, special events, grand openings and sporting events. Weather resistant, our vinyl banners work well indoors long-term and outdoors for temporary use. Because of the material's strength, it can be cut into almost any length or dimension. Banner material is available in many colors to meet your needs. Vinyl exterior signs are also weather resistant and durable.
Banners are a popular and cost effective way to spread a message. Vinyl banners are especially popular because of their durability and versatility. Vinyl banners are made of a durable and waterproof material that can withstand outdoor elements and can be used indoors or outdoors. They are also easy to transport and hang.
The Benefits of Custom Vinyl Banners
Custom vinyl banners are often used to promote events, advertise products and services, and boost brand awareness. Custom banners can be designed to match any company's logo and branding, allowing them to create a cohesive look and feel for their business. Custom banners can also be designed to meet specific size and shape requirements.
Vinyl banners are a great way to make a statement. With vibrant colors and bold lettering, vinyl banners can be used to draw attention to a business or product, and are sure to stand out. Vinyl banners are also a great way to spread a message, as they can easily be seen from a distance. Additionally, vinyl banners are affordable and can be reused, making them an ideal choice for businesses on a budget.
Overall, vinyl banners are a great choice for businesses looking to promote an event or boost brand awareness. With its durability, versatility, and affordability, vinyl banners are a great way to make an impact and spread a message.
Find a vinyl banner installer near you. Contact FASTSIGNS to see how we can help!
Vinyl Banner & Sign Tips
Choose the nylon woven and vinyl banner material stocked by most FASTSIGNS® centers for long-lasting banners. Although there are other banner materials, such as Tyvek and polyethylene, few last as long as vinyl and nylon woven material
Consider using a heavier weight material when your banner will be suspended between poles or buildings
Plan to apply letters to one side of your banner only. Our standard, stocked banner material is guaranteed to be vinyl-receptive on one side. If the sign is hung outside, letters on the second side may come off quickly. If letters are applied to the proper side, though, the banner will be more durable outdoors
Vinyl Banner & Sign Applications
Grand Opening and Coming Soon announcements
Sales and promotions
Special events
Sporting events
Tradeshows and Exhibits
Vinyl Banner & Sign Ideas
Increase the effectiveness of your banners by:
Making banners large
Adding stripes and borders
Using additional lettering colors
Adding a photo, logo or graphic symbol
Utilizing unusual shapes or designs
Banner Sizes
The maximum banner size is virtually unlimited, and we can create customized banners in any size you want or need.
Finishing & Mounting
FASTSIGNS® offers many options for finishing and mounting your banners:
Grommets—Attach banners at regular points to distribute their weight evenly and prevent sagging
Pole Pockets—Insert rigid poles into pockets along your banners' edges for a more even weight distribution. This can prevent sagging and make your banners more rigid
Hemmed Edges—Reinforce the sides of your vinyl banners to maintain their shape and prevent stretching
Power Tape—Reinforce the edges of your shear-cut banners or banners that have no material available for hemmed edges
Banner-Ups—Attach plastic tabs with eyelets to each corner of your banners to create convenient hanging points
D-rings with Nylon Webbing*—Secure large banners that will hang on buildings with D-rings and ratchet straps
Nylon Webbing*—Reinforce the tops and bottoms of your banners to extend their lives—especially if you're in an area that is prone to high winds
* Extra time required.
Installation
In production, grommets will be placed in all four corners and every 2-3' feet between, across the top and bottom. These are used to hang and secure the banner while minimizing stress. The two-ply corners ensure strength for intermediate to long-term outdoor life
Special care needs to be given to the installation of large banners. If you are unsure of the best application method, call your local FASTSIGNS® center
Care
When storing your banner, roll the banner with the graphics or letters to the outside to prevent letter separation and air bubbles. Never fold your banner because it will cause it to have creases
Proper care and handling will improve the longevity of your banner
Banner installation and care (pdf)
The Best Material For An Outdoor Banner
Vinyl is renowned for its strength and durability, making it one of the best choices when selecting material for an outdoor banner. It is composed of ethylene and chlorine that form polyvinyl chloride (PVC), which can withstand rain, wind, sun exposure and other harsh weather conditions without tearing. Vinyl banners are highly water resistant as well as long-lasting so they will maintain their look despite frequent use in any environment.
Maximize The Potential Of Your Windows
Custom banners are an effective way to seize someone's attention in a short amount of time. Our vinyl banner printing is cost-efficient and designed for long-term use – the crisp, fade-resistant signage will make sure your message stands out. With reinforced edges and metal grommets featured in each piece, you can select between traditional vinyl or choose our PVC-free polyester option for added durability. Make every second count with our range of customizable options!
Designed For Durability
If you take good care of it, our new PVC-free banner material can last for up to two years outdoors. This durable option is ideal whether you require an indoor or outdoor display, and full-color printing technology ensures your message appears in crisp detail.
Making a Statement with Custom Vinyl Banners
Custom vinyl banners from FASTSIGNS are the perfect way to create a statement and get your message noticed. From grand openings and special events to fundraisers and family reunions, banners allow you to share any message with precision and clarity. Custom banners made from durable vinyl last for years outdoors without fading, cracking or peeling. Simple yet eye-catching designs and affordable prices provide endless possibilities for getting your banner just right. With easy setup in a matter of minutes, you'll have an effective advertising tool up in no time! Reach out today to get started on creating beautiful custom vinyl banners that will impress every single time!
Exterior signage products and materials may vary by location. Contact your local FASTSIGNS® center for more information on product availability.